"This character has left to never return....."

The owner of this character,

NocturnalDelusion

, has left and this character will no longer be active.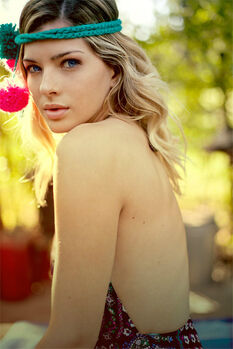 | | |
| --- | --- |
| Gender | Female |
| Age | 19 |
| Marital Status | In a Relationship |
| Orientation | Bisexual |
| Hometown | Quebec City, Canada |
| Ethnicity | French-Canadian |
| Nationality | Canadian/Québécois |
| Current Location | Camp Half-Blood Boreas' Cabin |
| Loyalty | Camp Half-Blood |
Godly Parent
Boreas
Mortal Parent
Celine Bellecourt
Maternal Grandfather
Charles Bellecourt
Maternal Grandmother
Athena
Ancestor
Louis XIV
(via the House of Morreaux, the Bellecourt Branch)
| | |
| --- | --- |
| Height | 5'4in/162 cm |
| Weight | 134 lbs/61 kg |
| Hair Color | Blonde |
| Skin Tone: | White |
| Eye Color: | Grey-Blue |
The House of Morreaux is a cadet branch consisting of some of the many pretenders to the throne of the House of Bourbon. While most of the pretenders are publicly rivaled, living in France, the House of Morreaux calls for a truce between families who find connections specific to the heirs of Louis XIV and Louis XV's children who moved to New France. Some of their descendants, with their families, eventually retreated from Canada, moving on to Oceania, Europe, South America or the United States. This led to the forming of three branches (each branch is also representing a close blood relation): the Furier branch, Louis XIV's heirs, hailing from Tadoussac to Oceania; the Morrell branch, Louis XV's heirs, hailing from Port-Royal to South America and the United States, and the Bellecourt branch, either staying within Quebec or hailing to Europe. The members of the House of Morreaux and its branches are nearly always wealthy and powerful. The Bellecourts are closest to the House of Bourbon of the three, then come the Furiers and third come the Morrells.
Celine Bellecourt is the head of the Bellecourt branch; one of those from her branch who never left Quebec, sustaining proudly the branch surname. Celine grew up without any knowledge of her mother's identity, raised single-handedly by her father, former head of the Bellecourt branch, Charles Bellecourt, Canadian minister, president of the Bloc Québécois and ambassador in France who eventually passed on (due to a severe case of brain cancer) without the opportunity to confess to his daughter that she is in fact a demigod, a daughter of Athena. This would explain her odd gifts and encounters with strange creatures, that Charles reassured her were entirely fruits of her imagination to prevent her from leaving her normal and safe life to go to camp and risk it. She always suspected otherwise, keeping her thoughts to herself. She went on to become a reputed historian, philosopher and arctic explorer. She instantly caught Boreas' eye.
Boreas approached her as a historian from Montreal, seeking her aid in writing a book on the French Revolutionary Wars. Boreas instantly grew to love Celine as she went on with helping him in research. Celine, fascinating and intriguing to Boreas, was later told by him that he is settling down permanently in Quebec. From this point on, he started to pursue her, only to find out that while she appreciated him greatly, her feelings toward him were platonic. Boreas wouldn't give up. He kept going until Celine threatened to refuse seeing him.
Boreas decided to stop bothering Celine, until he found out that she was in fact a daughter of Athena's. Unsure of what to do with this knowledge, he took Athena's counsel and decided that Celine deserved to be aware of her godly blood. Boreas approached her in a dream and revealed the entire truth. Celine finally put an end to her frustration. It all added up. Celine became grateful and asked Boreas if there was anything she could do for him. He simply requested she agrees to imbue his essence with his into ice to bear them a child. She agreed. His last request was for her to name the child Althea. He then seemingly vanished.---- Althea grew up in the lap of luxury, having quite a comfortable upbringing, going to the best schools and touring the world. She was fascinated with her mother's work, and often helped her with it. She saw the greatness of her ancestors, and ever since, she has wanted to be as influential on the world's future as them. She was very intelligent and was in a faster-paced class, with a scholarship program, for the entirety of her studies. She went on trips to the Arctic many times with her mother. Althea turned 12, and Boreas reapppeared, asking of Celine to send her daughter to camp, yet she refused, not wanting to let go of her daughter. Boreas repeatedly asked of Celine to listen to his wishes, yet Celine kept refusing, until Althea turned 17, when a manticore attacked their home, Celine protecting her daughter with weapons Boreas had given her for emergencies. After slaying the monster, Celine decided this was the time to send Althea to safety. She revealed her lineage to Althea, and sent her off to camp on a pegasus her father sent her.
Althea has always been a big intellectual and very fond of history and culture. She is very proud of her royal heritage and social stance, though isn't too arrogant, since after falling in love with Serenity, Althea has left behind quite a bit of her old self and became friendly and quite nice. She is now passionate, and is very warm towards others.
Althea is a 5'4, 134 lbs French-Canadian female. She has a slightly tan, bright skin color. She has grey-blue eyes and blonde colored hair. Her ethnicity is bold in her appearance, whether it be her skin/eye/hair color, or her bold European facial features and light build.
Powers:
She can create gusts of icy wind, which can be used to slow the movements of all effected by them. They can also use their power to create sharp daggers of ice within the wind, which can tear into an unarmored target.
She attains the ability to call upon a focused ice storm which freezes a small area into solid ice, trapping anyone in the area within it; this effect does not last long.
She can create a dome shaped torrent of wind, roughly two or three times her own size, which can be used to block attacks for a very short time.
She possesses the ability to create a small tornado, of about her own size, which can be used to block projectile attacks for a short time.
She is stronger in the cold.
She can hover or fly, however, the longer she does this the more it drains her.
She has the ability to turn pure water into ice at will using a cold breeze.
She can call upon a massive snow flurry which obstructs view and lowers the body temperature of all that are susceptible.
She can create armor and weaponry out of pure ice which is quite sharp; however, it is also fragile and must be mended or replaced often, which uses up large amounts of energy. This power is rare and she's the only one in her cabin which has it.
Traits:
She is able to withstand any cold temperatures.
She is ambidextrous.
She is a big intellectual and is very wise.
Weaponry:
An arming sword, left for her by her father, Boreas, and given to her by her mother during a battle with a monster. The blade is made of ice, enchanted by her father. The blade has also been plated with celestial bronze and silver, the hilt made of Aetherian Stone.
A recurve bow made of celestial bronze plated with silver. The arrows' tips are made of celestial bronze plated with silver. However, the arrow's body is made of enchanted ice. She received it as a gift for receiving the counselor position by her parents.
A custom made war hammer, forged by the Hephaestus Cabin. It is made entirely of Aetherian Stone, designed with enchanted ice spikes.
A large shield, made of Aetherian Stone plated with silver, the center made of enchanted diamond. It has been enchanted to transform into the Bellecourt branch's heirloom, an expensive antique ring.
Pets:
Kryo, a white pegasus. He is the son of a northern foal of Boreas and another pegasus. As such, he is actually Althea's nephew. Boreas gave him to Althea just before she left from camp and he took her from Quebec to Long Island.
Miscellany:
A ring made for her by her boyfriend, Gavin. The ring itself is made of silver, the stones actually ice enchanted to sustain the shape of sapphires.
| | | |
| --- | --- | --- |
| Name | Relation | Elaboration |
| Gavin Masterson | Boyfriend | They're extremely close, and her love for him is unmatched. She has become rather dependent on him. |
| Serenity Bloum | Good Friend | She is very grateful for the change Serenity helped her go through. She forgives Serenity, since she knew she had to leave, and is excited for her renewed life, freed of Artemis' control. |
| Caelo Hendrix | Acquaintance | Althea is a bit wary of Caelo and his attitude, but she's overall fine with him. |
| Catarina LaRue | Acquaintance | She has given Althea a whole new perspective concerning the BC-Camp situation. Is fond of her. |
| Rolland Wallace | Acquaintance | She thinks Rolland is a bit too aggressive. However, she thinks he's quite alright. |
Badly Coded Page

This page contains minor bad and/or broken coding, it appears that the issuse is: font & center tags. It is not a huge problem so if the user who owns the page does not wish to fix it, that is up to them. However anyone viewing this page that is interested in copying coding for use on their pages, CEASE AND DESIST!!! Do not copy coding from this page. Also, do not remove this message unless the coding has been fixed. So Sorry....