"This character has left to never return....."

The owner of this character,

NocturnalDelusion

, has left and this character will no longer be active.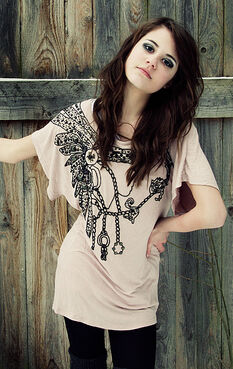 | | |
| --- | --- |
| Gender | Female |
| Age | 15 |
| Marital Status | Single |
| Orientation | Heterosexual |
| Hometown | Essen, Germany |
| Ethnicity | German |
| Nationality | German |
| Current Location | Camp Half-Blood Poseidon's Cabin |
| Loyalty | Camp Half-Blood |
| | |
| --- | --- |
| Godly Parent | Poseidon |
| Mortal Parent | Adala Faust |
| Mortal Grandfather | Almeric Faust |
| Mortal Grandmother | Agna Faust |
| | |
| --- | --- |
| Height | 5'4in/162 cm |
| Weight | 134 lbs/61 kg |
| Hair Color | Chestnut |
| Skin Tone: | White |
| Eye Color: | Blue |
Anika was born in Berlin, Germany to Adala Faust and Poseidon on December 3, 1996. She stayed in Berlin for a couple of years until her mother decided to move to America. They took most of the journey by ship because Adala knew Poseidon would give them safe passage to America. They arrived in the harbor of Long Island Sound, New York almost half a year after they left Germany. Anika was 6 at the time. Adala prayed to Poseidon to help her get settled in the new country, so Poseidon made a house on the beach for Adala and Anika to live in. Adala collected shells along the shoreline and created small trinkets and souvenirs for tourists to earn money. Anika went to a small school nearby the beach. She was shunned by most of the children because she didn't speak English well. She was also ignored because of her dyslexia and ADHD. But fortunately for her, there was another boy who had ADHD and dyslexia.
His name was Connor and he was a child of Ares (unknown to both at the time). Anika and Connor became close friends as they grew older. They'd always hang out at the beach, in town, or at each other's houses. One day when they were 13, they were walking along a deserted part of the shore when they were claimed. A boar's head above Connor and a trident over Anika. They stared in disbelief at the signs above their heads until a sea monster came swimming towards them. They began running back to Anika's house hoping that the monster wouldn't follow them. Anika's mother after seeing the monster quickly explained to the children that they were demigods and that the Greek myths were real. She quickly herded the children out and as soon as they were out the door, the house collapsed from the monster's beatings with Adala still inside. Connor had to pull Anika away as she tried to dig through the rubble to find her mother. The monster caught up to them and dragged them into the sea.
Connor drowned much to Anika's grief. Anika, filled with strength from the water and anger from the death of her mother and friend, began to fight the sea monster. The sea monster, unknown to the fact that she is a child of Poseidon, dragged her to the bottom of the ocean. She slammed her elbow into its eyes and it roared and let go of her. Anika began to swim away when she saw a gleaming metal buried under the sand. She quickly dug it up, revealing a set of 2 bronze sais. She picked them up as the monster lunged at her She stabbed the sai into the monsters hide, making it explode into golden dust. Anika tucked the sai into the waistband of her pants and went back to her demolished house to mourn the deaths of Connor and Adala. Having know idea what to do, Anika prayed to Poseidon to help her. She felt something pulling her back towards the ocean, so she went back in the water. As she swam deeper, a school of fish was waiting for her. She was shocked that she could understand them talking to her and telling her to follow them. Anika followed the fish a short way to the shores of Camp Half-Blood where she was placed in the Poseidon Cabin.
WIP
Anika is very shy, introverted and silent, especially after the tragic death of her mother and her closest friend. Once you can gain her trust and become her friend, she can become rather dependent of you. However, she tends to especially close up her heart and stay away from love. Anika is vulnerable and very emotional. Her passions are photography, music (in particular, playing the keyboard) and painting. She isn't the best in combat, but can put up a good fight.
Anika is a 5'2, 100 lbs German female. She has a white, soft skin tone, blue eyes (which at times appear light and at others dark) and chestnut brown hair. Her body build is nimble and light.
Offensive
Children of Poseidon can fire a powerful blast of water from their hands, equivalent to that of a fire hose, which evaporates after a short time.
Children of Poseidon have the ability to conjure and freeze small amounts of water into durable ice weapons, which can be used for combat; however, only one weapon can be conjured at a time and it cannot be bigger than the one who conjured it. They can also make small non-combative objects out of ice.
Defensive
Children of Poseidon can create an area around themselves that inflicts others with intense seasickness, making them dizzy and nauseous for as long as they remain inside. The user must keep their focus on maintaining the effect for the duration.
Children of Poseidon can turn their body to water for a very short time, letting an attack pass harmlessly through them. This can cause extreme dehydration with repeated use.
Passive
Children of Poseidon can breathe, are swifter and more powerful, and can heal slightly faster while underwater.
Children of Poseidon can keep themselves and everything they touch dry in the water, unless they choose to become wet.
Children of Poseidon can survive falling from any altitude as long as they land in water, and can go as deep into the ocean as they desire without any effects from the cold or water pressure.
Children of Poseidon can communicate with and command equestrian animals, as well as all creatures that dwell in the sea.
Children of Poseidon are innately less inhibited by severe wind and precipitation.
Supplementary
Children of Poseidon have the ability to create minor earthquakes, large enough to knock anyone nearby off their feet, for a few seconds.
Children of Poseidon are able to telekinetically move water at a high rate. The larger amount of water used, the more energy it drains. This can be used on ice, but is much more difficult and draining.
Children of Poseidon are are able summon a specific horse, pegasus, or sea creature directly to their position, regardless of distance. This only works on creatures that they have a strong personal bond with.
Children of Poseidon can calm, strengthen or influence the direction of the winds, though to a much lesser extent than children of Zeus or the anemoi.
3 Months After Character is Made
Children of Poseidon have the ability to create a torrential rainstorm overhead, which will downpour and cause high winds over a large area. The storm will gradually clear over time, and afterward the user would be substantially drained.
6 Months After Character is Made
Children of Poseidon are able to shape a semi-living construct out of water, no larger than 3 to 4 times the size of the user, that fights for them for a short time. The user is weakened while the construct is active, and the longer they maintain the it, the more energy it drains.
9 Months After Character is Made
Children of Poseidon are able to transform their bodies into a state of pure water for a short time, becoming immune to most attacks. The hydrokinetic abilities they already possess are enhanced by this state, and they are capable of covering great distances in an instant while underwater. The user will be extremely drained once the transformation ends, and could possibly faint.
Traits
Children of Poseidon always know their exact coordinates when in water and are able to innately feel the difference between freshwater and saltwater.
Children of Poseidon normally have a love for water, and generally excel at water sports.
Children of Poseidon tend to be favored by animals of the sea.
Children of Poseidon often have a natural affinity for horses and many grow up to become equestrians.
| | | |
| --- | --- | --- |
| Name | Relation | Elaboration |
| | | |
| | | |
Badly Coded Page

This page contains minor bad and/or broken coding, it appears that the issuse is: font tags. It is not a huge problem so if the user who owns the page does not wish to fix it, that is up to them. However anyone viewing this page that is interested in copying coding for use on their pages, CEASE AND DESIST!!! Do not copy coding from this page. Also, do not remove this message unless the coding has been fixed. So Sorry....
Community content is available under
CC-BY-SA
unless otherwise noted.