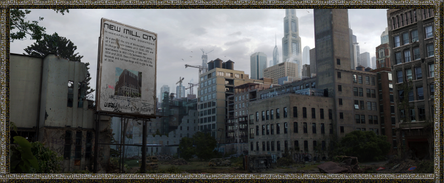 This arena is essentially a small abandoned city, overgrown with vegetation and some of the buildings crumbling in decay.
Located in the middle of the arena is a small abandoned park, with a pond
This arena has all the typical things you'd find in an abandoned overgrown city, everything from flat surfaces to small buildings to tall skyscrapers, some crumbling, some still standing, lots of dark places to hide, including an underground subway tunnel. There are abandoned cars, and things can still be found within the buildings, perhaps even a few stray cats or dogs, or some smaller creatures such as rats and spiders.
The arena is open to the sky and elements
This arena also possesses a more rural arena, possessing large mansions, estates and houses.
Carter: He walks down the streets in the open
Haley: She walks down the streets with sunglasses on. Her piercing eyes stare directly at Carter
Carter: He sees her and stops. Then draws his dagger and points it at her Camp or BC?
Haley: Now wouldn't you like to know. I trust my intuition. She doesn't take out a bow but just stares at him with fire in her eyes.
Carter: smiles Ooooh, a girl with a bow. Whatever shall I do? He says in a sarcastic voice You couldn't hit a fish in a barrel.
Haley: Smiles Ooooh, She says mocking him. Who's your dad? The wimp Ares or lovey dovey Aphrodite?
Carter: chuckles Wimpy Ares.
Haley: sighs chuckling Oh nice for you. Love Dovey Eros is my dad. So seriously BC or camp? I'm actually BC. She lies hoping he'll believe her
Carter: smiles and lowers his dagger I'm BC too.
Haley: She smiles yet still very very shocked that he believed her. You know that's really great to know since- She quickly shoots a bow aimed smack dab at his stomach.
Carter: He side steps the arrow and grins You really believed me, didn't you.
Haley: No I believed your ugly face and talent.  The truth is I don't want fight.She lies. She uses her power to make Carter lose all desire to attack for a short time. Inside her head shes hoping that it works.
Carter: I want to tough. smirks and charges her
Haley: She goes down and bruises her leg. She gets back up and judo flips Carter. So do I.
Carter: He lands with a hard thump but gets back up and tries to slice her bruised leg.
Haley: She moves her leg quickly but there becomes a medium sized cut on her leg. She kicks Carter as hard as possible in the shins.
Carter: He uses his powers to protect himself from her physical attack Is that the best you can do? He turns into a vulture and flys a short distance away
Haley: She shoots him with 2 bows. She then uses her powers to make him not wanna fight.
Carter: doges one arrow while the other scratches his cheek Do you really want to fight me?
Haley: She climbs up some tall trees so now she is up in the sky with him. She jumps on to him.
Carter: They roll a few times until Carter is on top of her, he then tries to stab her chest
Haley: Haley gets stabbed but not in the chest instead by her hips since she rolls. She's in pain. She pretends to be dead very very convincingly
This should've ended 2 posts earlier
| Judge | BC - Carter/Jacob | Camp - Haley/Beatrice | Points Possible |
| --- | --- | --- | --- |
| Minx | | | |
| Sub Total | 20 | 17 | 100 |
| Ruby | | | |
| Sub Total | 13 | 14 | 100 |
| Total | 33 | 31 | 200 |
Community content is available under
CC-BY-SA
unless otherwise noted.