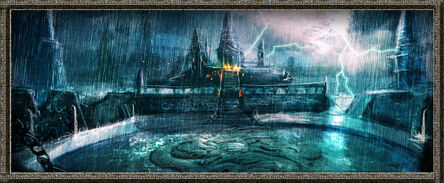 Both very deep and shallow water areas, ranging from 20 feet deep to a few inches
A tunnel deep down goes out to the ocean where other creatures could be called in
There's plenty of dry areas as well for users not Palaemon or Poseidon kids, that are covered with anything ranging from sand to grass to some small vegetation/shrubs
There are some trees around the sides of the arena and below the cliffs (not shown in picture) that can be used for cover and provides plenty of places for shadows
There are also cliffs around parts of the Arena, ranging in height, with both water and land below them, the cliffs also cast shadows on the arena below
The arena is open to the sky and elements
On each end of the arena, on top of some large pillars, are pyres, full of fire and wood. The fire that burns within the pyres can not be extinguished, but if the fire is removed from the pyres, it can then be put out.
Aili: She smiles, brandishing her sword. So, you ready?
Cassadee: She smiles at her in greeting, then, with the attention span of a butterfly that she possesses, she forgets what she's doing and looks around the wide, vast, aquatic arena. The sky painted with stars, the moon's reflection painted on the colossal pool of water that stood in between Cassadee and Aili. Behind Aili were large, jagged cliffs that encircled the arena and casted dim, faint shadows. Circling the endings of the cliffs, behind both Aili and Cassadee, were lush areas of vegetation. She sighed at the various places she could sprint to, but mid-turn, she caught sight of Aili and prepared for combat; she swung her mace around playfully and flashed a sinister looking smile. Totally. Your move, girly.
Aili: She narrows her eyes, focusing soley on Cassadee and ignoring the spectacular scenery surrounding them. Running towards the right, she skirts over the shallow end of the pool, quickly crossing it and making her way towards Cassadee. She swings her sword, aiming at Cassadee's waist.
Cassadee: She quickly reacts, and steps the the side, left of the pool, and swings her mace at Aili's left, her (Cassadee's) light chain mail armor gleamed in the moonlight. Her combat boots hid a dagger, and gauntlets provided safety to her arms.
Aili: She swiftly leans to the right, just barely missing the mace, and then turns so she is facing Cassadee. I probably shouldn't worn at least a little armor.
OOC: Sorry, I meant Cassadee's armor, not Aili's >.<
Cassadee: She pulls her mace back and steps a few steps back, then changes into her intangible state; she dashes directly through Aili, feeling as if she'd passed through nothing at all. She continued, skipped through the shallow end of the water, and stopped at about 3 feet. She was still completely dry, and the water didn't ripple at all. Her hair was still neatly tied back in a pony tail, her eyelashes fluttered, as she eyed Aili playfully, tauntingly. If the moon could reflect off her eyes, they'd twinkle like a star, but her translucent appearance objected. Dark, faint, grey clouds began to drift over the arena, veiling the moon like a bride before her wedding, pale and nerve wrecked. She fingered her bracelet, waiting.
Aili: She turns so she is facing Cassadee again, and her eyes narrow. She closes her eyes briefly, creating an energy shield in front of her, that crackles with electricity. Opening her eyes again, she starts to walk slowly towards her, the water rippling softly behind.
Cassadee: She smirks, then she feels her thoughts fade away, her vision blurs, and everything slowly fades out like the distortion of a picture. Her thoughts become jumbled, and slowly, her physical self too begins to fade in a ghastly manner, she eventually disappears completely, leaving nothing in her place, her former area was as if it were untouched. She was now at right side of the body of water, a great amount of distance between Aili and herself. Fatigue slowed her movement as she sprinted weakly towards the lush, forest like area that was before the cliffs. She stopped at a tree in the mid section of the vegetation; she dispatches a poltergeist to guard the entrance of the vegetation, making Aili's to get to Cassadee more difficult. She rests, replenishing her energy.
Aili: She frowns, then removing her shield, starts running in Cassadee's direction, towards the poltergeist. She creates a "storm of strife", hoping that it somewhat helps her battle the ghost
Cassadee: Aili's storm of strife has a large effect on the surroundings. Branches snap off of trees, winds tearing leaves on the trees, the poltergeist, however, uses the storm to his advantage, redirecting the sharp shards of wood, that broke off the trees with its ghostly energy, back at Aili.
Aili: She quickly shields herself again, though two shards manage to get through before, one which impales itself in her left thigh, another which grazes her cheek. Wincing she pulls the shard in her thigh out, and draws her sword
Cassadee: The poltergeist, out of energy, fades back into its ghostly realm, whereas Cassadee remains where she had stopped to rest, replenished of energy and in a defensive stance, wary of her surroundings.
Aili: Limping slightly, she finally makes her way to Cassadee. Hoping to distract her, Aili casts an illusion which takes the form of something Cassadee desires.
Cassadee: Her thoughts slow, and gradually, an extremely gorgeous boy materializes in between her and Aili, holding flowers and wearing an irresistible grin. Her gaze shifts from Aili to the boy warily.
Aili: While Cassadee is temporarily distracted, Aili raises her sword and attacks her from the right, slashing at her shoulder
Cassadee: She spies the sword with her peripheral vision, and squints, she causes the sword to become intangible. It swings through her, and she smiles in satisfaction. After, she swings her mace at Aili's side, hoping to break some ribs in the process.
Aili: She backs away quickly, trying to dodge the mace, while creating another, smaller storm of strife, hoping to break the mace
Cassadee: The momentum of the swing drags her forward, and the storm loosens her grip of the mace, and swings outward in Aili's direction. She recoils and takes a deep breath, slowly drifting out of her own spiritual self and into the mace, driving more dire force. The storm weakens the durability of her mace.
Aili: She raises her sword to block the mace, hoping the weight she puts into it is enough to hold it back
Cassadee: The mace hits the sword, a medium-strong impact. After, she pulls back, and goes for a swing at her right. Mid-swing, she lets go of the mace, and returns to her body, feeling moderately drained. She rubs her bracelet; it quickly uncoils from her wrist whipping out like a snake. She takes the hand and lashes it out at Aili.
Aili: She dodges, though in the process falls, having put too much weight on her injured leg. While on the ground, she attacks one last time, slashing aimlessly at Cassadee with her sword
Judge
Minx/Cass
Ruby/Aili
Points Possible
Bach

Grammar/Spelling - 4
Defensive - 7
Offensive - 7
Fairness - 16
Balance - 7
Strategy - 4
Creativity - 15
Effective Char Use - 15
Judge's Discretion - 5

Grammar/Spelling - 4
Defensive - 6
Offensive - 7
Fairness - 13
Balance - 6
Strategy - 3
Creativity - 9
Effective Char Use - 12
Judge's Discretion - 4

Grammar/Spelling: - 5
Defensive - 10
Offensive - 10
Fairness - 20
Balance - 10
Strategy - 5
Creativity - 15
Effective Char Use - 20
Judge's Discretion - 5

Sub Total
80
64
100
Owlz

Grammar/Spelling - 4
Defensive - 7
Offensive - 6
Fairness - 16
Balance - 6
Strategy - 3
Creativity - 13
Effective Char Use - 16
Judge's Discretion - 4

Grammar/Spelling - 4
Defensive - 8
Offensive - 9
Fairness - 17
Balance - 5
Strategy - 4
Creativity - 9
Effective Char Use - 14
Judge's Discretion - 4

Grammar/Spelling: - 5
Defensive - 10
Offensive - 10
Fairness - 20
Balance - 10
Strategy - 5
Creativity - 15
Effective Char Use - 20
Judge's Discretion - 5

Sub Total
75
70
100
Total
155
134
200
Community content is available under
CC-BY-SA
unless otherwise noted.