"This character has left to never return....."

The owner of this character,

DemyxHearts9

, has left and this character will no longer be active.
Cody Segumaya
Child of Athena~ Camper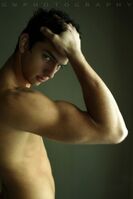 "
The only true wisdom is in knowing you know nothing.
"

–Socrates
"
Real knowledge is to know the extent of one's ignorance.
"

–Confucius

Cody has a very quiet curious way about him when he meets new people. He may seem secluded or sullen. But when he befriends someone he begins to exit his shell. And although not many people but his father know this, he is a homosexual.
When Cody's father Dalton was out on an outing to the forest he met a young lady. She gave him a rather difficult riddle. His father tried his best to decipher the riddle. He succeeded, and when he looked up again the woman had a child cradled in her arms. She told him that the young boy she then handed to him was his reward for solving her riddle.
Cody grew up in his fathers home. He never really did anything remarkable until his father got him a set of building blocks. Cody played with the blocks while his father cooked their evening meal. When his father came back Cody had built what looked to be a very sturdy wall. He had blocks signifying the men who were working the defense and men signifying those who were on the offensive. And one block that Cody had written the letter C on. This remarkable display of defensive battle arrangements shocked his father seeing as how the boy was only 5 years old. Codys father promptly took a photo just in case the battlements were destroyed while they ate.
While Cody grew up his father puzzeled over the strange woman and the thing his child had done eight years ago. He began to look into this. Then one day when Cody, now at the age of thirteen, was at school his father found a book about a Greek Goddess named Athena. He put a few pieces together and they fit. He then exclaimed it to the ceiling that his son was the son of Athena. But what he didn't know was that on his roof sat a lone monster. This monster returned to its group and informed them of his findings. As Cody walked home from school with some of the kids closer to his age, which is around 13, he heard a noise. He turned and saw a flock of birds. But then the birds descended towards them and he saw the vicious talons he knew they were in trouble. Cody yelled at his friends to run and he grabbed a nearby trash can lid and brought it up in a defensive position. As the things began to attack he noticed how odd they looked. Almost like a Gryphon or Gargoyle. As his defense began to fail from this constant thought, a man ran up beside him and yelled at him to run and drew a sword. As Cody ran he thought about his instantaneous reaction. He had been in a mythology class this semester and had learned of a Goddess named Athena. He dismissed the thought and ran home.
As he crashed through the door he and his father both yelled about having something to tell the other. But as Cody began to speak the man came through the door. He had been cut badly and asked Cody to talk to him privately. When they got away the man told Cody that he was attacked for a reason. His lineage. He told Cody that he had to go to a camp called Half-Blood to keep him and his father safe. Cody agreed and began to pack. The man handed Cody a large thing wrapped in cloth. He told Cody to not open it till he reached camp. Cody finished packing and per the instruction of this man left through the window and headed the way the mans rough directions pointed. Cody couldn't wait to see what was in the strange package so he opened it instead of obeying the man. In it was contained a sword, a rapier as he had learned from his days of playing video games, made of bronze. And a medium sized shield. Excited by the new weapons he took the time to equip them. Unfortunately this time was enough for a few of the monsters to catch up to him. As they swooped down Cody raised his shield and used it to block their claws. Using quick, strategic strikes from behind his shield Cody was able to deafeat the viel things. He put the Rapier in his belt and left the shield strapped to his arm and continued following the directions to camp. It was farther than the man had made it sound. It took him close to a week to finally locate the camp. He got lost on the way there and met a young woman. She guided him out of the thicket hed gotten lost in and pointed him in the right direction. He asked her to accompany him. She mearly noded and followed behind him. As they walked onward Cody began to think. He didn't know a single thing about this woman. That night he asked her for her name. She merely replayed that he could call her Serona. With that bit of troubling business aside they went to bed. They continued on their journey in silence. As dusk fell on the 7th day they saw the camp and knew they had made it to where they were going.



More Info:


-The Shy Defender
 Age: 13  Height: 5'7  Weight: 137 lbs
 Sexuality: Homosexual 
 Birth Place: Southern Missouri  Main Weapon: Rapier and Shield
 Accent: Neutral
 – ❝So many people are shut up tight inside themselves like boxes, yet they would open up, unfolding quite wonderfully, if only you were interested in them.❞-Sylvia Plath



More Info:


-The Shy Defender
 Age: 13  Height: 5'7  Weight: 137 lbs
 Sexuality: Homosexual  Relationship Status: Dating Uriel Cohen
 Birth Place: Southern Missouri  Main Weapon: Rapier and Shield
 Accent: Neutral
 – ❝So many people are shut up tight inside themselves like boxes, yet they would open up, unfolding quite wonderfully, if only you were interested in them.❞-Sylvia Plath




Powers:

Powers of a Child of Athena (Has 3 Month Powers; Will Earn 6 Month on June 4th, and 9 Month on September 4th)

Children of Athena have the ability to see each specific pressure point on another person and are proficient at striking them in order to immobilize another person for a short time.
Children of Athena are changed during battle and become stronger and quicker in combat than a normal human could achieve.
Children of Athena, using their inclinations of battle and strategy, can, most of the time, predict the course of action an opponent will take when attacking and dodge or parry accordingly; however, if the prediction is wrong, this may cost the child of Athena dearly.
Children of Athena are innately proficient in both the strategy of and participation in combat.
Children of Athena have innate battle reflexes which allows them to fight and dodge quickly.
Children of Athena have minor telepathic abilities
Children of Athena have the ability to calm a person near them; this can be used on either ally or foe for varying reasons.
Children of Athena have the gift to be able to call upon the allegiance of a nearby owl which will scout for them and relay information back telepathically.
Children of Athena are very intelligent, wise and clever.
Children of Athena are also very adept at weaving, pottery and other crafts.
Children of Athena often give good counsel
Children of Athena, thru telepathy, are able to minorly alter the moods of a person or group of people, for a short time.
Children of Athena are able to make loose materials, or anything found around them to weave a wall, obstructing the view of anyone facing them, as well as blunting attacks, but not entirely stopping all attacks, just slowing them down.
Children of Athena can turn into an owl for a short period of time, allowing then flight, but are considerably drained upon returning to normal form
| | |
| --- | --- |
| Ever Cheated? | No |
| Relates to Others? | WIP |
| Perceived by Strangers | WIP |
| Perceived by Lover | WIP |
| Perceived by Friends | WIP |
| Perceived by Family | WIP |
| First Impression | WIP |
| Family/Friends Like Most? | WIP |
| Family/Friends Like Least | WIP |
| | | |
| --- | --- | --- |
| Name | Relation | Feelings |
| Athena | Mother | He loves that she is his mother and not some other goddess |
| Dalton Segumaya | Father | He worries about his father. Is he okay back home? |
| Uriel Cohen | Boyfriend | He isn't sure what he feels for Uriel. Is this love? |
| | Friend | |
Community content is available under
CC-BY-SA
unless otherwise noted.