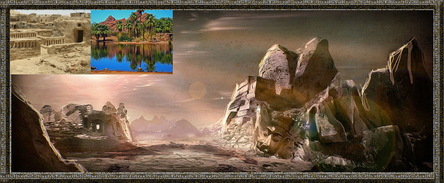 This arena is surrounded by tall peaks and cliffs, moving towards the centre of the arena is a mostly dry sandy landscape, with lots of ruins, some even resemble an archaeological dig, with lots of places to hide in the shadows.
At the very centre of the arena is a lush oasis with a pond, palm trees and all sorts of vegetation.
The arena is open to the sky and elements
On each end of the arena, on top of some large pillars, are pyres, full of fire and wood. The fire that burns within the pyres can not be extinguished, but if the fire is removed from the pyres, it can then be put out.
Fight
Introductions
Skylar Lune

~ Child of Eros


'"If you're happy in a dream, does that count?"'

He casually wanders about the arena taking in the breathtaking scenery of the boring dirt plain and start coughing on the dirt fog floating around. He grasps hold of his sword waiting for him opponent to show up, maybe attacking straight away to keeps on high guard. He has two daggers strapped to his thighs and his scythe on his back. Again the only thing armoured is his converse which look a little more worse for wear than they were at the beginning of the last round.

Character's Bio


 Age: 22  Height: 5'11  Weight: 130lbs
 Sexuality: Pansexual  Relationship Status: Complicated
 Birth Place: Nice, France  Main Weapon: Sword, Bow and Arrow
 Accent: French (Actually begins talking French when flustered, upset, drunk or stressed)
 – "You know that feeling, when you're just waiting. Waiting to get home into your room to close the door and to fall into bed to let out everything you kept in that day? That feeling of both relief and desperation. Nothing is wrong, but nothing is right either. And you're tired. Tired of everything, tired of nothing. And you just want someone to be there and to tell you that its going to be okay. But nobody is there. You know you have to be strong because nobody can fix you."

Character's Powers

 Powers of a Child of Eros (Has 3/6/9 Month Powers):

Children of Eros can manipulate the thoughts of a person for a short period of time in order to make them able to only think about the person or thing they love or favor most. Once used on a person it becomes ineffective on that person for a moderate amount of time.
Children of Eros have the ability to focus an emotional energy beam out of their love, which will burn anything it touches.
Children of Eros can cause people of the gender they are attracted to, to lose all desire to attack them for a short time (in the case being that they are bisexual or pansexual etc it would be only people with the same gender of their current or most recent partner). Once the child is attracting someone, they cannot attack. So the power is purely defensive.
Children of Eros can generate a veil of the emotional energy from the feeling of love, the veil will protect them from damage for a short time, but cannot be used if the child does not have the love to fuel it.
Children of Eros cause anyone of the opposite gender to be, at least slightly, attracted to them, they also attract people of the same gender that consider themselves gay or lesbian.
Children of Eros are innately proficient archers.
Children of Eros have a partial resistance to charmspeak, charm-touch etc.
Children of Eros can detect emotional ties between different people, if they're lovers, friends etc. and can find out about someone's previous partners, including: if they had sex, and how long the relationship lasted. They can also easily tell their sexuality and ideal partner, it works better the more emotionally concerned the child of Eros is for the target.
Children of Eros can manipulate the feeling of love of people by either removing it or increasing it towards themselves or other people. This is temporary and requires a lot of energy, although using it towards oneself requires less than if it were towards other people. Ex: They can make someone love and admire them, or hate them, or make best friends hate each other, or two enemies feel love for eachother.
Children of Eros can infuse emotional love magic into their arrows or any other weapon in their possession, if the weapons hits the intended target, the target will temporarily fall in love with the first object or person they see for a moderate time. After which, the target is immune to further use of it for the rest of the fight. (Note:The Love magic works better when used with arrows though.)
Children of Eros can decrease or increase someone's lust, such as increasing a desire for sexual intercourse or simply wiping it out. An increase in sexual desire can be resisted by sheer willpower and will only last for a short time, this depends on the magnitude of the target's sexual desire before it was attempted to be altered.
Since their father was depicted as a winged god, children of Eros can sprout wings for a short time, this enables them to fly; the longer they maintain this state, the more energy it drains. They must rest between flights and cannot make long distance traveling without resting often. However the wings are vulnerable to injuries and magic; they can also be customized to the user's preference.
Children of Eros can infuse magic into their grasp, and 'charm-touch' another person into doing their will or revealing a secret to them. The person will remain under the control of the charm-touch for a few minutes or until control is relinquished, and the child of Eros must touch the skin of the person they want to affect. 'Charm-touch' is considered more powerful and can override charmspeak due to the fact the user must make physical contact with the target.
Children of Eros are now able to channel their loving emotional energies to construct combative and non-combative objects, formed one at a time and no more than 2 to 3 times the size of the user, which takes on beautiful, magnificent and seemingly harmless appearances depending on the user's preferences. They can also create semi-living constructs under the user's complete control. However, their ability to use the power, and control the construct, is hindered before or during use when they experience emotions that are like hate or malice. As these emotions are felt, the strength of the object begins to fade, becoming dull and brittle.
Children of Eros can feed off the love they've given or received in their lives and become an embodiment of love. This would make them more powerful, immune to all attacks, enhancing their physical prowess and power over emotional energy they previously possessed. This only lasts for a short time, after which the user will be so exhausted they would lack the ability to even move for some time.
In some cases Children of Eros tend to be fiercely loyal and compassionate to their loved ones, friends, and family. In other cases, they love creating romantic strife. Cheating on partners, seducing others already in relationships etc.
Children of Eros tend to be very flirty and attractive, causing them to retain a youthful skin/hair/facial appearance than others after completing puberty.
Children of Eros tend to be very mischievous and cunning, often seen making plans to prank or matchmake other campers.
Children of Eros typically get along with children of Aphrodite.

Owned by:

Wonder

~ Posted on: 21:06, November 12, 2013 (UTC)
Colton Owen

~ Child of Pandia


"Aim for the moon. If you miss, you may hit a star."
Prior to entering the arena he recalls the things about the surrounding of the arena he caught from his previous fight. His photographic memory makes things easy to recall pass experiences whenever necessary. From his previous battle, he has kept some strategies he know that he can rely on, used in previous battles. The things about the arena that quickly came to his mind is the dry land throughout the entire arena. And deep in the middle is a single, lush land. The rest of the arena is similar to a desert with many ruins. Surrounding the outside of the arena are peaks and cliffs. And perched on top of each pillar at the end of the arena are pyres with blazing flames.

After making some brief plans and strategies he confidently enters the arena, wearing light-metal Celestial Bronze armor along with his dual Celestial Bronze Scimitars. Strapped onto his back is a Bow and quiver loaded with Celestial Bronze arrows capable of causing various of effects. He waits in a defensive stance keeping his guard up and his eyes on his opponent for any movement. He motions for Skylar to take the first move, keeping his reflexes ready to use any kind of maneuver necessary to take less contact from any attacks or perhaps dodge it completely.

Character's Bio


 Age: 16  Height: 6'1  Weight: 180 lbs.
 Sexuality: Bisexual  Relationship Status: Single
 Birth Place: Venice, Italy  Main Weapon: Dual Scimitars that has weaker but faster slashes when it's a new moon and stronger but slower slashes when it's a full moon and a Bow with a variety of Celestial Bronze Arrows.
 Accent: Neutral
 – "If the Sun and Moon should ever doubt, they'd immediately go out."

Character's Powers

 Powers of a child of Pandia (3/6/9 Month Powers reached):

Offensive

Children of Pandia have the ability to form weapons out of pure moonlight which can be used for combat; however, only one weapon can be conjured at a time and it cannot be bigger than the one who conjured it. Non-combative objects can also be made out of this, but cannot generate any electricity as moonlight does not have any working parts.
Children of Pandia have the ability to focus an intense beam of moonlight which will burn anything it touches.

Defensive

Children of Pandia have the ability to create a protective dome of pure solid moonlight which will defend them from attacks for a short time.
Children of Pandia have the ability to bend the moonlight around them, concealing them for a short time. If the child attacks while in this state, it automatically wears off. So the power is purely defensive.

Passive

Children of Pandia can see perfectly at night as if it were day.
Children of Pandia are innately stronger at night.

Supplementary

Children of Pandia have the ability to generate moonlight to shine so bright that it can blind the beholders for a short period of time or just light up areas for allies, depending on how bright it is. They can create sources of moonlight from a distance and command them to maintain it's form for a moderate time, but the light cannot be bright enough to harm anyone's eyes to exist that long.
Children of Pandia have the ability to use the gravity pull of the moon to slow down enemies giving them a high chance to avoid an opponent's attack or prevent an opponent from avoiding one of the user's attacks.
Children of Pandia are able to telekinetically move water at a high rate, since the moon has power over the tides. The larger amount of water used, the more energy it drains.
Children of Pandia have the ability to Moonlight Travel, to merge with natural moonlight or moonlight they created themselves and teleport to another source of moonlight. The further the distance traveled, the more energy is drained.
As their mother was the goddess of the nourishing dew, children of Pandia have the ability to force the temperature within a 15 meter radius of them to reach dew point, condensing all the atmospheric water vapour into water droplets and drenching those in the vicinity. The user is immune to the attack, but their allies are endangered.

3 Months After a Character is Made

Children of Pandia receive an enhancement in their powers over gravity. They can enchant themselves, others and nearby objects to become detached from gravity for a short time. People who aren't willingly freed from gravity can only float a few feet into the air, while the user and their allies can completely fly at their own will. Items under the enchantment can also be crushed by intensifying gravity's hold on them. They cannot use this to perform overwhelming feats such as crushing buildings.

6 Months After a Character is Made

Children of Pandia can turn their moonlight into tools, objects, weapons and other items, create semi-living constructs and/or create structures/buildings of varying permanence; however, only up to 4 combative/non-combative items or 1 semi-living construct can be conjured at a time and it cannot be larger than roughly 3 times the size of the one that conjured it. Tools may be telekinetically moved by the user's mind. The longer they maintain combative/non combative items and semi-living constructs, the more it drains their energy, so they are more limited for the time they can keep these things cohesive.

9 Months After a Character is Made

Children of Pandia have the ability to shed their flesh into pure moonlight, granting them the ability to fly and everything they touch intensely burns. Their existing lunarkinetic abilities are stronger in this state. The longer they maintain this form, the more energy it drains. When they revert back to their original form, they are drained greatly and cannot even move or could even faint from exhaustion.

Traits

Children of Pandia are typically more active during night time especially when the moon is full. Also being in better moods at night and disliking the day.
Children of Pandia often grow up to make great astrologists and enjoy studying constellations.
Children of Pandia have been known to take interest in ayurvedic practices due to its association with astrology.
Children of Pandia nearly always have innate knowledge on the phases of the moon. Ex: They'd be able to tell if the following night will have a full moon and when a new moon will begin.

Owned by:

Kevin

~ Posted on:

Are you the food? No, we are the hunter!

~Eren Jaeger (Kevin)
The actual fight
Skylar: He tilts his head before turning around to face Colton, taking a good look at him, the sun shining bright directly overhead of them meaning it must be midday. His eyes take a sharp look into Colton's as he cautiously walks up to him slowly, hoping to distract him from his battle stance with his good looks/charm and also trying to sway his feelings so that he could feel even a slightly amount of love for him.
Judging
Community content is available under
CC-BY-SA
unless otherwise noted.