Darkness/Night/Underworld Arena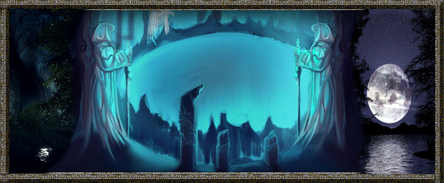 On the top side of this arena it is a typical landscape, a pond in the middle, trees, however it is charmed to be eternally night, with the stars and moon in the sky
Located in the middle of the arena on the top side is a small grave yard
At a few various point around the arena are dark caves going deep down into the underworld, this part of the underworld has been sealed off from the rest, so that anyone may gain access no matter who their god parent
The arena is open to the sky and elements, but as there are caves down into the underworld, there are areas of the arena that the sky access is limited
At the centre of the underworld, there is a medium sized temple, it is the darkest at this point and there are pyres, full of fire and wood, at the entrance to the temple. The fire that burns within the pyres can not be extinguished, but if the fire is removed from the pyres, it can then be put out.
Inside the temple are various Greek statues, roughly 6 feet tall
Scott -Demigod
-Savage Highlander
Age= 13     Height= 5'5     Weight= 107 lbs      
Sexuality= straight     Relationship Status:= Single
Health Status= Healthy     Nationality= Scottish
God ParentHephaestus      Main Weapon= Celestial Bronze Claymore and Targe Shield
 – 01:46, April 30, 2013 (UTC)

he enters the arena, wearing a set of chainmail armor with a leather chest guard, boots, steel gauntlets, and a steel plate helmet that covers his face with a medieval-stye protection "Bloody war god... why did I have to be chosen for this?! Ah well... I just hope my oponent isn't too difficult to fight."
Shen Jian -Child of Bia
-The Warrior of Wudan, 2nd in Command of Opus Superum
Age: Biologically 20 Height: 6'3" Relationship:Single
Health Status: Healthy
Species: Demigod Main Weapon:Han Dynasty Weaponry
 – "我掌握了所有我触摸,包括你."

Jian steps into the arena, immediately becoming discombobulated by the darkness around him. He is dressed in a warrior's tunic and trousers typical of a Han century warrior. However, strapped to his chest underneath the tunic is a light celestial bronze chestplate. In his right hand is his Jian sword which transforms into a necklace when not in use. Around his left wrist is a bamboo bracelet which if activated turns into a trusty Qiang spear. His deer horn knives, which possess no mist form, are firmly attached to his back.
Scott -Demigod
-Savage Highlander
Age= 13     Height= 5'5     Weight= 107 lbs      
Sexuality= straight     Relationship Status:= Single
Health Status= Healthy     Nationality= Scottish
God ParentHephaestus      Main Weapon= Celestial Bronze Claymore and Targe Shield
 – 01:46, April 30, 2013 (UTC)

he approaches Shen, his claymore drawn and targe firmly strapped onto his left forearm. his Scottish accent makes him sound a little older than he appears "So... you're my opponent, lad? I assume you also were teleported here unexpectedly?"
Shen Jian -Child of Bia
-The Warrior of Wudan, 2nd in Command of Opus Superum
Age: Biologically 20 Height: 6'3" Relationship:Single
Health Status: Healthy
Species: Demigod Main Weapon:Han Dynasty Weaponry
 – "我掌握了所有我触摸,包括你."

Jian makes no effort to answer his opponent's questions. It becomes immediately apparent to him that despite all the circumstances, in front of him stands a camper and he desires little more than to slay him or at the very least leave him maimed. "You need training! You not ready to face one such as me. I will ensure death quick and painless."
The Fight
Scott: "I don't need bloody training, lad." his first attack is a horizontal right-to-left swing of his sword, aimed at his enemy's rib cage
Jian: Quickly determining that his jian is ill equipped for the heavy slashing style of Scott's claymore, Jian decides that he needs to buy himself a couple of seconds to change weapons. His right hand gripping his sword, Jian raises his left hand toward Scott and releases subtle wave of force toward his opponent. He targets the force wave at Scott's incoming strike, attempting to divert the strike long enough to allow a quick relocation. With no time to evaluate the success of the diversion, he quickly pivots and leaps into the air, landing tenderly on his feet approximately 20 feet away. Deactivating his sword and placing the necklace in his pocket, Jian pulls his deer horn knives off his back and holds them at the ready.
Scott: His attack was pushed back, but the weight of Scott's armor and weaponry weigh him down to keep him in place. Taking the distance between him and Jian as an advantage, he does a single-man Great Highland Charge at  Jian, his targe raised and claymore straight so the Jian will hopefully be pierced by the spiked shield. He is slightly slower than a normal charging speed due to the weight of his gear, but is able to use his stregnth and make him go fast enough at the speed of a light sprint. He battle-cries "For Camp Half-Blood!!!"
Jian: Coming to the conclusion that his number 1 priority needs to be to force Scott to abandon his brash fighting techniques, Jian takes a deep breath and transitions into a state of intense willpower, rendering himself immune to attacks. Giving a rye smile and quickly cracking his neck, he raises his deer horn knives and charges forward to meet Scott's attack, which glances harmlessly off of his currently invulnerable frame. He then begins slashing, jabbing, and uppercutting at Scott with his deer horn knives. Hoping long term to inflict some flesh wounds, but in the immediate sense to deprive Scott of some of his heavy metallic protection he has arrayed himself in. 
Scott: He is able to block or dodge most of the slashes, but the few that hit him don't affect his armor much, aside from one slash that made a scratch on his leather chestplate, causing it to be a little weaker and open to attack. Scott replies to Jian's barrage of attacks with an extremely hard shield bash, hoping to pierce Jian's left arm with the large spikes on his shield's face
Jian: Jian heaves a sigh and ceases his onslaught as he realizes that Scott is clearly not responding positively to his intentions. Maintaining his invulnerability just long enough to avoid injury at the hands of the menacing targe, Jian turns and ascends into the air once more. Descending onto the upper echelon of the branches of a nearby tree with a slight tremor, Jian leers down at Scott from his lofty perch and awaits his ensuing move. 
Scott: he looks up at Jian "Looks pretty cold up there!" he removes his left gauntlet, touches the tree with his left hand and ignites it at the base, then quickly puts his iron glove back on. The fire swiftly spreads and crawls up towards the branches Jian is sitting on.
Jian: Jian frowns as he sees the flames ascend toward him as Scott's maneuver has undercut time he was hoping to have to recuperate some energy.  He has little choice but to take to the air once more as flames lick at his tunic and singe it slightly. Making for the temple, he lands sprightly on its roof and a couple of tiles are spried loose as he descends with a slight tremor. Placing his deer horn knives on his back and freeing up his hands, he forms an invisible javelin out of thin air and leans on his back foot. With a steely glare at Scott, he then steps forward and with his right arm launches the javelin toward Scott, attempting to strike the part of his armor that was more significantly shredded by his earlier onslaught. 
Scott: Scott can't see the javelin, but can hear something swooshing through the air. He sidesteps, hoping to dodge the invisible object, but it happens to scrape his lower side. He grunts in pain from the gash, but he cauterizes it shut with heat from his hands. He then hurries to the temple, his shield raised in defensive formation.
Jian: Mystified and amused by Scott's stubborn refusal to adjust his strategy, Jian decides to humor his opponent and engage in another bout of mano-e-mano combat. Ever vigilant however, Jian is ever aware that he does not have the weaponry at his disposal to directly challenge the physical superiority of Scott's unwieldy Claymore. With this in mind, he aims another steely glare at Scott and activates his ability to sap an opponent's strength. Knowing full well that it is Scott's enhanced strength as a son of Hephaestus that allows him to wield the claymore with such dexterity, Jian attempts to use his power to mitigate such strength. By extension, he hopes to render Scott unable to continue to wield his heavy claymore and grant himself yet another prescient advantage.
Scott: Scott suddenly feels weaker, and drops his claymore. He tries to pick it up, but he can only lift the hilt and let it drag across the ground, not being able to wield the blade high in the air. He moves as fast as he is able to up towards Jian, still dragging his sword and occasionally putting it down to climb, then lifting it up again with difficulty. As he makes it to the roof, he quickly creates a large smoke screen to try and confuse Jian, and prehaps even break Jian's sapping concentration so he can regain his stregnth and once again use his sword.
Jian: The air around Jian is suddenly engulfed with a foul smokescreen that clouds his vision and defiles his nostrils. Feeling his energy depleting and having no desire to fight under duress in such adverse conditions, he decides to exit the situation and make for the trees once more. He hopes that Scott will likewise be restricted somewhat by his own smokescreen and won't be able to mark his escape. Unfortunately, his hampered vision renders him unable to plan a clear trajectory and so his leap doesn't go as smoothly as he had hoped. He's able to succesfully land on another nearby tree, but he lands roughly in the branches and receives a moderate amount of scratches on his face and tears in his clothes as he does so.
Scott: Able to navigate through his own smoke with only slight obstruction, Scott realizes his oponent his nowhere to be found. The smoke clears, and Scott notices Jian in the trees. Scott, knowing his set-fire-to-the-tree tactic probably won't be as effective as Jian will be expecting it, he decides to do another move: he makes another quick smoke screen, large enough so that Scott can find a way to appraoch Jian unoticed. Instead of a direct appraoch to Jian, he circles around the back and heads towards the tree as quiet as he can. He is able to reach the tree, and with his stregnth regained, he begins to chop the tree with his claymore, hopfully so Jian will lose his balance and topple off the branch.
Jian: Jian bites his lip in irritation as he glances down at Scott from above. While he is elated that his elusiveness has afforded him the luxury of avoiding undesirable physical encounters with his opponent, he is growing frustrated by having to lean predominantly on his powers which are starting to sap his energy despite his enhanced endurance. Deciding to hold off on another active use of his powers but not posessing the weaponry to efficiently protect the tree, he decides to turn back to a trusty supplementary power. Leaping down onto the lower echelon of branches about 8 feet above Scott, Jian generates another tremor in an effort to knock Scott off balance or even off of his feet. Not contented with just one tremor, he continues to leap up and down from his perch, generating more and more tremors and attempting to dissuade Scott from continuing to hack away at the tree.
Scott: Scott stops chopping at the tree and begins to stumble backwards. He slips, but luckly he kept himself on his feet by stabbing his claymore into the ground and holding onto it like a cane. The tremors are strong, so Scott has to continue holding onto his claymore as a cane. Scott realizes this man can't play a clean fight, so Scott plays dirty. He quickly scoops up a pile of dirt in his left gauntlet, his right hand still cluched hard onto his claymore, and throws the dirt at Jian, hopefully so some will get in his eyes and make him fall off the tree, or to the least break his concentration.
Jian: Jian ceases his leaps as he observes that the cutting of the tree has stopped. He lands nimbly on the branch but suddenly finds his vision obscured by a few specks of dirt that land in his eye. Acknowledging that the dirt must have been thrown by Scott, he leers down at him in irritation and ponders his next move. Not yet restored to full energy, Jian decides to humor Scott and buy himself some time at the same time by directly engaging him. Pulling out his deer horn knives and leaping off the branch, Jian creates another tremor as he lands daintily on his feet in front of Scott.
Scott: He stumbles back a little from the tremor, but is glad that Jian is now in perfect fighting distance. Scott makes a swing towards Jian's left, but cancles the attack mid-swing and whirls the blade to strike Jian's right side. Hopefully, Jian will try and block his left side from the feinted attack, leaving his right side open for the actual strike Scott attempts to make with his sword.
Jian: Jian bites hard on the play-fake and quickly raises his deer horn knives to defend his left flank. By the time he realizes that he's been had, he is only able to raise his right knife in time to defend himself. While the one handed defense is enough to prevent wounds to his body, the superior strength of Scott's two handed strike collides with his feeble one handed parry and causes him to be knocked off of his feet and he lands roughly on his rump. 
Scott: Scott quickly points his blade at Jian's face, as a threat he'll stab right through. "Listen, lad! I'd suggest you give up before we're both sent to Tartarus!"
Jian: In spite of his precarious situation, Jian grins in elation as he feels his energy return to full capacity. Tilting his head slightly, he calls upon his powers of invulnerability once more. He then quickly leaps to his feet, having no regard whatsoever for the unwieldy Claymore that he knows cannot hope to render pain on his body. Dropping his deer horn knives, Jian creates medium-sized invisible spikes all over his arms, legs, and body and gives a quick wink at Scott. He then steps back on his left foot and then lunges forward, attempting to full on body tackle Scott while currently arrayed like Sonic the hedgehog from hell.
Judging
Judge
Scott/Craft
Jian/Wind
Points Possible
Hydro

Grammar/Spelling - 3
Defensive -5
Offensive -6
Fairness -15
Balance -5
Strategy -1
Creativity -11
Effective Char Use -13
Judge's Discretion -3

Grammar/Spelling -4
Defensive -7
Offensive -8
Fairness -15
Balance -8
Strategy -4
Creativity -15
Effective Char Use -18
Judge's Discretion -4

Grammar/Spelling: - 5
Defensive - 10
Offensive - 10
Fairness - 20
Balance - 10
Strategy - 5
Creativity - 15
Effective Char Use - 20
Judge's Discretion - 5

Sub Total
62
83
100
Minx

Grammar/Spelling - 3
Defensive - 6
Offensive - 5
Fairness - 12
Balance - 7
Strategy - 1
Creativity - 10
Effective Char Use - 14
Judge's Discretion - 1

Grammar/Spelling - 4
Defensive - 8
Offensive - 6
Fairness - 12
Balance - 5
Strategy - 4
Creativity - 13
Effective Char Use - 17
Judge's Discretion - 4

Grammar/Spelling: - 5
Defensive - 10
Offensive - 10
Fairness - 20
Balance - 10
Strategy - 5
Creativity - 15
Effective Char Use - 20
Judge's Discretion - 5

Sub Total
49
74
100
Total
111
157
200
Wind/Jian wins

Brocky Good morning, campers! ❤ 27,583


Community content is available under
CC-BY-SA
unless otherwise noted.