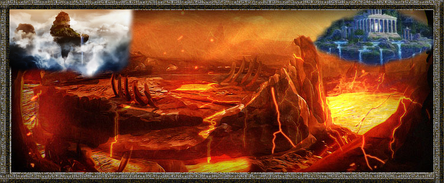 At first glance the arena seems to be hills of lush vegetation surrounded by some sort of fog, however on closer inspection, it is really islands of vegetation and hills suspended over lava rivers and fire beneath, so watch your step, the fog isn't fog at all but steam from where there are streams flowing off the sides of the islands and down onto the lava below.
On the top level of the arena it is open to the air above, and has lush green vegetation and hills, lots of shadows, lots of places to hide. Some of the islands are only a few feet across, more like stepping stones, while some are quite large, the central one being the largest with a Greek style building at the top.
Within the Greek style building there are a few 6 foot tall Greek statues
Beneath the "islands" the lava an fire below are broken apart by rocky areas that are free of lava and fire
There are some stone steps leading down towards the lava/fire beneath at various points
The arena is open to the sky and elements
Pre Fight
Camille Branwell

~

Daughter of Boreas


"I restore myself when I'm alone"

She enters the arena in light armor: a breastplate, gauntlets covering her forearms, and her combat boots hid two daggers, one in each. Her sword sheathed and slung over her back, and tomahawks are held in both of her hands. She awaits her opponents arrival.

Character's Bio


 Age: 17  Height: 5'7"  Weight: 125 lbs.
 Sexuality: Straight  Relationship Status: Single
 Birth Place: Quebec, Canada  Main Weapon: Sword & Wind Wheels
 Accent: English
 – bottomquote

Character's Powers

 Powers of a Daughter of Boreas (3/6/9):

Offensive

Children of Boreas can create an incredibly cold wind around an opponent, the wind will follow them no matter what for a short time. The wind would make the user feel as if it's 15 degrees (fahrenheit), distracting them and making them vulnerable to attack.
Children of Boreas have the ability to conjure up to ten long lances of ice which can surge forward and impale an opponent.

Defensive

Children of Boreas have the ability to create a dome shaped torrent of wind, roughly two or three times the size of the user, which can be used to block attacks for a very short time.
Children of Boreas can heal themselves by using ice, absorbing frozen energies which can freeze molecules, renew damaged cells, and also stop bleeding. This can be used to quickly heal minor wounds and slowly heal major, but not fatal, wounds. Ice healing only affects children of Boreas, Khione and Ice/Snow Nymphs as they are the only ones who can draw power from the snow.

Passive

Children of Boreas are inherently resistant to the cold, including hypothermia and frostbite.
Children of Boreas are inherently stronger during the winter or on any cold days.
Children of Boreas always emit an aura of coldness, making others around them feel slightly cold. The user can shut it off for a long time if they choose to.
Children of Boreas can turn water into ice or make it severely cold with a cool breeze.

Supplementary

Children of Boreas have the ability to hover or fly, however, the longer they fly the more it drains them.
Children of Boreas can apply the power of 3rd or 4th degree frostbite to an opponent's weapon, freezing it to the point that it becomes fragile and easily breakable. It only lasts for a short time, after which the weapon reverts to it's normal temperature.
Children of Boreas can create armor and weaponry out of ice. The larger the size and quantity of the weapons, the more energy is drained. They can also infuse existing weapons with ice in order to make them stronger.
Children of Boreas can call upon the icy winds in order to speed up their movements and attacks.

3 Months After a Character is Made

Children of Boreas can create a hail storm, with up to baseball size hail for a short time. The storm will produce powerful, freezing winds. The hail will fire in whatever direction the user wishes, the user will be somewhat drained once the storm subsides.

6 Months After a Character is Made

Children of Boreas can create an ice dragon lacking wings, a semi-living construct creature of ice that could be called an ice drake, no larger than 2 to 3 times the size of the user, to fight for them for a short time. This drake attacks with frost breath which can damage and freeze opponents. While the Drake is active, the user has a hard time moving and afterwards must rest between making another one.

9 Months After a Character is Made

Children of Boreas can shed their flesh and transform their bodies into pure cold air which grants them temporarily immunity from attacks as well as drastically enhances their current ice powers. This ability only lasts for a short time and the user will be left heavily drained and unable to move for some time and could possibly faint after the ability dissipates.

Traits

Children of Boreas are often ambidextrous, a trait they share with Notus' children.
Children of Boreas have a natural preference for places in the Northern Hemisphere, the further North the better. They also prefer anywhere cold in general.
Children of Boreas are naturally skilled at ice fishing.
Children of Boreas make excellent navigators due to their ability to always find North.

Owned by:

Minx

~ Posted on: {{{2}}}
[[|Alice Aslanov]] -Child of Nyx
-Daughter of Nyx


Alice walks in, looking around cautiously, she's dressed in all black, a dagger hidden in her boot, and her pendant around her neck that turns into a sword in case she needs it. She spots Camille, and stops about 500 yards from her, she doesn't say anything, but eyes Camille cautiously
Camille Branwell

~

Daughter of Boreas


"I restore myself when I'm alone"

Camille eyes Alice warily, "You ready...?"

Character's Bio


 Age: 17  Height: 5'7"  Weight: 125 lbs.
 Sexuality: Straight  Relationship Status: Single
 Birth Place: Quebec, Canada  Main Weapon: Sword & Wind Wheels
 Accent: English
 – bottomquote

Character's Powers

 Powers of a Daughter of Boreas (3/6/9):

Offensive

Children of Boreas can create an incredibly cold wind around an opponent, the wind will follow them no matter what for a short time. The wind would make the user feel as if it's 15 degrees (fahrenheit), distracting them and making them vulnerable to attack.
Children of Boreas have the ability to conjure up to ten long lances of ice which can surge forward and impale an opponent.

Defensive

Children of Boreas have the ability to create a dome shaped torrent of wind, roughly two or three times the size of the user, which can be used to block attacks for a very short time.
Children of Boreas can heal themselves by using ice, absorbing frozen energies which can freeze molecules, renew damaged cells, and also stop bleeding. This can be used to quickly heal minor wounds and slowly heal major, but not fatal, wounds. Ice healing only affects children of Boreas, Khione and Ice/Snow Nymphs as they are the only ones who can draw power from the snow.

Passive

Children of Boreas are inherently resistant to the cold, including hypothermia and frostbite.
Children of Boreas are inherently stronger during the winter or on any cold days.
Children of Boreas always emit an aura of coldness, making others around them feel slightly cold. The user can shut it off for a long time if they choose to.
Children of Boreas can turn water into ice or make it severely cold with a cool breeze.

Supplementary

Children of Boreas have the ability to hover or fly, however, the longer they fly the more it drains them.
Children of Boreas can apply the power of 3rd or 4th degree frostbite to an opponent's weapon, freezing it to the point that it becomes fragile and easily breakable. It only lasts for a short time, after which the weapon reverts to it's normal temperature.
Children of Boreas can create armor and weaponry out of ice. The larger the size and quantity of the weapons, the more energy is drained. They can also infuse existing weapons with ice in order to make them stronger.
Children of Boreas can call upon the icy winds in order to speed up their movements and attacks.

3 Months After a Character is Made

Children of Boreas can create a hail storm, with up to baseball size hail for a short time. The storm will produce powerful, freezing winds. The hail will fire in whatever direction the user wishes, the user will be somewhat drained once the storm subsides.

6 Months After a Character is Made

Children of Boreas can create an ice dragon lacking wings, a semi-living construct creature of ice that could be called an ice drake, no larger than 2 to 3 times the size of the user, to fight for them for a short time. This drake attacks with frost breath which can damage and freeze opponents. While the Drake is active, the user has a hard time moving and afterwards must rest between making another one.

9 Months After a Character is Made

Children of Boreas can shed their flesh and transform their bodies into pure cold air which grants them temporarily immunity from attacks as well as drastically enhances their current ice powers. This ability only lasts for a short time and the user will be left heavily drained and unable to move for some time and could possibly faint after the ability dissipates.

Traits

Children of Boreas are often ambidextrous, a trait they share with Notus' children.
Children of Boreas have a natural preference for places in the Northern Hemisphere, the further North the better. They also prefer anywhere cold in general.
Children of Boreas are naturally skilled at ice fishing.
Children of Boreas make excellent navigators due to their ability to always find North.

Owned by:

Minx

~ Posted on: {{{2}}}
Fight
Alice: Alice doesn't say anything and instead goes immediately into the offensive by creating three small daggers out of shadows and sending them hurtling towards Camille. As soon as they leave Alice's fingers, she looks to her left and into the fog that surrounds the islands, created from the drastic difference in the hot air below and the cool air above. Figuring how she entered the arena, and knowing that there is a Greek temple in the centre island, she takes off, disappearing into the fog, and towards the centre. Leaping over brushes and rocks, ducking under branches and trees, watching her step knowing that as thick as the fog and mist is in areas, she might step too quickly and end up in the lava below.
Camille: She creates a small tornado, about the size of her, thwarting the daggers' paths, however one of the daggers still manages to nick her in the shoulder. She staggered back, then looked at the direction Alice fled in. Instead of taking the risk of going on foot, Camille hovers about three and half feet in the air, and glides quickly to the Greek structure. In an attempt to slow Alice down, she hovers over her and calls upon a massive snow flurry, trying to lower her body temperature and cloud her vision.
Alice:
Judging
WIP
Community content is available under
CC-BY-SA
unless otherwise noted.