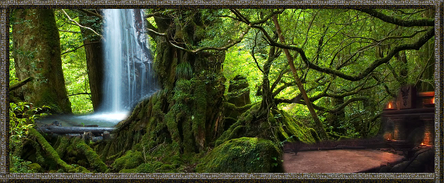 This arena is essentially a tightly compacted jungle/forest, with tall cliffs along the edges of the arena
At various points in the forest/jungle there are some small waterfalls and ponds
The arena is open to the sky and elements, however due to the tightly compacted nature of the jungle/forest, there are areas where the sky cannot be seen, along with lots of shadows and places to hide
At the centre of the arena (jungle/forest), there is a medium sized temple, it is the darkest at this point and there are pyres, full of fire and wood, at the entrance to the temple. The fire that burns within the pyres can not be extinguished, but if the fire is removed from the pyres, it can then be put out.
Inside the temple are various Greek statues, roughly 6 feet tall
There are numerous and various species of wildlife hidden amongst the forest/jungle, but none larger than a grizzly bear
Gaven -Child of Persephone
-Death Flower~
Twin of Jackie
Age= 18     Height= 6'1      
Sexuality= Bi-Curious     Relationship Status= Taken by Sammi
Health Status= Healthy      Nationality= Scottish
Species= Demigod     Main Weapon= Sword


He stands in the arena, waiting for Maureen
Gaven -Child of Persephone
-Death Flower~
Twin of Jackie
Age= 18     Height= 6'1      
Sexuality= Bi-Curious     Relationship Status= Taken by Sammi
Health Status= Healthy      Nationality= Scottish
Species= Demigod     Main Weapon= Sword


He grins, "You ready?"
[[File:|125px]]

[[|Maureen]] -Child of Dionysus
-The Dark Dilemma


"The correct question is are you ready?"

Gaven: He grins and shoots two throned roses at her
Maureen: She ducks and creates some grape vines which start chasing Gavin.
Gaven: He creates a wall of flowers to shield himself, before trying to run
Maureen: She starts running after him as fast as possible.
Gaven: He runs and trips over a root arming himself with two small daggers
Maureen: Shoot She mutters. She keeps running after him. Aiming an arrow at him.
Gaven: He gets up and starts to run again, shooting a few thorned roses at her
Maureen: Holy shoot she screams as 3 roses hit her legs. She stumbles and shoots her arrow hoping it would hit him.
Gaven: The arrow hits him in the shoulder. He clutches it in pain, before throwing his daggers at her
Maureen: She's stumbling. 2 daggers fly right by her. She stares at them. Then the other dagger hits her leg and it starts to bleed. She screams then throw a spear at him aiming at his ankles. While she's in pain she watches the spear and hopes it hit him
Gaven: He jumps out of the way from the spear, it barely missing him. He takes his final dagger from his boot and starts running towards her
---
Gaven/Oli posted last. He wins by default.
Community content is available under
CC-BY-SA
unless otherwise noted.