"This character has left to never return....."

The owner of this character,

Ranger lucy

, has left and this character will no longer be active.
Nardia
Hunterss of Artemis
Child of Prometheus
(This Character Belongs to
ranger lucy
)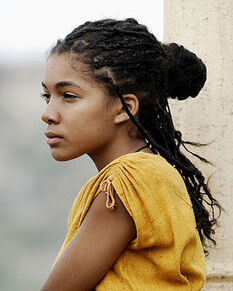 | | |
| --- | --- |
| Gender | Female |
| Born | 1530 |
| Family | Prometheus (father) |
| Status | Alive |
| Eye Colour | Brown |
| Hair Colour | Black |
| Height | 5' 6" |
Affiliation
The Hunters
Weapons
Bow and Arrow
Home
Camp Half-Blood
Artemis' Cabin
Friends/Allies
Enemies
Quests
Nubia, 1530
A young maid left her master's manor for the night, and came face to face with a bawling baby wrapped in a swaddling cloth. The child had to be no older than a day. There was nobody to be seen, and only when the maid looked carefully did she see the note pinned to the cloth wrapped around her. It said the following;
'I can't care for her. At the request of her father, her name is Nathan. Her father is more powerful than you can imagine. Treat her well.'
The maid brought the baby inside, and she was raised as an orphan there. Over the next ten years, she lived in relative peace, apart from the relentless mocking of being a female orphan with a male name. However, as she grew older, she began to fear the time when she reached womanhood, and would be married to somebody twice her age. He would see her as his property, and use her only as a tool to breed children. Over the next three years, she saw young women die after committing suicide. They would rather die than live as a tool. Shortly after witnessing the death of a friend of hers, she ran away.
Although she did not know it at the time, she was a demi-god daughter of Prometheus, titan of forethought. She did not know exactly where she was running too, and ran into a pack of hellhounds. She stood there, frozen, and close to death when the Lady Artemis and her Hunters came to the rescue. They shot the hellhounds and rescued her. Why they were there, she does not know, but she was extremely grateful. Then, to her amazement, Nathan was asked to join the Hunters. As a thirteen and a half year old who had run away from her home, this sounded too fantastic to imagine. Upon joining them, she decided that she needed a new life, and too really begin it, she changed her name to Nardia, after a great woman she had once been told of. Now, after almost 500 years of running errands for Artemis, she has finally come to join her sister hunters at camp
Abilities
Personality
After living in a place where women were treated cruelly, and committed suicide rather than live, Nardia has become both an intense pacifist and a strong feminist. She believes that women should be treated fairly, and will stand up for what is right. She can be quite fiery and angry when provoked, and can be a dangerous enemy if you get her really worked up. Most of the time though, she is calm and nice. Most of the time, she enjoys her life as a hunter, but at other times, she misses Nubia (Now Egypt), and the familiarity of it.
Wepons
I use the weapons of a hunter a bow and arrow
Appearance

Nardia is of medium hight with dark skin and black hair that she wears in braids. She has piercing black eyes that seem to follow your every move. Her clothing is always simple.
Community content is available under
CC-BY-SA
unless otherwise noted.