"This character has left to never return....."

The owner of this character,

Madeyefire

, has left and this character will no longer be active.
Personality
I do not really know..... But when I was in Business and Computer Science, we had to take this personality test.... If I remember correctly, it said: Quiet, reflective, and idealistic. Interested in serving humanity. Well-developed value system, which they strive to live in accordance with. Extremely loyal. Adaptable and laid-back unless a strongly-held value is threatened. Usually talented writers. Mentally quick, and able to see possibilities. Interested in understanding and helping people.
History
Hey... I'm Nickie Harmon and I am 13. I was born in Canada in 2000 in the dead of winter. My father is Tobias Harmon. My mother is Asteria, goddess of nocturnal oracles and falling stars. My dad met my mom when, I quote, out for a little stroll during the night, it is no big deal, son... unquote. For some reason he does not like to mention anything on my mother... I have always wondered why...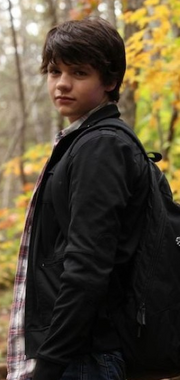 I loved the night, and I still do. The glowing moon against the deep purples and blues, witch little dots of starts here and there. My father figured that out and started to keep me inside. Meanwhile, I keep trying to get out.
"Why is dad acting so... weird?"
I have thought. Apparently it has something to do with my mother...
When I was 6 years old, my father and I moved just across the border into the United States. My dad thought it would be nice to have a fresh start. It was kinda stressful for me, because everything I knew at the time was in the cold dense place.
I went to this public school in New York... It was pretty cool..... Except when I was 11 this awful kid punched me in the face... I don't know what happened afterwards, but apparently I fought back. I got sent to the principal's office and I got In School Suspension..... I thought, "I must be crazy...."
I went through the rest of the school year and the next grade without any trouble.... However, when I turned 13, I got attacked again by this weird looking dog... I do not remember it except that a half goat dude came... He looked like the quiet dude that always sat in the back of all of my classes... "Wait... ALL of my classes? Seesh...." The strange little dude quickly took me to this place called Camp Half-Blood. We kept running... It was exhausting... I was confused for about a week. Then, I started to fit in.... A little.... I find the place cool.
Powers
Collasped so you don't have to look at them.
Offensive
Children of Asteria have the ability enchant a single weapon by infusing it with stardust and stellar energy for a short time. Damage dealt by the enchanted weapon is stronger than before, and may produce slight burns on anything that touches it.
Children of Asteria have the ability to focus an intense beam of plasma which will burn anything it touches.
Defensive
Children of Asteria have the ability to summon a cluster of miniature stars directly in front of them which can be used to block incoming attacks; the stars, however, dissipate quickly.
Passive
Children of Asteria can see perfectly in the night as if it were day.
When the stars are out, children of Asteria always know their location.
Children of Asteria can communicate with the souls of the recently deceased.
Supplementary
Children of Asteria can summon a star large enough for them to stand on, that they can use to ride, the longer the star is maintained, the more energy it drains
Children of Asteria have the ability to create temporary light sources, similar to concept of a flare, which will light an area for a short time.
Children of Asteria can see a few seconds into the future; allowing them to possibly predict the actions of others, but also obscuring their sight at times.
Children of Asteria have the ability to conjure a dense and hot cloud of stardust, which will suffocate and distract anyone enveloped in it for a short time.
3 Months After Character is Made
Children of Asteria have the ability to conjure a small supernova, which will burn at anything in its wake on a 10m radius, as well as producing a loud booming sound coming from the explosion. It cannot differ friend from foe and will affect anyone or anything nearby.
6 Months After Character is Made
Children of Asteria have the ability to summon a large group of undead, about seven, which can then be controlled by the mind of their summoner. The user is immobilized while the corpses attack for them.
9 Months After Character is Made
Children of Asteria can conjure a living constellation, though the size is limited to no larger than 2 to 3 times the size of the user, and it immobilizes the user while the constellation attacks for them
Traits
Children of Asteria make excellent astrologists.
Children of Asteria have an affinity for understanding prophecies
Relationships
Community content is available under
CC-BY-SA
unless otherwise noted.