"This character has left to never return....."

The owner of this character,

LeGruff

, has left and this character will no longer be active.
Oswald Carlson
~.~.~.~.~.~.~.~.~.~.~.~.~.~.~.~.~.~.~.~.~.~.~.~.~.~.~.~.~.~.~.~.~.~.~.~.~.~.~.~.~.~.~.~.~.~.~.~.~.~.~.~
This Character Belongs to
Gruff
Page Last Updated: 21 December 2012
On the 5th of August 1995, Jannet met Hephestus who was under the name Mason Brown in New York. They met when Hephestus had come to Jannets garage to fix his car. She fell head over heels in love with him there and them. After Hephestus flirted and complenented her on her skill, they retired to Jannets house.
When Jannet awoke, he was gone. All that was left was a note explaining every thing. That their child was to be a demi god, that he was a god, and where to send him or her to when they where of age. 9 month later Oswald was born. He was a buitiful baby with deep blue eyes.

Oswald never really made friends and school. He would much prefer to build thing, even in Kindergarten he would prefer to build things with lego. When he was 5, while he was in the store with his mum. A strange man asked him to come with him. He wore a long dark brown coat, covering all his body. When he heard his mum call he turned, when he turned back to confront the man he was gone. He told her about the man, and about his one eye. She said it was probebly a war wound

When Oswald was 9 he was cought in a fire acsident, he was cought in school when there was a fire. He was lucky and came out with only minor burns on his back. After a few week's in hospital he was let go. The news paper said that the fire was most likely started by a faulty electrical wire. Though it looked that the power wire was slashed by some thing that looked like claw marks.

When he was 11 he was confronted by 2 men. They where over 6 feet tall and told Oswald they where police men. Oswald didn't trust them because he had seen police men before, and these didn't look like them. He started to run, and so did they. He ran around the block, and they where hot on his tail. Luckily Oswald was a fast runner which he got from his mothers side. He quickly turned into a small ally and hid in a bin. He could hear them out side, they started to talk, it wasn't English but he under stood it. They said that they had lost him and that they woun't be eating tonight. They then left and he slowly opened the bin lid. He then ran home and told his mom all of this.

On Oswalds 13 birth day his mother gave him a preasent. She said this was from his father, it was a necklace with a crown at the end. She said that before his father left. He gave her this, to give to Oswald when he was 13. Oswald never took it off from that day forward. A month later Oswalds mon told him to pack his stuff and that they where leaving.

Oswald packed his stuff and asked where they where going. His mum said Long Island, they hopped in the car and started to drive. When they where about 10 minutes from Camp his mother started to tell Oswald all about the Greek gods, and that his father was Hephestus, the god of fire. Oswald didn't belive this, his mom was lying she had to be. They saw a man on the side of the street. He started to grow, and grow until it was huge. His mother and him started to run though they where no match for the giant. They came to the bottom of a small wooded hill. His mother told him to run up there and go through the arch. He started to run. He got to the top. He heard a yell from his motherm he called to her, she didn't answer. He started to cry he ran to his mothers aid but was yanked back by a hand that came from the arch. He then passed out.
Hometown
New York, USA

---

Religious Views
Greek Gods

---

Firsts
Kiss = Nikita Gorbachev
Sex=


Love =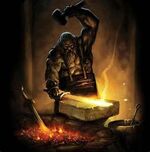 Relationship Status
Single

---

Nicknames
Oz

---

Current Location
Camp Half-Blood

---

Pets
WIP

---

Likes
Fire

---

Dislikes
Messy Work

---

Fears/Phobias
None

---

Hobbies
Desining
Drawing


---

Motto
"Love is not something you feel. It's something you do."

---

Things He Won't Do

---

Person They Secretly Admire

---

Most Influenced By
Hephestus

---

Most Important People Before Camp
Family


---

Most Important People Now
Still them

---

Immediate Goals
Forge

---

Long Term Goals
Forge something Epic

---

Reacts to a Crisis?
Excellent

---

Face Their Problems?
Head On

---

Reacts to Change
Well

---

Alignment
True Good
He's a fun guy who loves spending his time with friends. He loves nothing more than to laugh and sing. Though if he is in a bad mood, or need to think clear he will like to be left alone to play his Violin.
Vices
None

---

Bad Habits
None so far

---

Sleeping Habits
Talker

---

Quirks
None
Attitude
Loyal
Personality
Kind
Talents
Crafting


Sports


Social Skills
Okay
Mannerisms
None
Peculiarities
None
| | |
| --- | --- |
| One Word to Describe | Optimistic |
| Best Physical Trait | Amrs |
| Worst Physical Trait | |
| Things to Change About Self | Think about others |
| Mental State | align="right"Well |
| Mental/Emotional Disorders | None |
| Emotional Stability | Normal |
Greatest Fear
Being left alone
Most at Ease When?
Playing the Violin
Priorities
Family
Friends
Past Failures
Biggest Accomplishment
Darkest Secret
His mothers death
Secret Known by Anyone?
No
Personal Tragedy
Death of his mother
Outlook on Life
Hard
One Wish
To get his mother back
Character Flaw
Not caring enough
Skills
Adept with powers

---

Weapon of Choice
Spear


---

Strengths
Accuracy

---

Weaknesses
Defense

---

Quests
None
Offensive
Children of Hephaestus have the ability to create and control fire; however, it is extremely chaotic and will burn anything near it no matter the intention of the child of Hephaestus. They can shoot fireballs, streams of fire and coat weapons in flame. The more fire summoned and controlled, the more energy is drained.
Defensive
Children of Hephaestus can become resistant to all types of physical attacks for a short time.
Children of Hephaestus are able to create a wall of stone, no larger than 2 to 3 times the size of the user, to temporarily block attacks
Passive
Children of Hephaestus are innately extremely resistant to heat and fire.
Children of Hephaestus are innately stronger and faster than others.
Children of Hephaestus possess an ability to instantly understand how to use and wield any weapon they possess with no training beforehand.
Supplementary
Children of Hephaestus have the ability to release heat from their hands in order to cauterize an open wound.
Children of Hephaestus are able to create a smoke screen that suffocates and hinders enemies for a short time, using it to either escape or do one sneak attack
Children of Hephaestus have the ability to control a single mechanical object with their mind; doing so, however, immobilizes the child of Hephaestus until control is broken. This only works on objects mechanically controlled, not objects controlled by magic.
Children of Hephaestus can telekinetically move weapons under their own possession and use. They can move up to 3 large weapons at a time, such as swords, axes and hammers. Or up to 10 small weapons such as throwing stars, knives and caltrops. The longer weapons are telekinetically held, the more energy is drained.
3 Months After Character is Made
Children of Hephaestus have the ability to curse an opponent's weapons, armor and shields, make it softer, somewhat fragile or even rusted. This would last for a short time and make it easier for the user to attack. They can also repair weapons and armor with a thought and enchant weapons/armor to perform/defend against twice the amount of damage for a short time.
6 Months After Character is Made
Children of Hephaestus are able to summon a humanoid automaton to fight for them for a short time, the automaton cannot be bigger than 2-3 times the size of the user. It may possess one weapon of the user's choice and will take a basic appearance of a Greek soldier, but the user can customize their armor or facial appearance. The automaton will have no special abilities other than it's strength, stamina and endurance. ( No powers over Electricity, Magnetism, Flight. etc) The user however has a hard time moving while the automaton is present. The automaton will follow any command of the user, after a short time the automaton will crumble and fall apart. The user will be left quite drained.
9 Months After Character is Made
Children of Hephaestus can transform their bodies into pure metal for a short time, making them stronger and far more durable. They can also shift and transform parts of their body into weapons in this state. They also have the option to add an incredible amount of heat to their metal form, doing this would make the transformation even more draining than before. Choosing to become molten metal means the user burns anything they touch, enhancing their offensive abilities. Once the transformation is complete, the user is incredibly drained. Even moving wouldn't be possible for a long time and they could possibly faint.
Traits
Children of Hephaestus are known for making great mechanics and blacksmiths. Able to make, upgrade and repair all sorts of weapons, machines and devices including automatons, armor and transforming weaponry.
Children of Hephaestus normally grow up to be excellent sculptors, stonemasons, architects,construction workers, carpenters and woodworkers.
Children of Hephaestus normally feel comfortable in forges and other warm areas, making them great fire-fighters and volcanologists.
| | | |
| --- | --- | --- |
| Name | Relation | Feelings |
| Hephaestus | Father | I love him |
| Jannet Carlson | Mother | She was amazing |
Role Character Plays
Half-blood/Forger

---

Inspiration Behind Creation
A Friend

---

Future Goals
Forge some thing Epic

---

Current Relationship

---

Current Active RP's
Community content is available under
CC-BY-SA
unless otherwise noted.