"This character has left to never return....."

The owner of this character,

Theflammablesection

, has left and this character will no longer be active.
Appearance
Sterling has light brown hair, and blue eyes. He is six foot four, and incredibly fit due to his athletics. He dresses stylishly and is usually up to date on the trends, but his favorite outfit is still t-shirt and jeans.
Personality
Sterling is an interesting person to say the least. His moods range from pensive to wild, but most of the time the only thing he is remotely interested in is himself. This is not to say though that he is not sociable. On the contrary Sterling loves people, for the self-serving reason that people love him back. He is very kind upon first meeting a person, that is of course until it becomes clear to him that they are of what he deems little importance. Following this epiphany he becomes polite but distant. While not willing to make an emotional connection with anyone, Sterling flirts with anything that's got a pulse, and has been known to take anyone willing to bed.
History
For all his supposed sophistication and charm, Sterling came from incredibly mundane beginnings. Sterling's mother Arlene Piznarski was a liquor store clerk with a prodigal skill for wine tasting. Unfortunately for her Mobile, Alabama was not the place to cultivate such a talent. She did however attract the attention of Dionysus, and soon enough after one too many merlots, Buck Piznarski was conceived. He grew up in a run down house with his mother and her string of boyfriends, waiting for his chance to escape. Arlene was never that great of a parent, and though she certainly wasn't abusive she was distant and mildly neglectful. While waiting Buck decided to learn all he could about the one percent lives. Reading incessantly and becoming cultured, he kept this all inside as to not upset anyone in Mobile. When he was thirteen he finally saw his chance, it was the day his father came to town.
Due to his above average intellect and far below average school, Buck soon stopped trying in school and was failing almost all of his classes. Then one day a woman was waiting for him once he got inside his house. His mom and her boyfriend were unconscious under a pile of vines. The woman explained who she was and why she was here, she was a Wine nymph named Calliope and Dionysus had sent her to help Buck. Dionysus said that she should do anything in her power to help him if he promised not to continue down this disappointing path he was on. Buck thought about it deeply and asked the Nymph for a new life. Buck asked for a new name, a new house, a new guardian, and most importantly: class. Calliope responded positively and that very second they appeared in a house in the Hamptons. She had been working as a spokesperson for the Vitners Association of America for the past couple years and had amassed quite the fortune.
Everything about Buck changed when he moved, in fact Buck "died" and Sterling arose from the ashes like a grape soaked phoenix. Sterling didn't have Buck's accent (although this might come out in times of great stress), Sterling dressed in all the newest fashions (due to a unlimited platinum credit card thanks to his new "mom"), hell Sterling was even smarter than Buck was. Buck started to play lacrosse, and that Summer shot up like a weed (or vine) and ended up being the attractive, six foot four, lacrosse star that he was.
During his years in the Hamptons, though he wintered in New York where he attended a somewhat elite Boarding school, Calliope proceeded to train him in both the use of his burgeoning powers and the chakram. When he was sixteen, he was returning from a rather raucous party when he was approached by a lone woman. Now Sterling was not one to ever say no to a beautiful woman, but something about her seemed off so he slowly began to retreat. This is when he slowly began to see through the fog, and saw her for what she really was, a siren. What was once beautiful and seductive turned hideous and frightening; thinking quickly Sterling used his powers on himself, becoming so drunk and belligerent that when the siren started to sing he couldn't even hear her. He tore off his necklace in two, and they soon transformed into his two trusty poisoned charkram. He wildly through both the chakram at her, and somewhat miraculously as he was screaming and slurring his words to an incredible amount, one hit dead on with the operative word being dead.
Running (stumbling, but whatever) away from the heavily injured siren, he barely heard her scream cries of revenge from both her and her sisters. After managing to fumble and trip his way home Sterling slept his drunkenness off and consulted Calliope about what to do next. Calliope suggested Camp Half-Blood, and Sterling agreed. He was soon on his way, arriving at Camp Half-Blood shortly.
Weapons

Sterling has two poisoned chakram which usually rest on his chest in the form of two necklaces. The poison is non fatal, but is a powerful paralytic.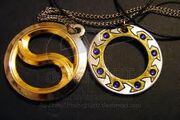 Community content is available under
CC-BY-SA
unless otherwise noted.