"This character has left to never return....."

The owner of this character,

Azrael the Sorrowful

, has left and this character will no longer be active.
Vayle Therroth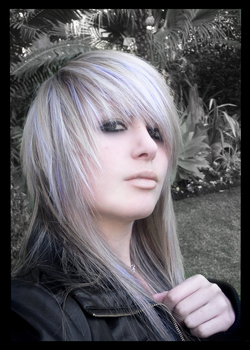 Titles:

Head Counselor of Aeolus' Cabin




Owned by:

 
General Personality




Vayle has always been closed off and introverted, however, she is trying to force herself to get to know people better. Now that she is in Camp Half-Blood, she feels that it will be easier to open up and make friends but is still weary. A few things to know about her are her temper and harsh reactions to things. She is also a lesbian. She is witty and sarcastic most of the time. Her humor is dry and from a lifetime of discontent, she generally doesn't deal with people well. If they annoy or bother her, she's usually jump straight to anger.

Camp Life




Vayle hasn't really made many friends since she arrived at Camp. To be honest, she hasn't really met that many people either. She tends to keep to herself. She spends most of her time in solitude either reading or just sitting there for the most part.
The Basics




Name:

Full Name:
Vayle Therroth
Pronunciation:
Vay-ull Th-air-oth
Meaning:
Unknown
Nicknames:
None




Age/Status:

Born:
September 17, 1996
Age:
16
Status:
Alive




Basic:

Gender:
Female
Species:
Demigod
Nationality:
American
Sexuality:
Bi-sexual
Relationship:
In a relationship with Serenity Bloum
Native Language:
English
Accent:
Unknown
Languages Spoken:
English
'Sign Language'
Her History Before Camp




So, today I walked into this place called 'Camp Half-Blood' for the first time. This place is crazy. It has all sorts of people with powers like me and some things even farther beyond. I actually saw a 'canataur' or 'centaur', or whatever they call them. Either way, it was a giant horse with the top half of a man instead of a head. Eh, I'm rambling and this probably isn't the best way to explain all of this. I should probability back up and start from the beginning. Here goes:

I was born Vayle Simmons to Susan Simmons and some guy I didn't know until recently. I was always an 'odd duck', if you will, and never felt right in society. Well, there were multiple reasons for that, but I'll get into that later. Anyway, growing up with my life was pretty hard. My mom stopped talking before I was even born. I'm told it was because the trauma of my dad leaving but I don't know. It always seemed like that was just a facade over the truth. I ended up having to learn sign language from an early age as it was the only way I could communicate with my mom. If my personal feelings weren't enough, the fact of having the crazy-mute mom definitely didn't help with my place in the world. Pun not intended, but I always just felt out of place in the world. And I mean always. Even as a toddler I found all the kids I knew to be...boring, I guess. Once I started school, I never had any friends but it's ok, I didn't really want to be friends with anyone. No one else was like me. As I continued to grow older, I became more and more of an outcast. I didn't talk to anyone. I might as well of been my mother.

Skipping forwards through a bunch of terrible years, we come to when I started high school. That was definitely a 'fun' time...I'm obviously being sarcastic right now, by the way. Anyway, it was the same as before except now there were more people to not like and more people that didn't like me; except one person, Christine. About my third week into the school year, I was sitting alone at lunch and this girl came and sat next to me. I assumed she was just there to heckle me like the others so I ignored her when she asked my name. When I didn't reply, she told me I didn't have to tell her if I didn't want to and she just sat there next to me and ate with me. It was strange, I felt she was different than the others but past experiences made me weary. For the next week or so, she'd come and sit next to during lunch and talk to me; she'd tell me about her favorite music, how her classes were going and other stuff like that. The thing that I noticed though, it didn't seem like she was trying to make fun of me like the others; I say this because she was constantly teased by the other people in the room for sitting with me.

I don't really know why, but one day, when she came and sat next to me, I spoke to her and told her my name. She smiled softly and said, "I was beginning to wonder if my attrition of your willpower was working. It's nice to meet you Vayle, I'm Christine Therroth. That's a pretty name, you know." I blushed and smiled then thanked her. This was the weirdest feeling I've had in my entire life. I...I actually had a friend. Over the next year or so, we continued to sit and eat lunch together and actually talked about things. She even started coming over to my house and met my mother. I was surprised the first time she met my mom. I was nervous of what she would say. Before she came over, I explained to her that my mother was mute but she didn't seem to be fazed when I told her. Well, needless to say, the day she first came over came around and she met my mom. The day was beyond my expectations. When she first came in, she walked up to my mom and signed, "Hello, Ms. Simmons, it's nice to meet you." I was taken aback when I saw she knew sign language.

Well, life continued on for the next few years basically the same as it was. Christine and I grew closer and closer in our friendship and she basically started living at my house, she was over so often. The kids at school didn't change though; they'd always insult us and shit. They were so irritating. I wanted to beat them all up but Christine always calmed me down and told me they weren't worth it. Well, as I've told you before, I pretty much hated everyone at school and they all hated both Christine and me. Normally, this wouldn't matter, but some of these kids that hated us, really hated us. Near the end of the school year, they planned on jumping us one day and kicking our asses. Of course, I didn't know it at the time. Not much else to say before this, but they did. One day, while we were walking to my house from school, we got blocked off by some people in a big truck. We turned to walk back from where we came but found ourselves facing more people with bats and other blunt weapons. I was instantly surrounded by an air of fear, but Christine seemed unfazed. They shoved us in the back of their truck and drove us out to some nearby woods.

Once we got there, they tossed us on the damp ground and an ominous silence filled the air. I turned to Christine, who had already rolled over to face them and then turned around as well. They all approached slowly and began to shout things like, "You two just think you're so much better than us don't you?" or "You bitches aren't as special as you think you are!" I was frozen with fear at that point. One girl, holding a wooden bat, approached me and held the bat above her head. I flinched and closed my eyes, prepared to be struck with the bat but when I heard the bat strike, I felt nothing. I slowly opened my eyes and saw Christine standing in front of me, who had blocked the bat with her body. My jaw dropped but I was still stunned by my fear. The others around us got pissed and all surrounded her. They began to beat and strike her and she just took all the hits and fell to the ground. I began to shake and tears ran down my face. I watched her as their bloodied blunt weapons flew through the air and as the damp ground was dampened further by her blood that began pooling. I wanted to do something, but I just couldn't move.

They eventually backed away from her, with her blood smeared clothes and contorted limbs. I gained some strength and rushed to her instantly. I held her closely and could hear her still breathing. She whispered in my ear saying, "I love you, Vayle, don't ever forget that." I told her I loved her back and then the breaths stopped. Tears continued to stream down my face as I held her mangled body and sobbed in mourning. A few moments after, I remember that they were still there. At that instant, the tears stopped. I heard them mocking me, saying things like, "Aww, was your poor girlfriend not strong enough to take it?" or, "Look, she's crying because she's all alone now." With my head dropped, I stood slowly and wiped away the tears. I, chokingly, replied, "N-no, it i-is yo-ou who are a-lo-lone." They murmured in confusion as I arched my head back and yelled as loud as I could, "Christine!!!" At that moment, a powerful gust of wind rushed out from where I was and flung them all away in all directions like they were ragdolls. Many of them were injured from hitting trees or landing awkwardly. I had no idea what had just happened or what I had just done, but I didn't care. I picked up Christine and began to head to the hospital.

I know the endeavor was fruitless; I knew she was dead, but I couldn't just do nothing. Leaving a trail of blood and tears, I eventually reached the small hospital in our town and collapsed in front of the doors. It was a blur, but I can remember nurses and doctors rushing over to us and carrying us inside. Some time after, I awoke in a hospital bed. I sat up and a police officer, who saw me sit up from outside of the room, came in. He avoided eye contact and I knew what he had to say. I then asked, "She's dead isn't she?" He, still avoiding eye contact, said, "Yes, but there's more. Your mother...It seems she was attacked, too. She's still with us, but the doctors say she may not last much longer, would you like to see her?" I nodded and then he took me down to her room in a wheelchair. While we were headed down there, we passed by the intensive care unit and I saw something I couldn't believe. Those kids from school, the ones who attacked us and killed Christine, and probably attacked my mother; they were all there, every one of them. Anger and rage began to fill me as I approached my mother's room. Just before I arrived, a rustling could be heard and I saw a bunch of people rushing into her room. The officer stopped and after a few moments a doctor came out and saw us. He walked over and looked at me, then shook his head.

I couldn't cry anymore. I was too angry. This was all too much to take in. I slowly stood and walked into her room. I saw her body lying there and then sat next to her and grabbed her hand. When I did, I noticed she was holding a slip of paper. I took it and read it. It said, "There is a place you need to go, the place where you belong; a place with others like you. Find a way to reach Camp Half-Blood." I had no idea what it meant at the time, but I had something else on my mind. Those kids...the ones from school; I wanted my revenge. They killed my mother and, as I had just recently realized, the girl I was in love with. I turned and left, heading back toward the ICU. When I tried to enter, the officer tried to stop me and said I couldn't go in there right now. I turned to him and he was instantly blown away into a wall. I pushed the door away and continued in. Of those that were awake, I saw fear fall upon their faces, much like the fear that I had the night before. It was as if the fear left my body and coated theirs. None of them deserved to live...the thought raced through my mind.

If this were a happy story, I would tell you that I was the bigger person and just left, but that's not true. I killed them, all of them. I made them feel the pain they caused me and then I stole their lives away. Those that were asleep, I quickly dispatched with some of the surgeon tools laying around by slicing into them. Once I began, some of them tried to run and I used my new found power to force them out the third story window, assuring they would not survive. The last one I came upon was the girl with the wooden bat, the one who first tried to attack me and who Christine defended me from. I had convinced myself she was their leader, though I really had and have no idea. I hated her the most, so when I realized she was the last one, I was happy. I pinned her to the wall with a rushing wind and began to beat her with an IV stand. I wanted her to suffer as I saw Christine suffer. I beat her until she bled to death and continued to beat her. I made sure that no one would be able to recognize who she was and then I left. I just walked away; left my, now destroyed, life and walked away.

I walked down the road to my house, grabbed as much clothes and money as I could fit in a bag and began to walk east. I had no idea why, but I felt drawn that way. I eventually, after days of walking, made my way to a small town, much like my home. I came to a diner and went in to get food, as I hadn't eaten since a left. A waitress, nice lady, came to me after I sat and said, "I haven't seen you around her, hun. Can I get you anything, uhh...?" I replied, saying, "You wouldn't know me. I'm not from around here. My name is Vayle S...Therroth, Vayle Therroth. And I'll have whatever you recommend." She smiled and walked off. I don't know why I chose to lie about my last name. It might have been in case they were looking for me or in honor of Christine; probably a bit of both but it doesn't matter. As I waited for my food, I could hear the people in the diner talking about a lot of weird stuff they had seen around town, including a bunch of weird kids. Some of the people said that they had powers. I was confused by this, I mean, I was drawn here, was this the reason? Then I remembered my mom's note; a place I belong with others like me...Camp Half-Blood. The waitress brought me my food as I silently pondered all of this and then left.

I walked down some small road in the town which eventually turned into a ragged dirt road. While I was walking, I saw some guy walking down the road the other way, toward the town I had just left. I avoided looking at him but as we crossed paths he said, "Hey, are you new to camp?" To which I replied, astonished, "C-camp!?" He chuckled and said, "Well, you're a demigod obviously, and I haven't seen you around camp, so you must be new. Do you know how to get there?" I slowly replied, expecting him to have no idea what I was talking about, "Demigod? Do you mean, Camp err Half-Blood?" He chuckled and replied, "Of course that's what I mean, I'm a camper too, a son of Zeus, and you are?" I didn't know what to say; did he just say he was a son of Zeus? "Umm, a son of Zeus? Demigod? I-I don't understand," I eventually said, feeling uneasy. He looked at me kind of funny then asked, "Wait, have you been claimed yet? Who is your god-parent?" Still confused I said, "Claimed? I don't have a godparent, I'm not religious." He quickly replied, "Oh, gods. You don't know do you? Come with me, I'll take you to the Big House, and we'll figure out what to do with you." He began to walk the direction from where he came and I followed him, reluctantly.

We eventually reached this 'Camp Half-Blood' and I was taken to a place called the Big House. And now my story comes full circle. As we walked from the entrance of Camp Half-Blood to the Big House, that was when I saw that centaur thing; he had to explain what it was. Anyway, once I went in, I saw some guy there, who I assumed was Alex. When he heard me come in, he turned and looked at me saying, "Ah, Vayle, daughter of Aeolus, I've been expecting you." I remained silent and confused. He continued, "So, I understand you don't know what you are; allow me to explain. You are the child of a god and human, better known as a half-blood or a demigod. This camp is a protective place for you to live as you learn about you and your kind. You will stay at Aeolus' Cabin, I'm sure your room is already prepared for you. Enjoy your stay. Oh, and here's a map, just in case you get lost." I was stunned, and still speechless. I just took the map and left. I followed the map and made my way to the cabin they said was mine.

Childhood & Family Info




Childhood & Firsts:

Hometown:
A small town in upstate New York
Type of Childhood:
Difficult
Most Important Childhood Eveent:
Death of her best friend
Earliest Memory:
Learning sign language from her mother
Schooling:
About half of high school
Highest Grade:
10th
First Kiss:
First Sex:
First Love:
Christine Therroth
Other Firsts:
WIP
Physical Description




| | | |
| --- | --- | --- |
| Eye Colour | | Gray-Hazel |
| Hair Colour | | Mostly blonde |
| Height | | 5'4 |
| Weight | | 122 lbs |
| Ethnicity | | Caucasian |
| Handedness | | Right |
| Shoe Size | | 8 |
| Blood Type | | AB+ |
| Voice | | Soft |
| Eye Sight | | 20/20 |
| Health Status | | Healthy |
| Abilities | | Knows sign language |
| Clothing Style | | Punk mixed with scene |
| Distinguishing Marks | | None |
| Body Style | | Thin; non-muscualar |
Combat & Abilities




| | |
| --- | --- |
| Skills | Not very adept at physical fighting |
| Weapon of Choice | Wind |
| Strengths | Very good at defending herself in combat |
| Weaknesses | Can't defend against people too close to her well |
| Quests Led | 0 |
| Quests Been On | 0 |




Offensive

Children of Aeolus have the ability to create a small tornado, about the size of the user, which can be sent across short distances to knock opponents off their feet or used to send small debris flying at opponents.
Children of Aeolus are able to use air itself to slice objects, focusing a current of wind to the point where it takes on a sharp edge, which the caster launches at foes. Although this attack does usually slashing damage, some users are able to focus it into single piercing stab like a bullet.

Defensive

Children of Aeolus have the ability to create a dome shaped torrent of wind, roughly two or three times the size of the user, which can be used to block attacks for a very short time.
Children of Aeolus have the ability to create powerful gusts of wind, however, the stronger the gust, the more it drains them. The gusts can be used to block incoming attacks.

Passive

Children of Aeolus feel stronger when they are touched by strong winds they did not create.
Children of Aeolus are innately able to lower air resistance and move faster on the ground, granting them an enhanced level of speed.
Children of Aeolus can contain more air in their lungs than the average human, allowing them to survive longer when they cannot gather oxygen.

Supplementary

Children of Aeolus have the ability to hover or fly, however, the longer they fly the more it drains them. Due to their rare ability to lower air resistance, users are able to fly faster than anyone else with the ability to fly.
Children of Aeolus have the ability to call upon the winds to speed their movements or attacks; conversely this can also be used to slow the movements or attacks of others.
Children of Aeolus can use the wind to either surround themselves to block enemies and projectiles or to surround an enemy trapping them within the winds. The longer they maintain the wind, the more it drains.
Children of Aeolus can curse an opponent by draining some of the air from an opponent's lungs and make it somewhat hard for them to breathe for a short time. This leaves them vulnerable to attack or giving the user a chance to flee.

3 Months After Character is Made

Children of Aeolus can create a massive tornado, about five times the size of the user, which can be used to violently assault others with strong winds and debris.

6 Months After Character is Made

Children of Aeolus can turn the air into tools, objects, weapons and other items, create semi-living constructs and/or create structures/buildings of varying permanence; however, only up to 3 combative/non-combative items or 1 semi-living construct can be conjured at a time and it cannot be larger than roughly 3 times the size of the one that conjured it. The longer they maintain combative/non combative items and semi-living constructs, the more it drains their energy, so they are more limited for the time they can keep these things cohesive.

9 Months After Character is Made

Children of Aeolus can shed their flesh and turn into pure wind, while in this state they are immune to attacks, can fly even faster than before and receive enhancements in their existing aerokinetic abilities. Once the transformation subsides, they are extremely exhausted. Barely able to move and could possibly faint.

Traits

Children of Aeolus are known to grow up to be amazing meteorologists, as they know all the current weather going on in a certain area.
Children of Aeolus typically enjoy flying and high places, enabling them to become astounding pilots and hot air ballooners.
Children of Aeolus are often claustrophobic when in tight places or underground.
Since their father presides the four directional wind gods, children of Aeolus have what could be described as a mental compass. Able to tell where the four main directions are most of the time.



General & Misc Info

General Information

Current Location
Camp Half-Blood
Aeolus' Cabin
Pets
None
Likes
Reading
Training
Solitude
Dislikes
Remembering her past
being reminded of Christine
Fears/Phobias
Forests
Bats
Hobbies
Swimming
Reading
Things She Won't Do
Forgive people who have wronged her
Person They Secretly Admire
None
Most Influenced By
Christine Therroth
Moral Compass
Pending
Most Important Person Before Camp
Christine Therroth
Most Important Person Now
None
Immediate Goals
Get Stronger
Long Term Goals
Find a way to see Christine again
Reacts to a Crisis?
Freezes up
Face Their Problems?
Doesn't
Reacts to Change
Badly
Has trouble coping
Alignment
Chaotic Good

Habits & Traits

| | |
| --- | --- |
| Vices | Smoking |
| Bad Habits | None |
| Sleeping Habits | Varied insomnia |
| Quirks | Tends to daydream during conversations |
| Attitude | Very pessimistic about life |
| Personality | Extremely introverted |
| Talents | Nothing really |
| Social Skills | Has trouble talking to new people |
| Mannerisms | Tends to hide her face behind her hair |

Occupation & Self-Perception

| | |
| --- | --- |
| Dream Job | No idea at the moment |
| Current Job | None |
| One Word to Describe | Odd |
| Best Physical Trait | Lips |
| Worst Physical Trait | Hands |
| Things to Change About Self | Introverted personality |
| Mental State | Depends |
| Mental/Emotional Disorders | Socially dissociation |
| Emotional Stability | Not very stable around others |
| Medical Problems/Ailments | None |

Favourites & Attitude

| | |
| --- | --- |
| Colour | Violet |
| Music | Punk |
| Food | Japanese |
| Animal | Cats |
| Book | The Canterbury Tales |
| Song | Don't Care If You're Contagious |
| Other Favs | Starry nights |
| Greatest Fear | Caring about someone else that she could lose |
| Most at Ease When? | In solitude |
| Priorities | None |
| Past Failures | Let her best friend die |
| Biggest Accomplishment | Got revenge |
| Darkest Secret | Killed a lot of people getting revenge |
| Secret Known by Anyone? | WIP |
| Personal Tragedy | WIP |
| One Wish | To see Christine again |
| Character Flaw | Doesn't talk about her past with almost everyone |
Relationships

Ever Cheated?
No
Relates to Others?
Difficult at first
Perceived by Strangers
Odd
Cold
Perceived by Lover
Loving
Perceived by Friends
Still a bit cold
Perceived by Family
Isn't
First Impression
Is very bitter toward people at first




| | | |
| --- | --- | --- |
| Name | Relation | Feelings |
| Christine Therroth(Deceased) | Best friend and first lover | Loved her |
| Serenity Bloum | Currently dating | In love with her |

OOC




Role & Inspiration:

Camper/Demigod
My imagination




Relationship & RP:

WIP
Current RP
None
Future Goals
Have her go on a quest and become counselor of Aeolus' Cabin
Community content is available under
CC-BY-SA
unless otherwise noted.