Kenny vs Shen
Shen Jian -Child of Bia
-The Warrior of Wudan, 2nd in Command of Opus Superum
Age: Biologically 20 Height: 6'3" Relationship:Single
Health Status: Healthy
Species: Demigod Main Weapon:Han Dynasty Weaponry
 – "我掌握了所有我触摸,包括你."

Jian steps into the arena, clad in his full chinese armor and hoplite helm. His spear and shield are both activated and wielded in each hand. Strapped to his back as usual are his deerhorn knives. He gives his spear a few practice jabs and awaits his practice opponent.
Kenny -Child of Momus
-The Insult Prince
Sexuality= Straight Relationship Status:= Dating Health Status= Healthy Nationality= American
Species= Half-blood Height= 5'9 Main Weapon= WIP
 – 00:31, December 8, 2013 (UTC)

He reluctantly enters the arena, figuring he'll get his butt kicked by the dude who looked like he jumped out of his some old kung-fu movie. He wears some chainmail and armguards, a pair of nunchuks lay strapped to his waist. Along with a quiver of arrows and a bow strapped to his back, he hides behind a boulder.

Jian: Jian tilts his head in confusion as he watches his opponent enter the arena and then promptly try to hide behind a boulder. As he observes the boulder, he contemplates his options. A barrage of projectiles would likely miss and simply waste energy, and a direct leap and attack would put him in an unfavorable position early. After some consideration, Jian decides to turn his opponent's boulder ally against him. Placing his spear into his shield hand, Jian raises his now free hand and releases a substantial wave of force at the boulder. The strength of Jian's force wave launches the boulder forward in an effort to flatten his opponent.
Kenny: "Woah!" He yells out as the boulder is pushed by the force wave, he's confused unsure of what to do. He figures this is Jian's doing, so he remembers a certain power of his. "What? Are you kidding me?! This thing is a freaking pebble! Come fight me like a man!" he says as the insult gives him power, allowing him to push the boulder back towards Jian.
Jian: Caught off guard by the sudden return of the boulder, Jian has to quickly render himself immune to attack as he has no time to attempt to avoid it. The rock harmlessly collides with him, shattering into pieces around him. Jian then quickly dusts himself off and decides how he wants to attack. In the open area, a phalanx style attack is foolhardy so he determines that he needs to wield his spear in the Chinese style. Deactivating his shield, Jian grips his spear in both hands and then leaps into the air, landing about 3 feet from Kenny with a slight tremor. The moment he lands, he begins unleashing a series of quick jabs and slashes with his spear, attempting to penetrate any inch of Kenny that he can. 
Kenny: The flurry of attacks quickly hits him, taking by surprise to due his speed. Kenny feels some jabs towards his torso. Causing some bruises over his chest and stomach, he yells out in pain. "Pfft is that all you got?!" he says as he gains power over the attacks. He attempts to take power over the spear, causing it to speed towards a small boulder, Kenny hopes the force will cause the spear to break on its wooden shaft.
Jian: As he feels the spear being forced out of his hand, Jian tries to resist. However, the influence of Kenny's power is ultimately too strong to overcome and so he can only watch helplessly as his spear is dashed to pieces against the rock. As he glares at Kenny, he suddenly begins to feel weaker than he should and realizes with horror that he has forgotten to deactivate his immunity. He quickly rectifies this, but he knows that he needs to refrain from using energy draining attacks for at least a small duration. Thinking quickly, Jian reactivates his round shield and holds it on his left wrist. With his right hand, he fakes like he is creating an invisible sword and then charges toward Kenny. He quickly swings his right arm toward Kenny, hoping to get him to bite on the play fake. As he swings his right arm, he performs a quick pivot and spin move and swings his right arm toward Kenny's face, attempting to smash it with his shield.
Kenny: Since Kenny is unsure of what Jian tried to do, because he doesn't know Bia Kids can create invisible weaponry. He doesn't do much as the fake attack does nothing, but he jumps narrowing avoiding the shield. He yells out a few quick insults at Jian, gaining power from them as he pulls out his nunchuks. Swinging them at a high speed towards Jian's neck.
Jian:  With enhanced reflexes, Jian is able to match Kenny's speed and quickly raises his shield and deflects the nunchuku attack. However, he realizes that a clunky shield is not suitable for sustained combat against nunchukus so he quickly leaps up and backward. As he lands with a slight tremor, Jian deactivates his shield and pulls out his deerhorn knives. Jian believes that the deerhorn knives will serve as much more capable counters to Kenny's nunchukus and he also wants to buy himself a little bit more time to regenerate energy. Wielding his knives, Jian assumes a combat ready stance and waits for Kenny to advance. 
Kenny: He quickly dashes back, not interested in close combat. He places back his nunchuks, before pulling out his bow. He notches an arrow and fires towards Jian's right, but this is to be a distraction. As Kenny moves to his right, pulling out two arrows this time and firing towards Jian's right shoulder.
Jian: Kenny's maneuver is initially successful as Jian quickly darts to the left to avoid the first arrow. However, Kenny's inexplicable continued shooting toward his right allows him to also evade being shot with the other two arrows. Relieved yet confused at this strange maneuver, Jian contimplates his next move. Having fully restored his energy, he decides it's time to engage in some projectile assault of his own. Placing his Deerhorn knives back on his back in order to free both hands, he conjures up an invisible ballista bolt by connecting his hands and then pulling them back and releasing. As he releases the bolt, he sends another wave of force behind it in order to accelerate its already formidable speed.
Kenny: When Jian was preparing the shot, he decided to try and move. Figuring he has some invisible weapon power,he expects an attack. He jumps out of the way, the bolt flying between his legs. Kenny quickly notches and fires two arrows towards Jian's chest, he places the bow on his back. Charging towards him as he pulls out his nunchucks and fires a number of insults at him as makes a powerful swing towards the side of his neck.
Jian: Jian quickly sends another wave of force toward Kenny, knocking the arrows off target and sending them careening harmlessly to the ground. As he sees Kenny charge toward him, Jian attemps to grab his Deer horn knives again to defend himself. However, the speed of Kenny's attack and Jian's weakened reflexes due to Kenny's insults cause him to react too slow. As a result, Kenny's  nunchukus make full contact with the side of his neck and cause him immense pain. Feeling his reflexes return, Jian renders himself invulnerable and with his deer horn knives drawn, unleashes a barrage of unyielding attacks on Kenny, not having any scruples at all about a possible counterattack. 
Kenny: He gets thrashed with a flurry of attacks, feeling heavy bruises in his torso and cuts on his arm. Kenny was unsure of what to do, until he started tapping into the power of blamery. Using it to attempt to transfer all of his damage to Jian, the wounds and pain fading fast from Kenny. Gripping his nunchuks, he makes a powerful swing towards Jian's eye
Jian: Jian deactivates his invulnerability as he finishes his barrage, but quickly has to reactivate it as cuts and bruises start to erupt all over his body. He maintains the invulnerability until he feels sure the counterpain has stopped, but when he deactivates it he realizes he is very low on energy. Needing to buy time to restore some, Jian decides to amuse himself by taking to leaping around the arena. With each leap and descending, he unleashes a sizable tremor in order to keep Kenny off balance and prevent him from pursuing him. 
Kenny: The tremors take him by surprise, causing him to tumble to the ground. Once Kenny regains his balance, he hops on top of another boulder. Giving him slightly improved range as he draws his bow, he draws two arrows and fires towards Jian's left leg. Wanting to make it harder for him to move around. He feels some of his power drained and takes a moment to catch his breath.
Jian: Jian descends to the ground and puts away his deer horn knives, just as the two arrows come surging in and penetrate his right kneeguard. The reinforced armor mitigates most of the damage, but the attack leaves him with some stiffness in his right knee. Having regained sufficient energy, he decides that he won't waste time with it and will put it to use immediately. Focusing his mind on Kenny's bow, Jian channels his weapon effect power and attempts to make the entirety of the bow extremely slippery and impossible to wield. Immediately after this action, he creates a pair of invisible spiked gauntlets around his hands and leaps at Kenny with a slight tremor. As he lands, he unleashes a downward punch with his right fist toward Kenny's face and an uppercut with his left fist toward kenny's chest.Jian hopes that the slippery bow attempt will distract Kenny enough so that he will be able to land the blows with his fists.
Kenny: Once his bow begins to feel very slippery, he drops it on the ground. Not entirely distracted by it, so he was somewhat able to see Shen coming. He managed to move his face back, confused by the cuts he felt on his cheek from the spikes. But the uppercut hits him sharply, Kenny feels a surge of pain in his chest. Since he doesn't have the time to toss insults, he uses the power of scorn. Wanting to use it to inflict a feeling of worthlessness and being hated. (OOC: been there V.V) He attempts to use one head to throw off his helm, while pulling out his nunchucks and making a swing towards his left cheek.}}
Jian: Jian begins to feel his willpower and self-esteem drain as Kenny's mental attack sinks in. All of the sudden, a sudden thought comes to him of a power he can use to mitigate such devastating mental onslaughts. Calling upon his rarely used ability to bestow an aura of fortitude on himself and allies, Jian suddenly feels his willpower return and he smiles in triumph. All of the sudden, he feels Kenny's hand attempt to yank off his helmet which fortunately is firmly strapped on. He feels a slight clanking on the side of his helm as the nunchuku collides with it. Having already achieved success with strikes to the chest, he sees no reason to stop and thus this is where he aims as he pulls out his deer horn knives and stabs both in an attempt to penetrate Kenny's flesh.
Kenny: He moves back a bit, reducing the force from the attacks. He feels light cuts move through the chainmail. "Ugh! Your weapons are so sharp! Your Armor is so freaking durable!" He yells as the power of complaining takes effect, Kenny doesn't know this. But his complains have the power to effect what was complained about, so the armor would most likely grow soft and his deer horn knives grow dull. "Dipshit!" He yells as the insult gives him power, he spins his nunchuks. Kenny swings towards the side of his torso, he feels his energy draining. Knowing he can't keep this up.
Jian: Jian has gotten so accustomed to these tactics that he doesn't even bat an eye as he feels his armor begins to sag. He quickly activates his ability to strengthen armor and weapons, reverting his knives and armor back to their full capacity. This empowerment causes Kenny's nunchukus to deflect harmlessly off of his armor and Jian grins mischievously. Desiring to continue pressing his attack but realizing that his deer horn knives aren't getting it done, Jian decides to put them on his back and try something else. Tilting his head, he causes invisible spikes to erupt from all over his armor, wristguards, and shinguards. Immediately after doing so, he leaps at Kenny and attempts to full body tackle him. Through this action, Jian hopes to discombobulate Kenny through the tackle and also cause him severe wounds through the invisible spikes poking out of his armor. 
Kenny: He feels the spikes attack him instantly, his skin screaming with pain. His chainmail barely defending his vital organs, his face is lucky enough to mostly avoid the spikes. He considers just using blamery to transfer the damage again, but knows he could just become immune to physical damage again. WIP
Anthony vs. Elixabeth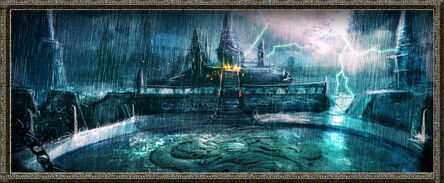 Both very deep and shallow water areas, ranging from 20 feet deep to a few inches
A tunnel deep down goes out to the ocean where other creatures could be called in
There's plenty of dry areas as well for users not Palaemon or Poseidon kids, that are covered with anything ranging from sand to grass to some small vegetation/shrubs
There are some trees around the sides of the arena and below the cliffs (not shown in picture) that can be used for cover and provides plenty of places for shadows
There are also cliffs around parts of the Arena, ranging in height, with both water and land below them, the cliffs also cast shadows on the arena below
The arena is open to the sky and elements
On each end of the arena, on top of some large pillars, are pyres, full of fire and wood. The fire that burns within the pyres can not be extinguished, but if the fire is removed from the pyres, it can then be put out.
[[File:|145x0px]]

[[|Anthony]] -Child of Boreas
-Iceman
Sexuality= Straight Relationship Status:= Interested in Diana
Health Status= Healthy Nationality= American
Species= Half-blood Height= 5'9 Main Weapon= Mace


He enters the arena, sighing greatly as walks across the grass. He has a pen in his jeans pocket that turns into his spiked mace, along with a pack of caltrops and shuriken strapped to his left thigh. His blue G-Shock watch can turn into a circular shield. He has chainmail to protect his torso, along with a greek helmet for his head. Last but not least, he wears leather gloves.
Elixabeth steps into the arena,taking a quick looking around before settling in a level sandy area. She is clad in a dark blue Nike Dri fit long sleeve shirt and black spandex. Visibly protecting her upper body is a set of celestial bronze chain mail. She also has wristguards and shinguards serving as extra protection. Keeping her hair in a bun is an ornate hair pin that transforms into a bow and quiver. Held in each of her hands are her dao swords that carry no mist form. "Hello brother." Elixabeth says this calmly but coldly as she spots him in a nearby grassy area.


 

   ~ 01:35, December 16, 2013 (UTC)




More Info:


-Counsellor of Boreas' Cabin
 Age: 15  Height: 5'6"  Weight: 130 lbs.
 Sexuality: Straight  Relationship Status: Single
 Birth Place: Norway  Main Weapon: Dao Swords, Bow, Harpoon
 Accent: Norwegian
 – "Winter is Coming."

Anthony: He walks towards Elixabeth "Hey sis" he says as he forms a dirty trick in his head. He conjures a small tornado in front of her, hoping the dust, leafs and other debris from the tornado will distract her. He pulls out the pen from his pocket, it takes form into a spiked mace as he dashes to Elixabeth's left side. He tries to make a powerful strike towards her upper left arm, hoping to make it harder to wield one of her dao swords.
Elixabeth:Elixabeth quickly raises her arms and begins to dissipate the tornado. Unfortunately, the distraction provided by the tornado and the need to dispel it with two arms leave her vulnerable to Anthony's mace strike. Luckily, his strike makes contact with her left wristguard and only causes moderate bruises on her arm. Having dissipated the tornado, Elixabeth decides it is time for an attack of her own. She quickly conjures up two gusts of icy wind and aims them toward Anthony, attempting to slow his movements. She then immediately charges at him, hoping to take advantage of his likely hindered speed. With her left arm she swings one of her dao swords toward Anthony's right arm. However, her right arm with sword in hand she swings toward the watch on Anthony's wrist. Elixabeth has a sneaking suspicion that the watch is more than it appears, and she wants to take it out of the equation before it can be utilized against her.
Anthony: "Shit" The winds do slow him down, but he manages to raise his watch arm as it transforms into it's shield form. Managing to protect against the attack towards his now shield arm, but since the cold wind quickly empowers him. He easily has the strength to move his mace arm enough to avoid the other sword attack. He tries to force the shield, along with the sword into her face with a strong push with his shield. He also tries to swing at her waist with her mace, the empowerment from the two ice winds aiding him.
Elixabeth: Elixabeth has to conjure up a wind torrent to protect herself from Anthony's attack. Disappointed with having to exhaust this much energy early in the fight, she decides it is time to get some more. She quickly flies into the air and then descends into the water. She emerges a few seconds later sopping wet and renewed with energy. Around her head she has created a horned helm made of ice. Elixabeth then quickly raises her dao swords again and charges at Anthony. She raises her swords up and swings them down vertically, attempting to  force a blade-lock with his shield and mace. Immediately after forcing this, She lowers her head and attempts to jab her horned helm into Anthony's exposed neck. She hopes that the attempted blade lock will render him unable to defend this attack. 
Anthony: As his increased powers begins to fade, he feels his weapons get hit with the blade lock. To avoid the rather deadly attack to his neck, he tries to move his head down and perform a headbutt towards Elixabeth's ice helm. He hopes to shatter it into pieces and harm her own head, glad he's wearing a helm made of Celestial Bronze. He then jumps back, moving away from her and dao swords.
Elixabeth: Anthony's counter-headbutt causes Elixabeth's fragile ice helm to shatter. Ice begins to cascade over her body but no damage is wrought by the attack. Rather than trying to attack again, Elixabeth makes the decision to relocate. Quickly flying back to the edge of the water, she creates a small ice platform. She then deftly steps onto the platform and maneuvers herself to the center of the water. Once there, she places her dao swords onto her back and activates her bow. She then slowly notches an arrow to the string and aims toward Anthony but does not fire. Instead, she simply holds the bow taut and waits for Anthony to make a move toward her before she releases the projectile.
Anthony: He looks towards her, knowing he needs a good way to follow her. He creates a snow flurry around himself, which covers him in snow and empowers him. Anthony hopes Elixabeth won't notice as he quickly enters the water, swimming after Elixabeth. He holds his breath as he swims after her platform, upon reaching it. He begins using his mace to smash the platform from right under her. He hopes this would take her by surprise, Anthony intends to attack Elixabeth if she submerges. He's also prepared to fly after her if she flies up.
Elixabeth: Elixabeth fires at the flurry of snow she knows that Anthony is submerged in but the shot is fruitless. As she realizes that Anthony is destroying her platform from underwater, she smiles in triumph. Rather than attempting to prevent the platform's destruction, she decides to simply expand it. Shifting over to the side of the platform and well away from the mace's strikes, Elixabeth deactivates her bow and quiver and places her hands on the water. As she does so, the entire body of water begins to freeze over and a makeshift ice rink is created. With Anthony under the water and the surface now firmly frozen over, Elixabeth  theorizes that his escape from the predicament will be a longshot at best. She knew by now that Anthony was an individual of exceptionally strong will, but she also knew that he had already been under the water for a significant amount of time. Inevitably having to spend even more time stuck submerged beneath the ice  would be extremely perilous. 
Anthony: He manages to use his very heavy mace to make himself a hole large enough to escape from. But he feels his lungs growing tight, out of desperation. He drops his mace and swims out of the hole. He manages to crawl out, his whole body covered in water. He breathes very heavily, coughing up water. He collects three shuriken and tosses them towards Elixabeth, he fires a powerful blast of cold wind. Causing the shuriken to move much faster, shards of ice also endanger Elixabeth's well being.
Elixabeth: Elixabeth fails to react to the torrenting shurikens in time and both the shurikens and the small shards of ice tear puncture her armor but don't harm her. The slippery surface of the ice makes it very hard to maneuver on her feet so she devises a clever plan. She quickly forms a pair of literal ice skates around her feet and begins fluidly gliding across the ice with them. She would often ice skate as a child with her mother so such an endeavor came easily to her. She smiles and does a few pirouettes before activating her bow. As she continues gliding across the ice, she notches an arrow to the bow and throttles an arrow toward Anthony's neck while on the move. 
Anthony: He's somewhat enchanted by her skating, he's then surprised by the arrow. He manages to move down slightly, causing the arrow to hit his armored forehead. It leaves a slight bruise, but he gets up slowly. He moves to the edge of the platform, hitting the ice as hard as he can. The crack quickly moves towards Elixabeth, threatening to cause Elixabeth to fall under the ice. But he doubts this will be enough, so he creates a hailstorm around Elixabeth. Hoping the baseball sized hail will bash her head.
Elixabeth: Elixabeth quickly unfreezes her skates and goes to the ground so that she can reform the ice. By going down she is not only able to mitigate the crack, but it also allows her to shield herself from the incoming hailstones. The hailstones shatter around her and cause minor pain but nothing sustaining. After the storm subsides, Elixabeth gets to her feet and reforms the skates. She then deactivates her bow and quiver once more and pulls out her dao swords. Giving them a couple practice swings, she performs a flawless tripple axel toward Anthony and simultaneously sweeps her blades at his feet and kicks her right foot toward his neck. She has a feeling that Anthony will not be capable of countering both attacks and will fall victim to either the blade strikes to his feet or the deadly ice skate to the neck. 
Anthony: He feels his lower legs get cut, blood dripping from the wounds. He manages to lift up his shield blocking her ice skate. He begins to breathe heavily, feeling somewhat tired from all the use of his powers. But he knows his options are limited without his main weapon, if he tries to conjour a weapon out of ice. It will be very fragile and probably wouldn't last very long. So he collects 3 more shuriken, hurling them towards Elixabeth's neck. While trying to smack her in the face with his shield.
Elixabeth: Elixabeth's skate is smashed on impact with the shield and the collision sends her toppling to the ground. This fall causes her significant pain but it also keeps her out of harms way as Anthony's shield and shurikens sail harmlessly over her. She quickly unfreezes the other skate and then gets gingerly to her feet. Deciding she's had enough of the ice, Elixabeth flies into the air and descends on the northernmost end of the arena next to the pyre. From her vantage point behind the pyre, she has a perfect view of the ice sheet and Anthony below her. She then puts away her swords and once more activates her bow and quiver. With her sights set on Anthony, Elixabeth draws an arrow and fires it through the pyre in a direct trajectory toward her opponent. As the arrow surges through the pyre, it immediately ignites and becomes ever more dangerous. She quickly repeats this process in quick succession with four more arrows, leaving ten remaining in her quiver. 
Anthony: In the distance he can see the first flaming arrow speeding towards him, he quickly raises his shield. Which defends him from the arrow and all the others that come after.Some of the flames brush against his jeans, but he easily brushes them off. He sighs a bit, knowing he'll need another power boost for what he's about to attempt. He creates a cool breeze around him, empowering him as he begins to fly towards Elixabeth. He holds his shield in front of him as he flies, hoping to block against anymore arrows. As he moves closer towards her, he conjures another breeze towards the pyre. Moving a large amount of the flames towards Elixabeth as he charges towards her.
Elixabeth: Elixabeth quickly conjures a counter breeze to keep the flames away from her and then takes to the air again as her location is too restricted for either ranged or dao sword combat. She descends onto the dry and sandy portion of the arena and then deactivates her bow, opting once more to use her dao swords now that he has relocated to an area more suited for them. She takes a few practice swings with the blades and then takes a few calming breaths to refocus herself. She knows she has exhausted an undesirable amount of energy already during the course of the fight, and she hopes to buy herself some time to recuperate.
Anthony: He takes a few moments to catch his breath, he falls back on the grass. Breathing heavily and sweating bullets, but after 5 minutes. He regains some of his energy, he gets up slowly. Shield strapped to his wrist, he flies towards Elixabeth. As he moves closer, he conjures a small tornado in front of Elixabeth. The tornado picks up the surrounding sand. Anthony hovers over Elixabeth, hoping to bash his shield over her head as the tornado threatens to coat her eyes in sand.
Elixabeth: Having recuperated her own energy and growing bored of the delay, Elixabeth had already taken to the air to move back to the ice when Anthony's attack had begun. As she flies toward the ice sheet, she is knocked off course slightly by the swirling sand generated by the tornado and narrowly avoids beyind hit by Anthony's shield bash. As she lands on the ice sheet, Elixabeth decides that it is time to unleash her ultimate arsenal. She places her hands on the ice, reverting it to its original form and then sinks into the water. While underwater, she then encircles herself in a sphere of ice containing an air pocket. Safe in the sphere, she summons an ice golem to appear on the sand and commands it to attack Anthony. Suspecting that he might try to summon a golem of his own, Elixabeth gives her golem specific instructions to attack Anthony no matter what. As she is incapicitated by the summoning, Elixabeth knows that Anthony would be as well and therefore any attempt he made to summon a golem of his own would only work into her plans.
Anthony: He panics as he steps back, cursing the face that he lost his mace. As the golem threatens to harm Anthony, he dashes between it's legs. Using the edge of the shield to bash it's lower right leg. The impact can seen clearly, but the golem doesn't seem to mind as it continues to follow it's orders and attacks Anthony. He forms an idea as he dodges it's slow but harmful punches. In between attacks, Anthony uses his shield to bash it's lower right leg. Until it's leg finally shatters, causing the giant to fall on the ground. As it crawls towards Anthony, wanting to follow it's orders. Anthony takes a deep breath as he swims down after Elixabeth, he uses his shield to shatter her sphere swiftly. The cold water empowering him as takes a powerful swing towards Elixabeth's head, all before quickly swimming back up to the surface.
The Death of Magic
Dante: After a day full of booze and sexual activity, Dante strolls the town in the afternoon. He wears his leather jacket and has his xiphos sheathed and strapped around his waste. He walks with that usual "I'll kick your ass" attitude like he always does.
Stephen: Bored with camp food, Stephen has decided to take a trip to town to pick up some junk food. He strolls nonchalantly into the gas station and looks at the candy options available.
Dante: Since he's not too far from the entrance to town, he can track all the life-forces that recently entered town. Meaning he can locate any camper in the area, he lingers around the gas station. Waiting for Stephen.
Stephen: Stephen ultimately decides to buy a large pack of sour skittles and a coke. He strolls out of the gas station and begins munching on the skittles, paying no attention to anything or anyone around him. 
Dante: He charges towards hi, trying to wrap his arms around his mouth and pull up into an alley.
Stephen: With his hands full, Stephen is unable to resist as skittles spill all over the ground. 
Dante: Successfully pulling him into the alley, he tries to force him against a wall. Drawing his xiphos and letting the tip hover around his face.
Stephen: Stephen dies of a heart attack.
Community content is available under
CC-BY-SA
unless otherwise noted.