WB
Pietro -Child of Nike
-Son of Nike
 – {{{2}}}

Pietro was walking away from the beach where someone told him to met a person there but the person never showed up
Kristi Haynes

~ Daughter of

Zeus


"Don't quack like a duck; soar like an eagle."

Kristi was walking toward the beach, looking for some peace for a while, when she saw a blonde boy a little to her left.

Character's Bio


 Age: 14  Height: WIP  Weight: WIP
 Sexuality: Straight  Relationship Status: Single
 Birth Place: WIP  Main Weapon: A CB sword
 Accent: None
 – "Life is amazing. Live it to the fullest."

Character's Powers

 ====Offensive====

Children of Zeus can manipulate latent electricity in the atmosphere, focusing it into a lightning strike. Static can be seen building up around the target briefly before the strike.
Children of Zeus have the ability to flow an electrical current into any sort of metal weaponry which will shock anyone it strikes; the current can only be maintained while they are holding the weapon.

Defensive

Children of Zeus have the ability to emanate a field of electrical static which stuns anyone nearby for a short time. They cannot move while maintaining the field.
Children of Zeus can launch a powerful gust of wind in all directions, repelling attacks and potentially sending enemies flying.

Passive

Children of Zeus are innately immune to electrocution.
Children of Zeus can communicate with and command birds.
Children of Zeus are innately stronger during severe weather, and are less inhibited by wind and precipitation.
Children of Zeus's bodies give off harmless levels of electricity that can power or short-circuit electronics if they wish.
Children of Zeus need much less oxygen to survive, letting them breathe normally at high altitudes or hold their breaths for long periods.

Supplementary

Children of Zeus have the ability to control the winds to hover or fly, however, the longer they fly the more it drains them.
Children of Zeus have the ability to call upon the winds to speed their movements or attacks; this can also be used oppositely to slow the movements or attacks of others.
Children of Zeus are able to call a flock of birds to their aid, that will then help to either defend or attack for a short time.
Children of Zeus are able to cause a booming thunderclap, deafening and potentially stunning anyone nearby for a few seconds.

3 Months After Character is Made

Children of Zeus can summon a weather front of their choice to an area, such as creating a thunderstorm, snowstorm, high winds, heat wave, or any other natural form of weather. The longer the change is maintained, and the more extreme the change from the current climate, the more they are drained.

6 Months After Character is Made

Children of Zeus are able to transform into an eagle at will, allowing them to move undetected, scout their surroundings, and fly long distances without tiring. The longer they sustain this form, the more time they need to rest between transformations.

9 Months After Character is Made

Children of Zeus can call down a lightning strike from the heavens, directly onto themselves, and absorb its full power into their bodies for a short time. In this state, the user is much stronger and faster, static electricity emanates from their skin, and all of their powers over lightning are substantially increased. Once the energy subsides, the user is left heavily weakened from the strain on their muscles, and they may be unable to move for a long time.

Traits

Children of Zeus generally make strong leaders.
Children of Zeus are generally good at predicting the weather, as Zeus was also the god of weather.
Children of Zeus are rarely afraid of heights.
In some cases children of Zeus are prone to being claustrophobic, as they generally prefer open spaces.

Owned by:

Brit

~ Posted on: {{{2}}}
RP
Pietro: Pietro saw a girl on his right and only knowing 2 people at camp decided to introduce himself. He walked closer to her ans said "Hey I'm Pietro and I'm new here"
Kristi: Kristi had only been here about four weeks. "I was here since last month," Kristi shrugged. "Does that count as new? Anyhoo, I'm Kristi. How are ya?"
Pietro: "You could call that new" Pietro said. "I'm not bad. How are you" he added
Kristi: "Okay, well, I'm okay. It's just a lot of stuff going on, you know? I'm still not used to the fact that I was fricking CLAIMED a month ago. This stuff is hard to take in," Kristi replied.
Pietro: "Yeah it is hard to take in that one of our parents is a immortal Greek god" Pietro said "Speaking of an immortal parent who is your god parent"
Kristi: "Oh, Zeus," Kristi said, like it was nothing. "King of the Heavens. What about you? I don't think you're my half-brother."
Pietro: "My mom is Nike" Pietro. "Goddess of victory"
Kristi: Kristi replied, "Ooh. Must be hard trying to win all the time. I guess you don't think that way though, don't you?" Kristi gave a halfhearted smile. Of course not.
Peitro: "I'm just extremely competitive though" Pietro said "Or so I've been told"
Kristi: The daughter of Zeus toyed with a lock of golden hair. "So you've been told," Kristi laughed a little. "I guess all children of Nike are like that?" It came out sounding more like a question than an actual statement.
Pietro: "I don't really know" Pieotro said as he kicked the "Cause I've met none of them"
Kristi: Kristi blinked. "I'm sorry?" She didn't understand. "Didn't you have to like, unpack at your cabin and then just...I dunno, randomly meet some of your half-siblings?" Some of which are annoying, Kristi wanted to add, but didn't say.
Pietro: "Yeah I unpack my stuff at my cabin but I didn't talked to any of my siblings" Pietro said as he brushed some of his hair out of his eyes. "I just walked out and didn't say a thing"
Kristi: She pursed her lips. "Well...all right." Not very social, are you? Kristi wanted to say, but she knew that comment would definitely not be appreciated, so she kept it to herself.
Pietro: "Have you met any of your siblings yet" Pietro said trying to make small talk
Kristi: "Yeah, they're annoying," Kristi said simply. "So, then, Pietro, are you Mexican? You don't look Mexican, but Pietro sounds Mexican." Kristi was trying not to sound too talkative.
Pietro: "My name is actually Greek meaning rock, I think" Pietro said "And I'm not even Mexican. I lived a few hours away from here befor camp"
Kristi: "Rock," Kristi said, nodding. "I'm not following. Your dad named you 'rock'?" Kristi almost wanted to laugh, but that would be more impolite than what she had just said.
Pietro: "Not a purpose but yeah he did" Pietro said laughing
Kristi: Kristi didn't know how to reply to that. "That's interesting," she answered, trying to cover up her amusement. It didn't work. "Kristi means 'follower of Christ,' though, so I can't really blame your dad."
Pietro: Suddenly an idea sprung into Pietro's. "Have you ever been to the arena" he said with a smile
Kristi: Kristi smiled as what Pietro was thinking popped into her head. "Nope," she replied. "Are you suggesting a fight?" Kristi looked down at her Nike shoes. Hopefully Victory would support her because Kristi herself was supporting Nike's signature shoe brand.
Pietro: "I am" Pietro said "I will get my stuff and met back here in like 10"
Kristi: "Wait just a little," Kristi said. "What type of arena do you want? I can fight in anything." A grin crept onto Kristi's face.
Pietro: "Why don't we try the urban arena" Pietro said as he started to slowly walk away to get his stuff
Training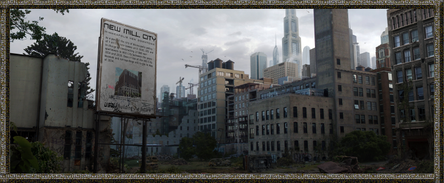 This arena is essentially a small abandoned city, overgrown with vegetation and some of the buildings crumbling in decay.
Located in the middle of the arena is a small abandoned park, with a pond
This arena has all the typical things you'd find in an abandoned overgrown city, everything from flat surfaces to small buildings to tall skyscrapers, some crumbling, some still standing, lots of dark places to hide, including an underground subway tunnel. There are abandoned cars, and things can still be found within the buildings, perhaps even a few stray cats or dogs, or some smaller creatures such as rats and spiders.
The arena is open to the sky and elements
This arena also possesses a more rural arena, possessing large mansions, estates and houses.

Kristi: Kristi got to the arena a little early to survey the area. It was like an abandoned town. Hmm. Could that play to Kristi's advantage?
Pietro: Pietro walked into the arena 5 minutes after Kristi with his sais in his pockets, quiver set to blunt arrows and bow out and unfolded. When he see Kristi he said "So how long do you want to be out here for".
Kristi: "Is an hour enough time?" Kristi asked. "Because my time schedule is flexible. I'm just not the best at fighting." She didn't reveal her weakness, though; no one could be that dumb.
Pietro: "Sounds good" Pietro said as he started to stretch. "Are you ready" he added
Kristi: "As ready as I'll ever be," Kristi said, feigning offense at being asked such a question. "Which is, of course, yes. At camp, I realized that pain is inevitable. Which is terrible, because personally, I like not being in pain."
Pietro: "So it is alright if I shot my bow" Pietro said as he fired his blunt arrow at Kristi's left arm
Kristi: Kristi grimaced as the arrow sank into her arm. "Okay, I totally fell for that," she said, then slashed at Pietro's legs. She wasn't one to go easy. "Should've gotten my right arm, don't you think?" she smirked.
Pietro: Using his power his power to become resistant to all physical attacks, the blade just basically bounced of his legs and swung his bow straight at Kristi's head
Kristi: Kristi swiftly ducked under the bow now that she was prepared. At least Pietro was experiencing firsthand Kristi's strength in combat. Amused by the blade-bouncing, Kristi simply took off randomly through the arena. She was fast; there was no way Pietro, even with his Nike powers, could catch up to her. After all, with a Sub 6 in PE, you had a reputation to keep.
Pietro: Pietro considered firing his bow at Kristi but beening a moving target that only his dad could hit, Pietro decided to turned his quiver into a backpack, fold up his bow and put it back into his backpack and chase after Kristi
Kristi: Kristi was hoping she wouldn't have to use her powers. Oh well...she called on a flock of birds to distract Pietro and keep him occupied. She started to get tired a little, but kept on running.
Pietro: When the birds got close to Pietro, he stopped and clapped his hands really hard and scared off the birds. "Are you going to ever stop running" Pietro yelled out to Kristi as he started to run again
Kristi: Kristi grinned. "What, are you getting tired?" she yelled back. "And no, I won't be roused by being called a coward. Thanks for asking." Knowing her bird attempt had only bought her a second didn't make Kristi feel exactly happy, but at least it didn't drain her of too much energy. Finally, Kristi ducked into an abandoned apartment building. She started to run up the stairs, but they seemed to go on forever. Seriously, was this Apate's Cabin or what? She finally reached the second floor, breathless.
Pietro: "I could probally run longer then you" he yelled back. As Pietro reached the building Kristi went into, he stood outside for a bit to see if he could spot Kristi in any of the windows but gave up and ran inside. Yay close combat my favorite thing Pietro thought sarcasticly to himself
Kristi: "Yeah, I so bet you could!" Kristi said sarcastically. She was ruthless and energetic. It was useless just to run. Kristi leisurely sat on a stool and waited for Pietro patiently. Suddenly, she turned around and screamed. The second floor was crumbling. Okay...so the point of the arena was to kill campers, wasn't it? Kristi thought humorlessly to herself. She ran to the third floor. Sure, the room was now spinning - quite literally - but it was better than a crumbling room.
Pietro: As he walked towards the stairs to the second floor, the floor above him crumbled. "They should really get that checked out" Pietro said to himself as he jumped out of the way of the falling floor. When Pietro looked up in the hole in the floor, he had an idea and jumped up onto the second floor. "Here's Pietro" he said as he reached the second floor
Kristi: The daughter of Zeus snorted. "Are you going to keep on doing that? You'll lose the element of surprise," she called down below. She laughed, then realized the spinning had stopped. "Well that's good," she murmured to herself. She then climbed without hesitation to the fourth floor. Nothing seemed to be wrong here, but of course that was just another sign of danger, wasn't it?
Pietro: "If it's going to keep annoying you I will" Pietro yelled out as he chased Kristi to the floor above. When he reached the next floor, Pietro got his sai's out and spun it around in his hands. "Get ready for some bruising" he said
Kristi: Kristi had to keep from laughing. "It's not like bruising is going to seriously injure me," she rolled her eyes. "And yeah...sure. Give away where you are just like that to an opponent just so you can annoy them. How smart of you, Pietro!" Kristi pulled out her sword. No need to be showy, she thought. No need to spin it around like some kind of toy. Unlike most of the campers here, Kristi took violence and carnage very seriously.
Pietro: "Who said that wasn't my plan all along" Pietro said before he clapped his hands really hard in the direction of Kristi
Kristi: Kristi rolled her eyes. No wonder it was scientifically proven boys matured slower than girls. In fact, some boys didn't mature at all! Like Pietro, Kristi thought sarcastically. Well, two could play at this game. Kristi stomped her foot super loudly and waited for the vibration to distract Pietro.
Pietro: As the floor shock underneath him, Pietro fell to the ground a lost one of his sais. Pietro made his remainder sai more powerful and threw it towards Kristi and sprinted for it and jumped out the nearest window, crash rolling when he hit the ground
Community content is available under
CC-BY-SA
unless otherwise noted.