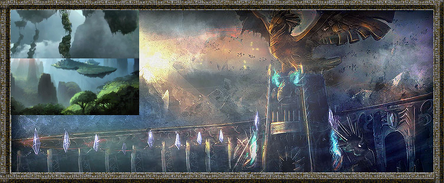 The objects in the arena have been charmed to almost defy gravity, floating around, boulders, rocks, etc
At the base level of this arena is just normal ground with vegetation/shrubs/grass and trees, as well as varying size terrain, ranging from a few feet tall, to much taller
Floating high above in the air is small islands, some with greenery and vines hanging down towards the ground, ranging in size and height from the ground, so that even if a person didn't have the power of flight, if they are an adept climber, everything is spaced out enough they could climb as high as possible, as well as utilise some of the smaller floating debree to aid in their climb. Some of the floating islands even have small waterfalls
Between the floating islands and the tall peeks and trees, there are plenty of shadows and places to hide
On two sides of the arena there are 2 automaton birds stationed, currently in "off" mode, they are roughly 6 feet tall.
The arena is open to the sky and elements
On each end of the arena, on top of some large pillars, are pyres, full of fire and wood. The fire that burns within the pyres can not be extinguished, but if the fire is removed from the pyres, it can then be put out.
Jordan Jackson Demi-god
-Son of Hyperion
 Age: 17  Height: 6 foot two  Weight: 175
 Sexuality: straight  Relationship Status: single
 Health Status: good  Main Weapon: two eastern scimitars, broadsword, throwing knives
 – Victory has defeated you.

He enters the arena wearing light leather armor, a dark grimace on his face. "Where are you???"
Selena Starbright

~ Lt. Counselor of Nyx


"The world's not perfect, but it's there for us trying the best it can. That's what makes it so damn beautiful." ~Roy Mustang
Selena was a little late getting to the arena, though she had on her usual blue sweater, her hair tied in a tight bun behind her head, a light blue pair of jeans, and the usual black converse. She entered the arena, taking the beauty of the forestry in. She hadn't anticipated so much life could sprout from the floating islands. She was a little excited, though she didn't jump around. Instead she sat down, pulling the shadows from the constructs to surround her, creating a half circle constuct that would protect in coming attacks.

Character's Bio


 Age: 17  Height: 5'4  Weight: 119 lbs
 Sexuality: Straight  Relationship Status: Single & not looking
 Birth Place: Great Britain  Main Weapon: CB Twin Swords
 Accent: Neutral


Character's Powers

 ====Offensive====

Children of Nyx have the ability to conjure weapon out of pure shadows which can be used for combat; however, only one weapon can be conjured at a time and it cannot be bigger than the one who conjured it. This can also be used for other non-combative objects, but within reason, something might be shaped like an iPod, but as shadows do not have any working parts and source of electricity, such as batteries, they would not actually play music.
Children of Nyx can create solid bullets out of shadows and fire them from their fingertips. The bullets fly fast enough to possibly tear into an opponent's skin.

Defensive

Children of Nyx have the ability to conjure a dome of solid shadows around them which will defend against attacks for a short time.
Children of Nyx have the ability to conjure a cloak of darkness which will blunt physical attacks, but slows the movement of the conjurer.

Passive

Children of Nyx are innately stronger and are slightly less drained by their powers during the night.
Children of Nyx can see perfectly in the night as if it were day and darkness in general.
Children of Nyx can communicate with and command nocturnal animals.
Children of Nyx, during the night, sense any motions in their vicinity (up to roughly a city block away). Large, rapid movements are easy to distinguish, while smaller, slower movements blend together like background noise, requiring focus to single out.

Supplementary

Children of Nyx have the ability to Shadow Travel,to teleport from shadow to shadow; the further the distance, the more is energy drained.
Children of Nyx can bend shadows around them, concealing them for a short time.
Children of Nyx are able to create complete darkness in a small area for a short time, extinguishing all light sources. They can also perform this power to a lighter extent, by putting out a single light bulb or candle with a thought.
Children of Nyx can telekinetically move and transform their shadow constructs. The more constructs moved and the bigger they are, the more energy is drained.
Children of Nyx have the ability to create intangible stars, which will light an area for a short time.

3 Months After Character is Made

Children of Nyx can cause true night in an area for a short time, blocking sunlight over a battlefield. Their passive boosts and the abilities of other demigods are affected accordingly. This effect lasts for at most a minute before fading back, and can only be used once a day. They can also create a pair of shadow wings to fly with (which drains less energy than shadow travel).

6 Months After Character is Made

Children of Nyx are able to create up to seven nocturnal animals, no larger than their normal sizes, to serve them for a short time. While the animals are summoned the user is slower, and they are drained whenever one of the animals is harmed or when the animals are released.

9 Months After Character is Made

Children of Nyx have the ability to shed their flesh and turn into a state of pure night. While in this state, the user is granted flight and their existing abilities become stronger. They are intangible in this state and anyone they touch has their vision stripped away for the rest of the transformation; however, once the user changes back they will be extremely drained and immobile for a long time. They would possibly pass out.

Traits

Children of Nyx tend to prefer the dark.
Children of Nyx are often nocturnal; preferring to operate at night and sleep during the day.
Children of Nyx tend to have a darker outlook on life and events of the world.
Children of Nyx often pursue jobs that take place at night or in darkness such as being a security guard, nightclub bouncing, and mining.
Children of Nyx are typically favored and get along with nocturnal animals, such as bats, raccoons, ocelots, etc.

Owned by:

Chocoshake

~ Posted on: 01:28, December 16, 2015 (UTC)
Jordan He sees Selena in her semi circle and draws his scimitars. He grins and strolls over to where she stands, the tips of his blades leaving little trails of light in the air. Hello there, beautiful. He licks his lips I hope you don't mind if I gut you.
Community content is available under
CC-BY-SA
unless otherwise noted.