Word Bubbles
| | | |
| --- | --- | --- |
| Demigod | Aeolus | 18 |
| SPECIES | GODPARENT | AGE |
| Single | Heterosexual | White CB Bo-staff with carved wind currents |
| RELATIONSHIP | ORIENTATION | WEAPON |

Shattered Wind

Message Me

~ {{{time}}}
Jonah Fremont

~ Son of Palaemon


"Shark. Frenzy."

~~~~~

Character's Bio


 Age: 18  Height: 6'3  Weight: 197 lbs
 Sexuality: Demisexual  Relationship Status: Single
 Birth Place: South Carolina  Main Weapon: CB Sword
 Accent: Southern
 – Close your eyes, shut your mouth dream us a dream and get us out.

Character's Powers

 ====Offensive====

Children of Palaemon have the ability to grow multiple rows of shark teeth and then dislocate their jaws in order to attack with them.
Children of Palaemon are able to tap into primal shark instincts which allows them to attack with enhanced speed and ferocity. However, this ability can often lose to loss of self-control and only lasts for a short time.

Defensive

Children of Palaemon can become thick skinned like a shark while in human form which causes them to be resistant to physical attacks.
Children of Palaemon have the ability to create a defensive shield made from the electroreceptive energies they perceive around them for a short time (sharks have the ability to detect eletrical stimuli around them).Due to the electrical nature of the shield, if anyone comes in contact with it they would receive an electric shock.

Passive

Children of Palaemon can innately breathe underwater and everything they touch in their human form, stays or becomes dry in water, unless they want to become wet.
Children of Palaemon, can survive falling from high altitudes as long as they land in water, they can also go as deep into the ocean as they desire without any effects from the water pressure.
Children of Palaemon have the ability to hear prey or enemies from many miles away, as sharks have extremely sharp senses of hearing
Children of Palaemon are normally affected by blood and when they smell it much like a shark. They will normally go into a frenzied rage and attack whoever is at the source of the blood. If the target is an ally, they can resist the urges through sheer willpower.

Supplementary

Children of Palaemon have the ability to summon sharks and command them. The more sharks summoned/commanded and the bigger they are, the more energy is drained.
Children of Palaemon are able to transform into any currently living species of shark while underwater. The longer they remain in this form, the more energy it drains; and the longer the break they need between transformations.
As Palaemon was also a sea god, his children have the ability to Water Travel, a sort of teleportation; the further the distance, the more is energy drained, and there must be a substantial amount of water at both ends.
Children of Palaemon have a degree of control over water, but not to the extent of a child of Poseidon. They can manipulate water to be used as a shield or move water to fire a water blast of high pressure. And they can telekinetically move it with their mind. The longer they maintain control over water, the more energy is drained.

3 Months After Character is Made

Children of Palaemon have the ability to transform the surrounding area into a harbor as their father was the patron god of harbors. Whilst this harbor is in use, the user can fight in its waters and have their existing powers enhanced substantially. The harbor that the user creates can vary in size, and the larger the harbor is the more it drains the user. After the user relinquishes hold on the harbor they are somewhat drained and the power may only be used once in a fight.

6 Months After Character is Made

Children of Palaemon can materialize semi-living water constructs that take the form of sharks. The constructs have the strength and instincts of normal sharks. They can float around in the air and will follow the commands of the user. They can summon up to 3 sharks, such as Great Whites or Hammerheads, or up to 7 smaller ones such as a cookie cutter sharks. The bigger they are and the longer they stay solid, the more energy is drained. Once the user dismisses the sharks, they are somewhat drained and the water sharks dissipate into harmless puddles of water.

9 Months After Character is Made

Children of Palaemon can morph their bodies into a humanoid shark form, in this form their strength is doubled. Their skin becomes durable as in Defensive 1. Their skeletons turn into cartilage, much like that of a sharks, so that they become more flexible and their bones more resilient. This can aid them in fights as it halves the weight of their bones, making them lighter on their feet and faster as they have less weight to move around. Also their existing Hydrokinetic abilities become stronger. Once the user reverts to their normal form, they are quite drained and will struggle to move or stay conscious.

Traits

Children of Palaemon, usually prefer to be near and/or in the water.
Children of Palaemon, generally enjoy water sports, and are excellent swimmers.
Children of Palaemon are normally talented at chasing and hunting their prey.
Children of Palaemon tend to be much more comfortable than other people with swimming in the ocean because they are not frightened by sharks.

Owned by:

Lumo

~ Posted on: {{{2}}}
RP
The Pond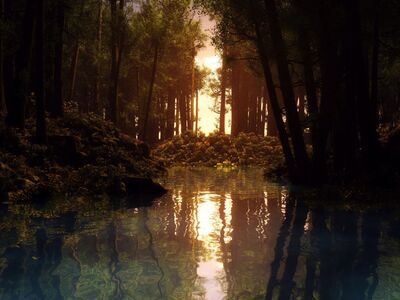 Tracey: It had been a few weeks since Tracey and Jonah last Spoke and to be completely honest she hadn't really thought about him. In their first encounter, Jonah reminded Tracey of a certain someone causing her to have some sorta feelings towards him. Now she realized those feelings were just her missing Carter. At this moment Tracey is at the pond located in the forest and enjoying the peaceful silence.
Jonah: Their feelings were mutual to each other. Jonah still wasn't attached to many people. He had many encounters like Tracey's so she was just another person to him. He created a routine, a hike to the forest every other morning and then a swim at the beach. Spotting a deer, Jonah followed it, leading him to the pond where Tracey was. Just on the opposite side.
Tracey: Suddenly the sound of a branch cracking could be heard, causing Tracey's head to snap up. A small surge of fear went through her body thinking it might be a monster but she settled, once realizing it was only a deer. She gazed at the Small deer, not yet relizing Jonah was there. After a few moments of admiring the beauty of the dear, and the sceanory around it, she let her eyes wander a few feet away from the animal and spotting the boy. A smal smile formed on her face as she began to concentrate. Moments later a strong gust of wind could be felt.
Jonah: Jonah scoffed and rolled his eyes at the childish behavior. Wow, he thought. Jonah was about to retaliate with a wave from the pond before his eyes made his way over to the other side of the pond and raised an eyebrow. "Tracy?" He thought out loud.
Tracey: a small smirk was formed on her face as her eye's met with Jonah's. The soft natural wind blowing bits of her hair into her face, which she had to brush out. Knowing he wouldn't be able to here her she simple waved her hand in a 'come here' gesture.
Jonah: Jonah raised an eyebrow, slowly walking around the pond and making his way over to Tracey. He never took his eye off of her. He liked Tracey in a way, but he didn't trust her just yet. He brought up his own shield of water, between himself and the girl as he closed the distance.
Tracey: She gave him a soft smile as she stood up and walked over to the boy, stopping just a few feet in front of him. "Hey long time no see..." She said letting out a small laugh as she looked to Jonah. "How have you been?" she asked since they hadn't seen each other in a few weeks, maybe even a month.
Jonah: Jonah placed his hands in his pockets and grinned down at her, not knowing just why, but just feeling the need to. "Same old, same old. Saving people, hunting things, getting used to this place. I'm alright." He shrugged and looked away with a smile still lingering on his face. "What about you?"
Tracey: "Been up the same things to, Training, exploring camp, i haven't really made the effort to talk to people but ehhh it's whatever." She giggled as she looked up to the boy. "Sooo what brings you out here?" She asked curiously.
Jonah: "Followed a lost soul." He replied, still smiling. "What about you? What brings you out to the wild wilderness?" Deep down, Jonah didnt care. Deeper down, he kinda cared. On the surface, he kinda cared. He had mixed feelings about the beautiful girl in front of him. Maybe he would've had normal feelings that a teenage boy would have if he wasn't so... Different.
Tracey: She gave a soft shrug as she looked around the lake then back over to Jonah. "Nothing much. i just like he quietness." She respoded, giving him a smile.
Jonah: Jonah's smile grew a little more, her comment reminding her of how they first met. "Yeah... yeah, me too." He replied, their meeting replaying in the back of his head.
Tracey: "Yea, soooo you wanna sit with me?" She asked while looking over to the spot she was priviously sitting at. "I mean unless your busy?" She said looking to Jonah with a curious and hopful look. Even though she didn't feel like that towards Jonah she still liked his company and friendship.
Jonah: "Sure. I got nothing better to do." He shrugged casually. Jonah didn't want to be too open to her, but he really did enjoy her company when they were both available. "Hope you enjoy tension filled 'relaxation.'" He put air quotes up.
Tracey: she gave out a small giggle. "Thats basically the only relaxation i know." She smile as she walked over to her spot and sat down, looking into the water as she did so. "So how's training going?" She asked trying to make conversation.
Jonah: He sat down next to her, his legs slightly bent and his feet planted on the ground. "It's a bit... Difficult to be honest. I'm following my own regimen and I don't know if I can handle it." Jonah chuckled, shaking his head at himself. "What about you?"
Tracey: "It's going pretty good." she admitted. Even before camp, Tracey trained almost every day so it wasn't much different then now. "Maybe we can train together sometime." She glanced at him with a small smile before turning her attention back to the lake. Could there be a better view then the one before the two? With the clear blue water that sat still, with the occasional ripple of waves when a leaf decided to flout down and land on it. Rays of sunlight breaking through the trees and a soft wind that blew threw Tracey's hair. Tracey took this all in and a small smile formed on her lips, she was at peace and her mind was clear of any troubles she had as she sat there along side Jonah.
Jonah: Jonah gazed down at the lake like Tracey did. He didn't admire the view as much as he should have, but he at least recognized that it was a pretty sight. "I'm down." He replied. "Seems like a great plan. How do you train?" He asked curiously. He looked up at her and his heart skipped a beat. JOnah had never seen an actual goddess before, but man. Tracey looked beautiful. This lighting, the scene, the way her eyes regarded the water as if it were a lost friend. He cleared his throat and quickly pushed the thought out of his mind. He looked back at the waters and saw the leaf touch the surface. It was in that moment he was reminded how small they were in the world and how a ripple can be created by the slightest touch.
Tracey: Tracey turned her gaze towards Jonah, the soft breeze blowing a few strands of hair in her face. "I usually train alone unless you call a few dummies company." She laughed as her gaze returned to the water. "But im sure we can come up with a training routine that will suit us both." She added on, then standing up to stretch a bit. "What do you say we head oer to the arena now?" she stated while looking down at the boy.
Jonah: "I was a bit hungry to be honest, but sure. Let's head over there now and you can teach me some moves." Jonah stood up next to her, rubbing the dirt off of his palms. "Maybe after we can get some snacks or something?" He glanced at her again, wondering why her hair was so messy. Not that it bothered him, it was just the way she wore her look that was intriguing.
Tracey: Why was he looking at her like that? Did she have something on her face? After a quick look up Tracey noticed how messy her hair was and let out a soft giggle. "Didnt realize how messy my hair had gotten..." She said running a hand through it to fix it up a bit. In all honesty Tracey didnt feel up to training right now so she brought up another suggestion. "How about we just go and get something to eat instead." She replied with a small pause before speaking again. "I'm not up for training all of a sudden...."
Jonah: "No, no you look great." He blushed brightly. "I-It looks great. Good? You look good. Your hair looks good!" He coorected himself twice, before turning away with an angry blush on his face. "Yeah, I'm up for whatever..." He mumbled, still angry at himself for losing his words and emotions so easily like that.
Tracey: Tracey gave a soft giggle at the boys sudden lose for words. "Thanks." Was all she said before starting to walk in the direction of the nearby town. "Now lets go before i die from hunger..." She voice in a joking tone. Tracey wasn't sure why but she felt comfortable around this boy..... well comfortable enough to joke around with him. Why was that? Did she actually have feelings for him? or was it that he just reminder her of Carter? Either way Tracey pushed the thoughts aside and looked back at Jonah who was still standing there. "You coming or do i have to drag you along?" She said with a small smile.
Jonah: Jonah rolled his eyes at her sarcastic comment. "Whatever." He followed her slowly to the town. "Maybe you could drag me along... I'm not really in the mood for walking this far." He smirked a little at her, knowing that he definitely sounded arrogant in the worst way possible. He liked teasing and playing along with this girl. She wasn't boring and she wasn't ugly and both those things were really good to Jonah.
Tracey: Tracey laced her fingers with Jonah's, feeling a slight surge of unknown emotions as she did, and began dragging Jonah along. "I forgot how lazy you can be." A small laugh escaped her lips as she looked down to their hands and quietly gulped. What was going on with her? Wasn't he just a reminder of Carter? Or was Jonah more then that..... After a few seconds of dragging Jonah along she decided to let go of his hand so things didn't get awkward or uncomfortable.
Jonah: For the first time in a long time, Jonah felt his heart clench when Tracey held his hand. On one side, he was glad to have this... New light in his life. On the other side, it was bittersweet torture. Tracey reminded him of his mom. She was kind, teasing, joyful and her smile just made him the happiest boy.. Man alive. He felt a surge of relief and disappointment when she let go of his hand. He opened his mouth to say something, but nothing came out. It never did. Not when it came from the heart like this.
Tracey: Seeing as Jonah was now quiet Tracey was sure she had made things awkward by hold his hand. What was she thinking? In no time a blanket of silence drapped over the two as they walked. It wasn't till a few minutes later, when they finally reached the town, that Tracey spoke up. "Ummm looks like were here..." Tracey said looking over to Jonah.
Jonah: Jonah grinned, shoving his weird feelings back down into the corners of his heart and making sure that no one noticed. "Sweet, I'm starving. What do they have to offer? Please say burgers." Yeah sure, he didn't really want to stay for too long. This girl gave him the creeps... In a good way? He didn't know for the life of him. But maybe that's the way things were supposed to be.
Tracey: "Yea there a really good burger place just around that corner...." Tracey said pointing in the direction of the restaurant. Tracey also didn't wanna stay for to long but, not for the same reason as Jonah. Ever since she ran away from a place she never mentions, Tracey has been scared to leave camp. What if they fond her here at this town? And while she was with Jonah.... He surley wouldn't be spared. Pushing the dark thoughts aside Tracey came back to reality and noticed that they had reached the burger place. "Here we are." She voiced with a smile and walked in.
Jonah: "Sweet." Jonah looked around curiously, taking the place in. It had been a long time since Jonah had been to a burger place. The last time he had been in a burger place was with his mom. With that in mind, Jonah cleared his throat and tried to focus on the menu in front of him. "I think I'll pay this time since you got to lead me here." he offered.
The Town
Tracey: Tracey looked over to Jonah with a greatful smile but, began to shake her head. She didn't want him to have to spend his money on her. "You dont have to i brought some money with me..." She replied as she walked up to the counter. "You can order first." She said, still unsure of what she wanted.
Jonah: "I brought some too." Wiggling his wallet a little in her face, he smirked. "I'm gonna have the double cheeseburger with garlic fries and a large Oreo milkshake please." Jonah put his money on the counter was he knew what he was paying. "Your turn, Windy.
Tracey: Tracey rolled her eyes at the boys persistence to pay for her. "Fine but im paying you back..." Tracey said as she looked up at the menu, trying to decide what she wanted. "Ummm can i just have a double cheeseburger with a medium soda." She told the cashier who took the order.
Jonah: Jonah laid down the right mount of money and stood by the pick up counter. "Why don't you get us table or something? Maybe you should wash your hands in case of... Germs or whyever people wash their hands." Jonah was unsure of what they could be doing. The tension he felt was too much... almost so much that it felt like a date. He shivered at the thought. From goosebumps? Chills? Emotions? He shivered again.
Tracey: Tracey nodded her head and left to go find a table for the two to sit at. Why was there so much tension? It's not like this was a date..... was it? As far as Tracey knew it wasn't. Finally the girl found a table in one corner of the restaurant and sat on one side.
Jonah: After waiting a good five minutes, Jonah picked up the trays of food and scanned the restaurant for Tracey. Once he spotted her, he made his way to her and plopped down in front of her. "Sweet. Let's get to it then." He offered her a fist bump, trying to dissolve the tension.
Tracey: A fist bump? Was that the best he could do? With a smile tugging at the corner of her mouth Tracey brought her fist to his and bumped it. "Yup.." She answer and slide her tray to the front of her. Grabbing the burger by the sides, Tracey brought it up to her mouth and took a bite out of it. "I haven't had a burger in a while.... i forgot how good they are." She smiled.
Jonah: Jonah smiled back at her. Damn that smile of hers. "Me neither. It's been way too long since I've had these fries and the milkshake too." He took a bite of his burger, then he put a fry in his mouth and then a sip of his milkshake. He continued to repeat this cycle until he had a grin on his face. "This is the best thing that's happened to me since I got here.
Tracey: Tracey smiled at Jonah's excitement. He was like a little child. At the thought Tracey also let out a small giggle. "Even better then when you met me?" Tracey spoke in a joking tone. She was curious to see what he would say but, at the same time didn't expect much.
Jonah: Jonah hummed in thought for a second before replying with a grin. "Fine, you got me there. That day was the first day since I got here when I didn't feel like kicking some dude for being a jerk. I felt like kicking a girl for being a jerk. Now that, that was something special." Grinning at his own joking self, he took a sip of his drink from the straw. "Nah, but seriously Trace. You're pretty chill and I mean-" He sighed overdramatically as if it physically pained him to say, "I guess that was the best thing that happened since I got here." He rolled his eyes, already assuming that Tracey was gonna laugh at him or rub it in his face.
Tracey: "Good to know." Was all that Tracey said. With a small smirk on her face she looked back down to her food and continued to eat until she was finished. Of course Tracey wanted to tease Jonah but, she decided to keep it locked away, maybe for another day? "Looks like i'm finished.." She said looking up to the boy with a soft smile, a bit of ketchup still on the side of her lip however she didn't yet realize.
Jonah: Jonah finished devouring the food that would definitely leave a bad smell in his mouth but a satisfied feeling in his stomach. Of course, he had some pieces of food around his mouth as well, but he laughed a little bit when he saw Tracey's ketchup problem. "You got a little something on your face there, sunshine." He grinned, not bothering to tell her where it was.
Tracey: Upon hearing the Jonah, Tracey grabbed her napkin and attempted to wipe the food off. "Did i get it?" She asked before realizing Jonah had food on himself. With a soft giggle Tracey pointed towards his face. "You have a little food yourself." A small smirk placed on her lips.
Jonah: "Nope." He grinned, shaking his head. Jonah heard her comment about the food on his face comment, his eyebrows furrowing. "Dammit, really?" He vainly attempted to get the food off of his face before groaning and giving up. "Whatever, I'll get it later." He licked his thumb before leaning over to get the food of her face, thinking nothing about it. "There you go, Trace."
Tracey: Tracey stayed still while Jonah cleaned of the food. "Thanks..." She said a bit quietly. "Umm i guess i should return the favor." With that she leaned over and wiped the food off of jonah's face with a napkin. "There you go." She smiled before sitting back down.
Jonah: Jonah stiffened just a little as he felt her movements along the side of his mouth. "Thanks," he replied, almost in the same quiet tone as she. After his shoulders relaxed again, he smiled at her and began to gather the trash from their table onto one tray. "Shall we go?"
Tracey: After brushing a stand of hair behind her ear Tracey gave a soft nod. "sure." She replied while standing up from her seat. Once Jonah had thrown out the garbage Tracey followed closely behind him as they made their way out of the restaurant. "So what do you wanna do no......" Tracey's sentence was cut short as a harpy swooped down and slammed into the daughter of Aeolus, sending her flying towards some dumpsters in the back of the restaurant.
Jonah: "Oh shi-" The harpy cut Jonah off with a loud shriek that made Jonah frown. "Wouldn't even let me finish my sentence." He didn't know what to do for a few moments before an idea came to his mind. "Hey, you furry-feathered freak!" Jonah yelled, waving his arms in attempt to distract the monster from Tracey to buy her some time.
Tracey: Tracey layed there for a bit as her brain pounded against her skull. "Crap that hurt..." The demigodess mummbled as she sat up and held her head. "Where is Jona...." her sentence was cut off as she noticed Jonah waving his hands and calling out to the harpy. A small smile formed on her lips as she slowly stood up and summoned her bo-staff. After taking a few more deep breathes Tracey was able to concetrate once more. Once concetrated she began to twirl the staff in her hand only to stop it and hold it with both hand a few seconds later. While Jonah distracted the harpy, Tracey took this opportunity to come up behind it.
Jonah: "Hey you guys don't happen to have a weaponry around here, do you?" He called to Tracey, a slightly panicked look on his face. Having no idea if he could reach his weapon in time to help Tracey, he waited for Tracey to attack the bird.
Tracey: Tracey quickly shook her head as she heard Jonah. "You don't have your own weapon yet?!" She said a bit panicked. The panic in her voice wasn't because Jonah wouldn't be able to help her but, if the harpy chose to attack Jonah would Tracey be able to protect him? Tracey pushed the thought to the back of her mind. Don't think like that.... Tracey then locked her eyes on the harpy that was still facing Jonah. Finally she began to run, her footsteps landing with hardly any sound, within a few seconds she was behind the harpy and leaped up to reach the monsters height. With all her strength she thrusted her staff down, hitting the beast on the head and sending it to the ground. Once grounded Tracey summoned a few of her throwing daggers and sent them flying into the harpy, a few of them missing but most of them landing on the target. "You should really keep a weapon on you....." Tracey said with heavy breathes as she stood over a pile of golden dust.
Jonah: Jonah huffed and frowned. "Well you know, I just thought that it would be rude to bring a weapon on date." Jonah didn't even register what he had just said and continued to ramble. "Plus, if you haven't noticed I'm a but new here and how was I supposed to know that this actually isn't a safe place and I am in just as much danger in here than out there?" HIs cheeks were a bit flushed by his anger now and his fists were clenched at his sides.
Tracey: "So....... This was a date?" Tracey said with a small smile placed on her lips as she brushed a few strands of hair out of her face. "I wouldn't have gone full ninja if i knew that it was." With that, Tracey transformed her staff back into it's jewlery form and walked over to Jonah. "Sooo should we head back to camp...." She asked, trying to act as natural as she could. In all honest, Tracey wasn't sure how she felt about this thing going on between them being a date and was becoming a bit nervous. Did she really wanna bring another man into her life? After what happened with Carter? Don't get to far ahead.... Tracey thought to herself. before giving Jonah a small smile and waiting for his responce.
Jonah: This time, Jonah's blush came from the embarrassment within him. "I-I didn't mean to say date. I mean it was a hangout between two companions...? That aren't really friends yet, but just wanna hang." He cleared his throat before sniffing to mask his flustered persona. "Yeah let's just head back to camp." He cleared his throat again before walking alongside Tracey back to camp. "Plus, I don't mind you going full ninja. You just possibly saved my life and it looked kinda ho-badass." He cleared his throat yet again before shoving his hands into his pockets and looking straight forwards so that he didn't have to look at Tracey and she didn't have a clear look of his face either.
Tracey: Tracey's gaze stayed glued on Jonah for a few more seconds before looking away, a small smile formed on her lips. "So... anything else you want to do?" Tracey asked a bit awkwardly as she noticed Jonah was staying pretty quiet.
Jonah: Jonah huffed in frustration at himself, but it would probably sound directed towards Tracey. "Not really. No. I can walk you back to your cabin if there's nothing else you want to do." He said before a thought popped into his head. "Wait... So you're telling me that I have to have a weapon on me at all times even when I go on dat- go hang out? And this place isn't as safe as it seems?" He asked a little angrily. So he was spending time away from his bro/caretaker Emmett for nothing?
Tracey: Tracey shook her head. "Camp is completely safe... just the nearby town isn't as safe." Tracey began to say as she looked forward. "There isn't many monsters but, there are some that wait for demigods that leave camp." The daughter of Aeolus finishes as they finally reached camp. "Ummm.... you don't have to walk me to my cabin... i think i can make it on my own." she said half hoping Jonah would still take her.
Jonah: He huffed and sighed, his anger being placated for the moment. "It's whatever. I'll walk you. My mom would literally kill me if I didn't show manner after a dat-" He cleared his throat. "Hangout."
Tracey: Tracey gave a soft nod as she tried to avoid direct contact with Jonah. His obvious anger made Tracey think she had done something wrong, which she hadn't. "Umm ok only if you want." Tracey said as she began to walk in the direction of her cabin, her arms crossed over her chest as she walked.
Jonah: "What's up with you?" He asked, his eyebrow raised. "You look like it just started raining and you have no umbrella." Jonah frowned at her. His bluntness may literally one day be the death of him because he never even noticed how rude he could be.
Tracey: "It's nothing." Tracey said giving Jonah a forced smile. Soon enough the two reached the Aeolus cabin and Tracey came to a slow stop just at the foot of the steps. "Thanks for walking me here..." The child of Aeolus said in a quiet tone as she looked to the ground and then up to Jonah.
Jonah: Jonah looked at her with a critical eye once they reached the cabin. "Yeah no problem, but you know, I've been through a lot and I've met a lot of people. Trace, you look like you had the worst day ever. Do I make you feel like that?" He asked a bit angrily and a bit sadly for whatever reasons he couldn't fathom.
Tracey: "Huh?" Tracey snapped back to reality as she looked at Jonah. "Oh no... Still a bit shaken up by the attack..." She half lied. after that she stayed quiet for the rest of the walk, only speaking up once they were in front of her cabin. "Looks like were here..." She said turning to Jonah and giving him a small smile.
Jonah: Jonah sighed and rubbed the back of his neck. "Look, whatever I did I'm sorry alright? Don't go using those sad eyes on me every time I see you after I leave or I will punch you." He said half seriously half jokingly. He sighed again and pushed his hands into his pockets before leaning down to kiss her cheek. "Goodnight, Trace."
Tracey: Tracey gave a soft chuckle. "Ok got it...." She voiced. Upon feeling the kiss on her cheek, Tracey stiffened up but, soon relaxed as he pulled away. "yea good night...." She said getting on her tippy-toes and placing a small kiss on his cheek as well before quickly entering her cabin.
OOC
Lumos: Sorry, I've jsut been... Idk XD Sorry the post took so long
Muse:No problem c: dont worry about it 
Muse: This rp needs a bit of action so a monster fight?
Community content is available under
CC-BY-SA
unless otherwise noted.