Name: Illyiaster Vacuus
Age: 32 (Actually many centuries)
Gender: Male
God Parent: Kronos
Mortal Parent: An unknown mortal woman from a village nearby Kronos' hideout at the time.
Appearance: Illyiaster stands at 6'5 and weighs around 260lbs. Illyiaster is masculine and is very muscular for his age, considering the fact he's ancient. Illyiaster naturally has long hair but he keeps it cut short so that it never interferes with his fights. Illyiaster has a more suave fashion style, while at the same time he can also have a more barbaric fashion style, should the occasion of a fight occur. He's normally wearing a black trench coat as well as a black tank top and some unique pants that are made to allow one to maneuver around in easily.. He also will be seen wearing metal boots, boots that resemble those that knights would wear, except his are made of strong metal that would be a pain for most to try to move in but he can easily move around due to his muscular build.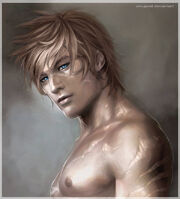 Personality: Illyiaster is a very sadistic/eloquent type of person. He'll come off as a respectful gentleman to all, however those who are not fooled easily will be able to sense his sadistic side and if you see him angry, he'll definitely show you the nature of a sadist. Illyiaster isn't one to lose his cool and even in battle he remains very eloquent and he'll even have a graceful feel about himself. Illyiaster has a very strategic mind and can calculate the outcome of many situations before they even began to heat up. Illyiaster has a deep emotional/sensitive side that he openly shows. He (ironically enough) isn't one who believes in senseless violence. Illyiaster is a noble fighter and won't start any form of senseless violence. Everything he does has a cause and a reason and he'll never start something over pointless matters as well as never engage in any pointless/senseless fight.
Illyiaster will come off to most as a mystery that you really can't tell much about on the first few times you're around him. He's a very complex and deep person and only those of the highest intelligence will be able to truly grasp the complexity of his nature. Illyiaster doesn't see a point in friendship, but he does believe that allies are an important thing to have in this world. Illyiaster will not ever interfere with another's fight unless it directly or indirectly interferes with his own goals or the goals of his group. While he does not believe in friendship, Illyiaster can be befriended and is a very valuable ally to anyone that can befriend him. However, while you may think of him as a friend, he'll probably refer to you as an associate but if you're lucky he might call you a close ally, which is his way of saying friend without actually saying friend. Illyiaster is a loyal person and will bring forth a painful death to those who dare threaten his "close allies" or any member of his faction.
History: This story takes place long before the Titanomachy or the Titan War as is widely known as. This here is the story of a young demigod brought forth before the downfall of father and the rise of his brothers/sisters. It all started when an unknown mortal woman wandered from her village and into the forest. At the time, the forest was a mystical and dangerous place, filled with deadly creatures and toxic plants. This woman knew of the dangers the lurked in the woods but she cared not for them. She was a little adventurer who had done this before and nothing had ever happened, so of course she wouldn't have expected that day to be any different. However, the young maiden was wrong….very wrong.
The woman continued to wander about in the forest; she didn't stop at all until she saw a weird and deep mist. There was something off about the mist form the moment she laid eyes on it, but being of a curious and adventurous nature, the woman dared to go into the mist. As she continued to walk, the woman began to lose her vision and she could no longer feel her feet beneath her. She wanted to turn around but she couldn't, it was as if she was possessed by something and so she would continue to walk, but right as she begin to feel her mind slip from this existence a hand would grab her and pull her out of the mist. She would fall unconscious time she exited the mist, but not before hearing a deep male voice say "Tis only time before you're mine."
When the woman woke up she had the eyes of the witch doctors on her. They asked her if she could hear them and she nodded. Right at that moment her husband would come into the hut that she was in. He looked at her with a fierce look before telling the doctors to leave. He watched them as they left before turning back to his wife. He asked if she was okay and she nodded. Then he yelled at her and told her how reckless she was and that she should be more careful. His wife would sit up and ask him how he found her. He would tell her that he had some of the guards following her. He went on to say ever since he became the next one in line to be chief of their people, he had been keeping guards watching her. His wife would yell at him angrily, which he expected, but he didn't expect her to stop so abruptly. She would then ask what is probably the most important question now, how did the guards survive the mist?
He would look at her as if she was delusional, and then ask her why she would ask such a silly question. She would jump up and tell him that the mist was like poison to her and was forcing her to go further into it. Her husband would tell her that it had no strange affect on the guards and that maybe she was suffering from a head injury when she fell unconscious. The woman would stand in front of him and tell him that the mist was controlling her and that she heard a voice tell her "Tis only time before you're mine." Her husband would look at her again, thinking that maybe she really was delusional. He'd tell her to stay in the hut, but when she refused, he told her that he was ordering her to stay and that he'd have guards guarding the hut day and night. The woman showed nothing but anger when he did that but there was nothing she could do so she'd stay for the time being.
Later during the night, while she was sleeping the woman had a dream that she was being burned alive by her own village. She woke up in terror and screamed. The guards rushed in and checked to see if she was okay but she started yelling gibberish and that's when they took her to see the witch doctors again. They did some test, such as checking her vision and hearing and what not. Yet, the woman continued to yell until stopping abruptly again. She claimed she was okay and just wanted to sleep. Her husband, who had been called there earlier, gave the guards the okay to take her back to the hut. As the guards walked the woman back, she hit one in the face and kicked the other one in his "manhood" and she took off, looking to prove that she wasn't crazy; she did the craziest thing and headed back to the weird mist.
The woman would head towards the area where she first saw the mist; once she reached said area she would run into the mist which she had felt was still there. The woman ran quickly into mist and disappeared but the guards as well as her husband and the witch doctors were closely trailing behind. The woman ran through the mist without stopping and approached a temple that she had not seen before. She'd walk inside and see a throne, upon that throne sat an old man with a beard. She would move closer towards him but stopped about three feet in front of him. Her husband and the others would soon arrive inside the temple and her husband would call for her to walk away from the man. She wouldn't listen and approached him until she was directly in front of the throne. The man who appeared sleep would open his eyes and let out a devilish grin.
The woman's husband would ask the old man who he was in a highly aggressive tone. The old man would tell him that he was father time himself, but that he need not explain himself to one of little importance. The woman's husband would growl angrily and command his guards to strike, but the old man froze them in time before they could even move two inches. He told her husband that he knew they were going to do that. That's when the witch doctors said to her husband that the old man was Kronos himself. The old man laughed before saying they were correct. He then went on about how he wanted to leave his print on the world, because he felt something troubling coming in the future but for some odd reason he couldn't tell exactly what. The old man then said how his wife was the perfect vessel for his child.
The woman's husband yelled in a rage and charged towards the old man but was thrown to the side while his wife was taken by him and violated sexually by him, and the man as well as the witch doctors would be forced to hear her screams as Kronos left his mark on the world. Once finish, Kronos would tell her that she'd had his protection for the next nine months but once the child was born he would protect her. Kronos would allow the woman and her husband as well as the doctors, but the doctors would leave later as Kronos wanted to speak with them, to go back to the village but the guards would remain frozen with him. The next nine months would go by swiftly with the village thinking the new chief and his wife were now having a child.
Finally, the nine months was up and the child who would be named Illyiaster was born. The chief would then call forth the village and hold a village meeting. He would then say that the child was not his and that Kronos, a tyrant of a god had assaulted his wife and forced this child inside her. The village would murmur amongst themselves but the new chief would say he could cleanse this village of this unholy stain by burning both the child and its mother. The villagers talked for awhile but most would agree. The woman would scream in horror as they took her child and her herself and tied time to wooden poles and brought fire to them both. However, while the woman burned the child would be saved by the doctors who would cut him down and flee the village with the young demigod, while being chased by the guards of the village.
Kronos had asked those doctors to guard his son, as he really didn't care for the woman, he did however want to leave a surprise left for whoever should dare try to usurp him as he had an uneasy feeling about the future. Kronos was not one to care about anyone but he saw this child as the ultimate surprise, not as someone to avenge him should he fall but as a future body to host his essence should he require it. The doctors would take the child far away from the village and raise him in a village that was far on the other side of the mountains. The doctors would watch as the young Illyiaster grew up into a warrior. It wasn't until five that they noticed the child's abilities; Illyiaster was able to manipulate time as he had thrown the entire village's sense of time off and caused much dismay in their everyday lives. Illyiaster from a young age found pleasure in this and it would not change as he grew older.
The chief of the village wanted to young time manipulator gone but the village elders believed Illyiaster was no threat to them and that with help he could learn to control his powers and use them for the good of the village. The chief was highly against keeping the child there but he dared not to oppose the village elders. The young Illyiaster would soon become the fascination of the village as they saw him as a god amongst them. This would only enrage the village chief and he would send his top guards to find out exactly where Illyiaster and the doctors came from. The guards would follow the path that the three had come from when they arrived at the village and as they headed up the mountains, they were greeted by another group…a group from Illyiaster's old village.
The chief who was with that group told the guards how the three fled from his village. When asked by the other group why he waited so long to hunt the three down, the chief told them that he didn't even remember anything from the day they left…no one in the village did. Kronos had kept them from finding his son, but as the war of the gods had just begun his power was beginning to become limited and he could no longer protect his possible future body. The two groups would head back to the village where Illyiaster and the doctors were and they would meet with the chief there. The first chief would tell of how that child was the bastard child of Kronos. The second chief decided it'd be best to end the kid before he grew stronger.
The chiefs would find Illyiaster and tie him to a wooden post as they lit it a blaze. The two doctors were prevented from saving him this time and they had to watch as the child began to burn alive. Illyiaster had warped everyone's, but the two doctors, sense of time before he was even tied to the wooden post and he'd run off before they realized they had never even tied him to the wooden post. Illyiaster would find himself lost in the woods and confused, he would then run towards a temple of Atlas, a place he liked to play in. The doctors who knew where'd he'd go would escaped the village while the guards and the two chiefs watched as they believed the boy was burning, as they couldn't see the body in the flames. The two doctors appeared in the temple and took the child, heading north they would wind up in an old village, where they figured they could raise the child without troubles.
The two chiefs would celebrate as they now believed the child to be dead; they didn't even search for the charred body as they figured he was dead and didn't see a need to. The chief of that village would explain to the village why the boy needed to die, as he apparently was a curse from the gods and would bring disaster to the village in the future if he was not killed. The child would now grow up in the new village and he would train in the ways of a warrior. Illyiaster, now ten years old, was an exceptional warrior and was very advanced for his age. He learned quickly and easily understood the art of combat and war. Illyiaster would be summoned to the chamber of the elders as they would speak of how they believed he should be the next chief of the village. The current chief was very ill and a new one would be needed soon, a strong and vibrant chief who could lead the village would be needed. Illyiaster would accept the position as he would be one of the youngest chiefs throughout many villages.
Illyiaster, now fifteen, would be married to the young and beautiful Alexandria. The two would wed on the day that Illyiaster would become chief. Illyiaster made an impressive chief for his age and construction of the village began to boom as he gave orders for new buildings. Illyiaster would have to go to a chiefs meeting between nearby villages, each chief would arrive with their guards at take a seat in the building the meeting was held in. Illyiaster would be one of the first to arrive and would watch as the other chiefs arrived. He'd glare towards two chiefs in particular, the two who tried to burn him alive. They were there and that made him uneasy.
The chiefs would talk about treaties and whatnot but one would address why Illyiaster was there as he was relatively young for a chief. The others would stare as the demigod stood up to defend himself. He'd talk about how weak his fellow villages had gotten and how only he had a system that was actually working. The first chief would notice the familiarity of his eyes and right then he knew this was his wife's son. When the meeting ended the chief would talk to the other about how the child had survived. They would talk quietly and would devise a course of action, an attack on Illyiaster's village. Illyiaster would go home and spend the rest of the night with his wife, who was now pregnant,  but as he slept he had a vision of his village burning and in the morning he'd call for his guards and the village to prepare for war.
In the following weeks, the village would be preparing and on one fateful night, a group of over 5,000 soldiers would strike the village but not without being met by 2,500 soldiers from the village. Illyiaster would join his men on the battlefield as he met the enemy in combat. Illyiaster would be a great assist for his men as he could alter many of the enemies' perception of time. He'd level many a men and his village would look as if it was going to bring forth a great upset. Illyiaster would then find the first chief in battle. He'd tell his men to back off as this was his fight. The chief, now in his 40's, was getting old but he still was young enough to be considered a dangerous person. He and Illyiaster would go to war with one another and they'd leave scars amongst each other.
Illyiaster received many scars as did the chief. They were actually complementing each other after a while, saying how they had never been able to find opponents worthy enough to call advisaries. The chief, much more experienced than Illyiaster, would knock him to the ground and a she went for the final blow, they saw a huge explosion of fire emerge from the village. Illyiaster would run towards the village and he would find an old man there. Kronos had returned and he wanted the body that would host his essence. Illyiaster would confront Kronos, who would tell of how he was born only to host his father's essence and that, was his only purpose for existing. An enraged Illyiaster would fight his father but would be sent flying by him. Illyiaster would get back up and clash swords with the Titan, but before their fight could really start, Zeus would appear and summon down a strong bolt of lightning towards Kronos, as the ten year war they had been fighting was nearing its end and a weak Kronos, was desperate for "his" body. Kronos would push back Illyiaster, in order to prevent damage to his son's body, but he would reflect the bolt of lightning towards Alexandria, who would scream in pain as she fell to the ground.
Illyiaster would rush towards his pregnant wife and shed tears before screaming in rage. She'd tell him she loved him before leaving this world. Illyiaster would look to both his brother Zeus and his father Kronos, he'd tell them how they were both alike and how the humans were stupid to worship either one of them. Illyiaster would charge towards Zeus, who was hovering in the sky, he'd jump but was hit with a strong bolt of lightning that went through him and into Kronos. Illyiaster would soon find himself warping into the future and waking up in 1972. Illyiaster, now dazed would find himself confused and in the future. He'd ask someone nearby what time it was and where he was. They'd tell him it was 10:34am and that he was in Manhattan, New York. He told him the year was 1972 and asks him if he was okay, as he was wearing funny looking clothes and acting strange. Illyiaster would say he was fine before running inside a building. Illyiaster would find himself inside a library. He'd ask the librarian about what happened to the Titans, she thought he was want information on the Titan War, so she told him of how the Olympians succeeded and imprisoned the Titans in Tartarus…or so the myths say anyway.
Illyiaster asked where did this occur, she told him somewhere around ancient Greece probably, if it had happened. Illyiaster walked off further into the library and read some books, he wanted to know everything possible. He learned quickly and understood much by the end of the day. He would go to a bank and rob it by simply warping everyone's sense of time and he made it look like he was never there. He would use the money to buy a ticket to Greece. He'd travel by plane and eventually land in Greece. Illyiaster would make his way to a statue of Zeus as he had devised a plan to bring the god to him. He would slowly destroy the statue, which quickly angered Zeus and brought him to Greece. Illyiaster would talk about how he had not missed his brother and that he was going to finish the job. The two would engage in hand to hand combat, they were nearly equally match as Zeus was a little better being a couple decades older than his younger brother.
Illyiaster would seem to gain the upper hand before being struck by lightning, as Zeus didn't play fair, and again he would be warped through time. Illyiaster would find himself near a weird building, it was called the Sanctuary. He'd walk in but not before being confronted by two males, he'd tell them of his ancestry and how he wanted his revenge on the gods and wanted the mortals to worship only those who truly deserved to be called gods. They'd tell him of the factions and he'd choose Liberi Superum, as well as the new name of Illyiaster Vacuus.
Weapons: A sword he carries with him
Faction: Liberi Superum
Why? "Too long they have reigned supreme; they call themselves gods of equality and fairness. Yet they are nothing more than a group of aging fools. The Olympians do not deserve to reign over the Earth. Yet, the weakening spirit of the mortals gives them complete and total dominance over Earth. I look to change that and with the alliance of Liberi Superum, we will. We'll bend the knee of the mortals and then bring forth our divine wrath on Olympus. I will see to it that those pathetic incompetent buffoons fall and that we rule as the new gods over Earth."
---
Why is Zeus's lightning causing the time travel?
Oh the infamous question lol, how does lightning cause time travel?  Well to put it simply,  Einstein has his theory about the speed of light, and how if anytihng surpassed the speed of light it'd be traveling backwards through time. This idea kind of worked its way into the story here. Illyiaster possesses time warping abilities, however he still doesn't have complete control over them. Now Zeus's lightning here effects Illyiaster's time abilities in such a way that it causes him to travel through time. Because as we all know, lightning iself  is the movement of charged particles from location to another. The bolt itself moves slower than the speed of light, however the light moves at the speed of light.  Lightning being one of the most powerful sources of energy, if not the most powerful, on earth easily manipulates Ilyyiaster's own ability to control time. The lightning itself is probably made stronger by Zeus and with the raw power of Illyiaster (with it being raw, it's more potent but less controllable), the lightning can easily super charge the particles of Illyiaster's time powers, thus flinging him through time...he just happens to go forward instead of backwards.

PrimordialEon (talk) 21:16, February 21, 2013 (UTC)PrimordialEon
And the lightning that strong doesn't kill him because?
Being a son of Kronos, Illyiaster possesses a time aura (basically, he possesses a certain feel of energy which in this case is time. So the flow of time is an aura that surrounds him)  which allows him consistent control over time. Being less proficient than some of his other siblings with time manipulating abilities, Illyiaster relies on the aura more and thus it's kind of his protective shield. When Zeus struck him with lightning, the aura acted as a shield of sorts and made the damaged received less severe. Try to picture being struck by lightning but with a time shield slowing the affect of the lightning down, thus it slows the damage done down. So the lightning could effectively go through him, but because the lightning had been slowed and the damage had been reduced, it wouldn't kill Illyiaster but would be more of a sharp sting. The lightning still possesses enough energy to charge the particles of Illyiaster's time abiltiies and send him through time but it won't be strong enough to kill him due to the aura....probably should've added that somewhere in his history.
PrimordialEon (talk) 21:10, February 22, 2013 (UTC)PrimordialEon
Heinrich Alten

~ Leader of the

Broken Covenant


"???"

Character's Bio


 Age: ???  Height: ???  Weight: ???
 Sexuality: ???  Relationship Status: N/A
  Main Weapon: His weapons are unknown while his attire is a white hooded robe, and a set of black and gold armor complimented by a full-face mask.

 – "???"

Character's Powers

 Powers of a Child of Hebe:

Children of Hebe have the ability to force the effects of age upon a person for a short time; making them feel pain and cause their movements to be slow and sedated.
Children of Hebe can become temporarily changed during battle and become even stronger and quicker in combat than they were before, for a short time.
Children of Hebe can become resistant to all types of physical attacks for a short time.
Children of Hebe can cause an opponent to feel aching bones and muscles for a short time.
Children of Hebe are innately stronger and faster due to their slow aging.
Children of Hebe have an innately faster rate of healing than other people.
Children of Hebe always have an unlimited supply of Ambrosia, even if none is on them at the time, they can create it out of nothing
Children of Hebe can restore energy to a weakened person and heal some minor wounds.
Children of Hebe are able to curse someone with being very young children again, this has the potential to cause the victim a feeling of being lost, helpless and often leading to fits of crying, this only lasts for a short time and drains the user considerably.
Children of Hebe have the ability to strike someone with a curse of old age for a short time; however, the person will not only feel old, they will become old and be unable to fight or even defend themselves, this also drains the user for a considerable time while using the power
Children of Hebe can bless water to have the effects of allowing whomever drinks it to feel young again for a short time, their appearance may also take on a more youthful appearance for as long as the effects last.
These children age slower than normally, beginning around the age of 12, and retain a youthful appearance far longer than most.

Owned by:

Admins & Crats

~ Posted on: Welcome to the BC, someone from Liberi will speak with you now
so now either B or Jake will need to approve this for their faction

 – "One must fall in order to learn how to fly."

You have been accepted, welcome to the Liberi Superum.
Community content is available under
CC-BY-SA
unless otherwise noted.