Name: Nicholas Davenport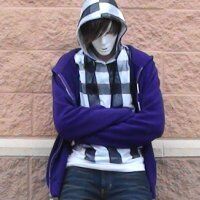 Age: 16
Species: Demigod
Mortal Parent: Kane Davenport
God Parent: Nyx
Personality: Nicholas is a cold and calculating, he'll always try to figure out the best way to take you down either physically, mentally or emotionally.
Appearance: (see picture)
History: Kane Davenport inherited everything after his father died. He had everything now, money, a business and a mansion! But something was missing ... love. The simple emotion that could be shared eluded him, until one night a woman appeared on the porch to his bedroom. She introduced herself as Katherine and her looks and voice were so charming that it made his heart skipped a beat! He was so longing for someone to love that they shared the night together, but that morning ... she vanished never to be seen again.
Nine months later Katherine (aka Nyx) was giving birth, but the baby boy that came was so unnatural, so deformed that she was disgusted by the very sight of him! She knew Kane wouldn't want him and she never wanted to see that face again. So she discarded him, threw him into the wild forests of the mortal world in hopes that he would die and no one would know she produced such a vile creature, but things didn't happen like she thought. A family of satyrs found him crying and despite his looks they took him in and raised him as one of their own. They named him Nicholas.
Nicholas had a pretty good and healthy life. He had learned to live off the land and his adoptive parents made sure to educate him about the skills of fighting. Whenever a monster came and threatened him they fought it together as a family. He learned from an early age about the Greek gods, but also found out that his whole family were spies for a group called the Broken Covenant and grew up hearing stories about how bad the gods actually were. In the end up he grew up hating them. Then one day his hate grew stronger, he was sixteen and they had just finished beating three hellhounds. When him and one of his adoptive brothers went away to gather some fire wood. When they were a distance away they heard a booming clap of thunder. They dropped what they were doing and rushed toward the camp, but when they were close his brother quickly pulled him aside and into some thick bushes. They were able to see out and what they saw stopped Nicholas' heart. The family were standing defiant in front of a towering figure of a man that oozed of power. He didn't need to be told that this man was a god! Nicholas wanted to rush him and kill him, but his brother caught his shoulder and said, "Don't! That's Ares god of war. He'll kill you within a matter of seconds."
"But what about the family?" I asked.
"They would want you safe. We need to get you to the Sanctuary. It's not safe anymore," His brother insisted. Nicholas cursed. It was no doubt that that was what his parents would want, but he couldn't just leave them. Then the most tragic thing happened. Ares attacked! Nicholas' was forced to watch in silent shock as the god killed every single one of his family. The people who took him in and raised him as one of his own despite his hideous face. Within a few minutes all the satyrs were dead and the ground was stained red with blood. They didn't stand a chance. "Quick! We need to go now!" his brother urged and knowing he couldn't do anything for his beloved family Nicholas agreed. They raced away, looking back every once in a while to see if the god was following them. They only had a few encounters with monsters, but Nicholas' was so angry that he attacked every one of them like they were his worst enemy. They finally reached the Sanctuary and Nicholas' anger towards the gods was stronger than ever.
Weapons: Dual wielding short swords and two small knives as back ups
Faction: Ortu Justitiae
Why Ortu Justitiae: I grew up being told all about the wrong the gods do and now I know all that I was told was true! The gods care nothing for us, they have no mercy or remorse! I know for I watched a wretched god attack my beloved defenseless family in cold blood. It's time for us to no longer be forced to serve such corrupt and merciless leaders. It's time for us to have liberty, freedom and ... justice! And the only way for that to happen, to make this world a much better place, is to take over! To become gods!

I'm here, I will stay with you...'till you are sleeping... - Marius (Legolas) 12:55, February 13, 2013 (UTC)
How did he get to 16 with no monster attacks before that?
I fixed so that his age is now 14.

I'm here, I will stay with you...'till you are sleeping... - Marius (Legolas) 02:28, February 25, 2013 (UTC)
You'll need a better reason to join Veritum, he's pretty young to already feel that jilted, considering he only just found out about the gods.
Do you still plan on working on this?
I completely re--wrote it.
You alone can make my song take flight. - Phantom (Legolas) 03:42, March 9, 2013 (UTC)
Why does he want to become a god?
Fixed.
You alone can make my song take flight. - Phantom (Legolas) 11:31, March 10, 2013 (UTC)
Heinrich Alten

~ Leader of the

Broken Covenant


"???"

Character's Bio


 Age: ???  Height: ???  Weight: ???
 Sexuality: ???  Relationship Status: N/A
  Main Weapon: His weapons are unknown while his attire is a white hooded robe, and a set of black and gold armor complimented by a full-face mask.

 – "???"

Character's Powers

 Powers of a Child of Hebe:

Children of Hebe have the ability to force the effects of age upon a person for a short time; making them feel pain and cause their movements to be slow and sedated.
Children of Hebe can become temporarily changed during battle and become even stronger and quicker in combat than they were before, for a short time.
Children of Hebe can become resistant to all types of physical attacks for a short time.
Children of Hebe can cause an opponent to feel aching bones and muscles for a short time.
Children of Hebe are innately stronger and faster due to their slow aging.
Children of Hebe have an innately faster rate of healing than other people.
Children of Hebe always have an unlimited supply of Ambrosia, even if none is on them at the time, they can create it out of nothing
Children of Hebe can restore energy to a weakened person and heal some minor wounds.
Children of Hebe are able to curse someone with being very young children again, this has the potential to cause the victim a feeling of being lost, helpless and often leading to fits of crying, this only lasts for a short time and drains the user considerably.
Children of Hebe have the ability to strike someone with a curse of old age for a short time; however, the person will not only feel old, they will become old and be unable to fight or even defend themselves, this also drains the user for a considerable time while using the power
Children of Hebe can bless water to have the effects of allowing whomever drinks it to feel young again for a short time, their appearance may also take on a more youthful appearance for as long as the effects last.
These children age slower than normally, beginning around the age of 12, and retain a youthful appearance far longer than most.

Owned by:

Admins & Crats

~ Posted on: Welcome to the BC, someone from Ortu will speak with you now about joining their faction
Now either SOA or Minnx will need to check this and accept for Ortu



More Info:


-Leader of Ortu Justitiae/Cursed by Zeus
 Age: 16 psychically; Immortal  Height: 5'6"  Weight: 115 lbs
 Sexuality: Straight  Relationship Status: Single
 Birth Place: Málaga, Spain  Main Weapon: Lightning & Daggers
 Accent: Hispanic
 – "Pity is for the living, Envy is for the dead."
Community content is available under
CC-BY-SA
unless otherwise noted.