Name: Cambria Wilkins
Gender: Female
God Parent: Eros, Hades, Apollo
Mortal Parent: Charlotte Wilkins
Appearance: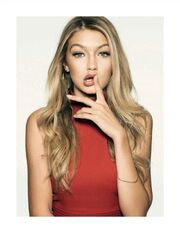 Personality: Cambria is kind to everybody, even someone that dislikes her. She believes that everyone and everything has beauty inside and out and that people can change. She is still shaken from her history of Daniel and has a few trust and dating issues. She is innocent, naïve and a true leader. Cambria is also a social butterfly and loves talking to new people.
History: Charlotte Wilkins was one of the hottest fashion designers back in 1998; she was the owner of Wilkin Designs. This brand was popular for their unique and fashionable clothes and accessories. Eros was on Earth during one of the biggest fashion events, New York Fashion Week. Posing as a model, he automatically fell smitten with Charlotte who looked almost as gorgeous as his wife. The way she held herself and her elegant grace seduced him. Charlotte herself, was flustered when the handsome male model came forward and mustered up a conversation with her. The rest was history.
The two went on many dates before making love passionately on Valentine's Day. When she woke up from the magical night she realized that the spot next to her was replaced by a leather bracelet. Saddened, Charlotte continued to work hard on her new designs but not realizing that she was pregnant until she threw up during the next fashion show. Then on November 3rd, Cambria Allison Wilkins was born. Cambria was a privileged girl living in the Big Apple. Her mom was always busy at work so she spent most of her times alone at the penthouse. Her genetics turned her into a beautiful girl who sparked many admirers. She was educated by tutors; one in particular was a demigod son of Athena named Joel. Joel suspected her of being a demigod, seeing that she had a strange aura around her. Many girls envied her because of her beauty and didn't seize to bully her when she was diagnosed with Dyslexia. When she was six, a mysterious yet exotic woman sent her mother a letter. This letter was talking about Cambria's demigod roots and the uses of the bracelet. It also said to bring her to Camp Half Blood when she was ready.
Cambria had a strange memory when she was 14. Walking through Central Park, a harpy was lured by her scent. Shrieking, Cambria tried her best to violently swat the creature but no one would come to her rescue. Scared to death she blacked out. Watching her from afar, Joel reached for his sword and slashed the monster quickly to ashes. Cambria recalled not remembering the whole battle, just little bits and pieces. Afterwards, Joel and her mom tried to block Cambria from the world of monsters. Charlotte was scared of her baby and wanted to protect her from all of the trouble. There were multiple attacks but Cambria was oblivious because Joel was always protecting her. The day after, Charlotte gave Cambria the bracelet and told her to always wear it. She was confused but wore it for her mother's sake. Because of her sweetness and her good looks, she was very popular in high school. Unlike many of the girls in the school, Cambria respected herself and wanted to wait till she found the right guy. Finally she was 16 and a new boy moved into the penthouse next to her, his name was Daniel.
The two soon developed feelings and dated for a few months. At her birthday party, a drunken Daniel cornered her and assaulted her. It was impossible to get off because he was double her size and weight. Just when he was about to drag her off to the bed, Joel appeared and fought him. Daniel collapsed and the two escaped the apartment, going off to Charlotte's home. Cambria was scared and didn't want to ever see Daniel, but since they were neighbors they were bound to see each other again. Charlotte decided that she would send her to camp so that she'll never see him and could learn to defend herself. Joel and Charlotte told Cambria off her real father and about the camp. She wanted a new start and agreed, after saying goodbye to her mother they went off. Joel hugged Cambria and wished her luck, watching as she passed the entrance.
Weapon: Leather bracelet that turns into a celestial sword
You Have Been Claimed

This claim has been approved as A child of Eros. You now need to make a page for them and a word bubble, if you aren't sure how to do this you can see the guide here. Once you have done that you can add your character's name to the cabin list located on the cabin pages and start role playing with your new character. If you have any questions feel free to ask a member of the Admin team.
Behind those cold hard computer screens.....

There's a human heart beating away its emotions…
</div>
Community content is available under
CC-BY-SA
unless otherwise noted.