Name: Clara Mastori
Gender: Female
God Parent: Hecate, Asteria, Aphrodite
Mortal Parent: Louis Mastori
Appearance: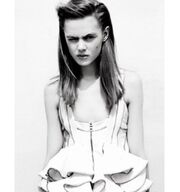 Personality: Clara is a sweet girl. Shes very dark and shy though
History: Louis Mastori was a writer for the daily news. He met Hecate when he was writing a report on an accident that had happened on Long Island. Hecate was a very beautiful woman with blonde hair and green eyes. He decided to ask her out. She said yes. After a few dates, Louis had an affair with Hecate. When she left, She left him a note explaining everything and the address to camp.
9 months later, Clara showed up on Louis doorstep. He looked at the note left by Hecate and he understood. He decided to name the baby Clara. Clara had brown hair like Louis and Green eyes like Hecate. The baby was Louis only.
In Clara's early years, Louis got married to Elisa Aced. Elisa was a nice woman who really loved Louis. She loved Clara and treated her like a daughter. Clara moved a lot. She was sent to the doctors and was diagnosed with ADHD. She met a girl named Anakima You Ling. Anakima was a daughter of Persephone. At 12, a new boy came to school. His name was Richie. He was a boy on crutches. Little did Clara know Richie was sent from camp to protect her and Ana.
At 14, Clara, Anakima and Richie were walking to the library when they were attacked by a hellhound. Richie killed the hellhound and told Ana and Clara what happened. Clara called her dad and explained. She asked him if she could go to camp and he accepted. Richie brought Clara and Ana to camp where they were claimed by their godparents. Richie gave Clara a knife.
Weapons: knife

She moved a lot because she had ADHD. Awesome is Isabella

Why did she move a lot? And was she sent to a lot of doctors in one place or did she just go for many different check ups? Also, that model in your picture is already in use, can you change it? And please sign your claim with the four '~'s and do take note of your other claims currently going through as well please.

Riri ye ye ye ❤ Special:EditCount/Riri25

You Have Been Claimed

This claim has been approved as a child of Hecate. You now need to make a page for them and a word bubble, if you aren't sure how to do this you can see the guide here. Once you have done that you can add your character's name to the cabin list located on the cabin pages and start role playing with your new character. If you have any questions feel free to ask a member of the Admin team.
<createbox> width=30 break=yes buttonlabel=Create a New Character preload=Template:Character </createbox>
Community content is available under
CC-BY-SA
unless otherwise noted.