Name: Druanna Larsen
Gender: female
Species: demigod
God Parent: Prometheus (first choice), Notus
Mortal Parent: Ann Larsen
Appearance:age thirteen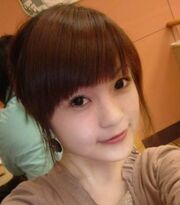 Personality: Druanna "Dru" is very bubbly, happy, outgoing, energetic, and flirty. She speaks English and Chinese.
History: Druanna was born in the early 1920s in China to her mother Ann. Her mother was relatively poor, and struggled to feed her. Ann worked as a prostitute to get money, and made just enough for her and Dru to survive. When Dru was about seven, Ann was thrown onto the streets and replaced by other, "better" workers. Ann prayed to [godly parent] for help, and he offered to place Dru in the Lotus Casino. Ann was hesitant, as she wanted to keep her daughter, but there was no other way. So Ann agreed, and also asked that all Dru's memory be erased in the Lethe, except the names (Druanna and Ann). Druanna was released from the casino eventually because [godly parent] didn't want her to spend her whole life secluded. She made her own way, but amazingly, no monsters caught her scent. When she reached the age of 16, she saw a glimpse of her father, and managed to discover the truth through more research and intuition. This led to her being claimed, and a satyr found her and took her to camp half blood. She still doesn't remember anything from before the casino, though is aware that her memory is unusually vague.
Weapons: "Children of Prometheus have the ability to conjure a weapon out of clay which can be used for combat; however, only one weapon can be conjured at a time and it cannot be bigger than the one who conjured it. They can also use this power to form other realistic objects as well, at delimited size."
---
How old was she when she left the casino and started ageing normally again?




She was about seven. Precious as a Ruby Sweet as a Rose 02:47, January 15, 2012 (UTC)
So roughly 9 to 10 years pass between when she's taken out and when she goes to camp?




Hmmm. Okay, I changed it so that she entered the casino at seven, and she was released at about 12, but instead of going through foster care, the godly parent just released her. So she just went from city to city, until she was 16 and had the vision. Precious as a Ruby Sweet as a Rose 17:21, January 15, 2012 (UTC)
That makes it worse, a 12 to 16 year old, surviving on her own, on the streets, that long, and not running into monsters.....highly improbable.




Ok, changed her age to 13. So she was only on the streets for less than a year; about a couple of months. Precious as a Ruby Sweet as a Rose 22:15, January 15, 2012 (UTC)
You Have Been Claimed

This claim has been approved as a child of Prometheus. You now need to make a page for them and a word bubble, if you aren't sure how to do this you can see the guide here. Once you have done that you can add your character's name to the cabin list located on the cabin pages and start role playing with your new character. If you have any questions feel free to ask a member of the Admin team.
<createbox> width=30 break=yes buttonlabel=Create a New Character preload=Template:Character </createbox>
Community content is available under
CC-BY-SA
unless otherwise noted.