Name:Lennon Brooklyn James

Age: 13

Gender: Female

God Parent: Ares, Zeus, Poseidon

Mortal Parent: Kamryn James

Appearance: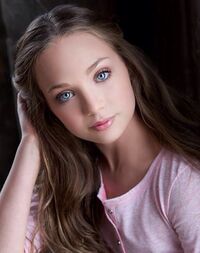 Personality: Collected, cool and vintage is all what Lennon is. She hates everything that is modern- except for her iPhone. Her mom was a huge Beatles fan which was the whole reason why she was named Beatles and she eventually loved them too, also enjoying Alternative rock. Lennon is also a DIY enthusiast, loving to create her own products rather than buy them from shops. She is all about the natural lifestyle, embracing the beauty of life. While everyone is having fun with their friends, Lennon is at her bedroom with her record player and her collection of vintage cd's.
History: Stuck in England most of her life, Kamryn immedaitely went to New York City right after graduating from college. It was her life goal to visit the beautiful city, to explore the culture. Suddenly screams came as the Northern Tower fell, she could see as the people screamed in terror. Ares was in the city at the time, knowing that the US would wage a war because of this infamous attack. He was distracted by her innocent and unique beauty that was timeless and youthful. When they made eye contact, she gave him a bright smile and he gave her a smug look that pulled her in.
They spent the rest of her week in New York City, having the fun of her life. She never felt this connection with anybody else before, but little did she know that Ares was going to leave. On her last night, they made intense love and she kissed him goodbye as she left for the airport the next day. At work, she felt sick and threw up and she had cravings for foods she barely liked. This concluded that she was now pregnant with the war god's child.
9 months later, Kamryn gave birth to a beautiful baby girl named Lennon James. She was named after John Lennon's surname and instantly fell in love with her. They spent most of her childhood in Liverpool, England. She was an average British girl who had a normal life. Seeing that she was reaching her teen years, Ares came to Kamryn in a dream. He explained to Kamryn about his true identity and how their child was special. He also recalled about the camp and that he should send their daughter to Camp Half Blood when she was ready. Lastly, he gave her a tip that she should beware of sending her daughter to camp late. The scent builds over age. Thinking that it was all her imagination, Kamryn shook it off until she saw a beautifully gifted celestial bronze bow & arrow sitting next to her bed that could be easily turned into a golden iPod. By the age of 12, Lennon was diagnosed with Dyslexia and ADHD but that hasn't stopped her for her taste of adventure and imagination.
During recess when she was 13, a hellhound appeared. Many of the kids ran away when the bell rang leaving Lennon and Lucinda, who was a teacher's assistant. She was a child of Athena who grabbed her sword and skillfully shredded the monster to ashes. Carrying the confused girl, she brought her to her house. Kamryn who was present, finally told Lennon about her true identity and that they had to leave immediately. Kamryn knew that her daughter would just attract more monsters because of her scent and the only way to protect her was to send her to camp.
With some rainy day money saved up from the years, Kamryn, Lennon along with Lucinda took an airplane to New York City and took a cab to the camp. With Lucinda as a former camper, she was able to navigate the two to the camp. Kissing her softly, Lennon waved goodbye to her mom and crossed the border to her new life with just her bow and a bag.

Weapons: Celestial Bronze Bow & Arrow

Follow your paper dreams - Kane
Comments
Um...primary weapon should be somehow something like a sword or bow and arrow. Knife only counts as a secondary weapon.
If you were to write a story with me in the lead role, it'd certainly be . . . a tragedy.

Thanks for the claim Kane. Just a few pointers and you should be well on your way to getting claimed! c:
June is right. Your character needs a primary weapon. As a daughter of Ares, I'd also say that it's pretty likely he would give her a more substantial weapon such as a bow or a sword. Please can you also state that the weapons are celestial bronze, and list any enchantments etc. 
I assume that Lennon's mother is British and went on vacation to New York? Please make this clearer. 
Please add a little detail on Lennon's early childhood. As she lives near Liverpool, I imagine her name would have attracted a lot of attention. As someone who ooc'ly lives an hour away from Liverpool, I can help you with adding more detail to this part of the claim. One or two short paragraphs will be great.
The detail about the hellhound appearing as a pedophile is unnecessary. As this is a PG-13 wiki, I advise you to remove it. Additionally, I'd say that a hellhound is much more likely to appear as an animal such as a cute puppy or something, than a humanoid creature. The mist will make things appear to the closest approximation of reality.
How does Kamryn know about the scent? 
How was Kamryn able to send her daughter to camp? 

You know you love me, XOXO gossip girl  ~Alex 

You Have Been Claimed

This claim has been approved as A daughter of Ares. You now need to make a page for them and a word bubble, if you aren't sure how to do this you can see the guide here. Once you have done that you can add your character's name to the cabin list located on the cabin pages and start role playing with your new character. If you have any questions feel free to ask a member of the Admin team.

You know you love me, XOXO gossip girl  ~Alex 

Community content is available under
CC-BY-SA
unless otherwise noted.