Name: Meaghan Woods
Gender: Female
God Parent: 1)Hebe 2)Tyche 3)Harmonia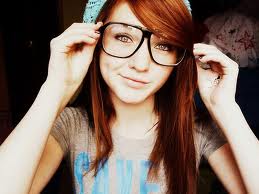 Mortal Parent: Chris Woods
Appearance: Long red hair, light blue eyes and glasses that she wears most of the time but can see without them.
Personality: She is ADHD so she is very hyper and lovable. Meaghan is also very smart but her favorite thing to do is surf. She never like acting like an adult cause she thinks they are too uptight and that they need to have fun sometimes and act like a youth again.
History: When Chris turned nineteen he moved away from his home in Miami, Florida to Fallbrook, California. Leaving his family was one of the hardest things he did but, it was a dream of his to move to the City of Youth and Ambition. When he moved there he started to surf again like he did in Florida. Soon after he moved there Chris got a job at a small surfer shop near the beach. One day Chris ran into a young lady about the same age as himself. That young lady was Hebe. They spent a few weeks together before the summer's end. Hebe then told him that she had to go back home. Chris understood. The next spring Chris found a little basket with a baby and a letter in it telling him that the baby was his daughter and Hebe had also put in about the Greek gods and that she was a demigod. That when Chris started to get a little bit nervous about having a demigod for a kid but, when he looked into the young infants eyes he couldn't let her go. He named the young baby, Meaghan. Meaghan grew up living the dream. Every day she went to the surf shop with her father and was homeschooled by the owner with her kids. Then on weekends they went surfing with Chris and Meaghan friends. She loved it. Meaghan thought nothing could hurt her or ruin her life. Meaghan was wrong about that. When she turned six her father marred a young author named Sarah Wince. Sarah was a very nice lady but, Meaghan felt like her father had betrayed Hebe. When they got marred they moved to Denver, Colorado. Again Meaghan felt hurt in her heart. Meaghan whole life was surfing and now she didn't get to surf at all but, she keep her feelings hidden which she turned out very good at doing. When they moved she was also sent to public school. When she turned fifteen monsters started attacking so she told her father. Chris then quickly gave the address to camp half-blood and told her to pack for camp. Meaghan didn't understand of course but obeyed him. She then flew to camp.
Weapons: bow and arrows
ShadowGoddess 23:26, January 28, 2012 (UTC)
---
How did she defeat the monsters that attacked her? Where did she get her weapons from? Also, San Francisco has a lot of monsters, so it's unlikely that she'd go for 9 years without being attacked by monsters. Embrace your inner lunatic (Fun times guaranteed) 01:59, January 29, 2012 (UTC)
Me editedShadowGoddess 02:33, January 29, 2012 (UTC)
You Have Been Claimed

This claim has been approved as Child of Hebe. You now need to make a page for them and a word bubble, if you aren't sure how to do this you can see the guide here. Once you have done that you can add your character's name to the cabin list located on the cabin pages and start role playing with your new character. If you have any questions feel free to ask a member of the Admin team.
Queen.Bee(Your Highness here!) 03:36, January 29, 2012 (UTC)
Community content is available under
CC-BY-SA
unless otherwise noted.