Name: Myu Lee
Gender: Female
Age: 16
Godly Parent: Nike, Cybele or Zeus
Mortal Parent: Blake Lee
Appearance: Myu has dark hair and chestnut eyes. Her body is thin, but fairly athletic. Some consider her pretty, some gorgeous. Her appearances don't betray her Asian ethnicity. She just thinks of herself as a normal girl.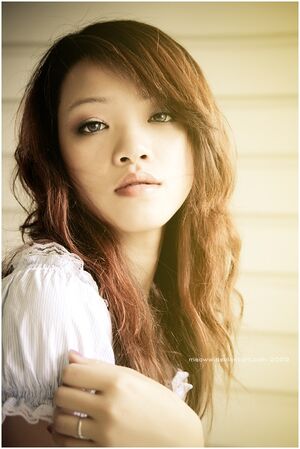 Personality: Myu can be quite bubbly and cheerful. Trying to look on the bright side of life, she tends to keep a positive attitude. She dislikes being persistent in things, as arguing wasn't her thing. She tries to be kind with people, as offending them would indirectly offend her. Myu tries to make friends by being one. But when her close ones' lives are in danger, she can get extremely protective and even aggressive.
History:
It was after coming back from a running competition that Blake Lee's life had changed. He had just won a trophy for winning against various athletes from South Korea. To celebrate his victory, he went to a bar with a couple of friends. That was where he had met Nike. The goddess admired Blake's speed and will to win, and seduced him. Later that night, he invited Nike to his apartment, and the rest is guessable. The next morning, Blake was alone in his bed, with no trace of Nike, except for a note that was left under his pillow. It was written in a cursive font that she was actually a Greek goddess, and that all the myths about Greek Mythology were very well real. The runner was fascinated to learn this, as he was always able to see through the mist and was always curious of how it was possible. He'd thought it was illusions until that day.
5 months later, on April 26, Myu was born. She was left in a basket, at her birth father's doorsteps. There was a note, with the familiar writing of a special someone, that said that the girl was Blake's daughter, and that she needed to be taken to Camp Half-Blood. Camp's address was marked, but there wasn't anything else in the letter. Under the blankets that warmed the baby, was stashed a sword, given to protect the child. He decided to keep Myu, as she reminded him so much of Nike.
Myu grew up as a shy, yet sweet girl. She had her arms open to greet new friends. At young age, she took lessons in various sports, that included running, swimming, basketball, and many more. She always finished in the top 3 when it came to a sport that involved speed. Myu had a strong bond with her father. At school, she got fairly good grades, despite having dyslexia. She was always passioned by art, as she was an excellent painter. Myu was quite naive at the time, which caused kids to pick on her. Although, the only thing she did to prevent it was ignoring the bullying, as she kept an open mind on the positive things about herself, instead of the negative ones.
The years past as Myu finally turned 13. During her birthday celebration, a hellhound had barged in and had started attacking the demigod. Seeing the beast, Blake took the sword Nike had given him, and slashed the hellhound. But, it was too late, as Myu was minorly injured, but still unconscious. After hours of resting in her bed, she finally awoken. As the wounds weren't that severe, she stayed in her house. By that time, her injuries had healed, and the half-blood was left thinking that it was all a dream. Her father didn't tell her anything, as he didn't think it was the right time. He didn't want her to go to camp just yet, as to his eyes, she was too young. The fear of leaving his only daughter in a place he had never set foot in blinded the fact that she needed to learn how to defend herself.
After the attack, Blake became over-protective towards his daughter, and even home-schooled Myu in order to keep her close to him at all time. One day, a satyr found Myu, when she was 13 and a half. He offered to Blake to take her to camp, but he selfishly refused, un wanting to leave his daughter in the hands of strangers. He'd tell the satyr to just stay in the areas to fend off monsters, and the satyr stayed. He was already working in a nearby school as a demigod guardian, so he came every once in a while in the neighborhood to protect Myu. There were many monsters who attacked, Hellhounds and dracanae, but the satyr killed them all.
As the daughter of Nike turned 16, the small family moved to Manhattan, where Blake got a job offering as an elite runner. During their first month in NYC, a satyr had located Myu. He talked to her father about bringing her safely to camp, and he accepted, as it was time she started training in order to defend herself. Before her departure, her father gave her Nike's sword, so that she could use it when needed. It wasn't a long until Myu safely arrived to camp, getting claimed by none other than Nike, the goddess if Victory.
Weapons: A celestial bronze saber, given by Myu's father who had gotten it from Nike.
Hug the shore; let others try the deep ~ WoW

Notes
How did her father know how to use a sword? And if she was already being attacked by monsters, why didn't he send her to camp like Nike suggested? "long and lost" ~~ Minx the Banshee    
Fixed. Hug the shore; let others try the deep ~ WoW

okay after the hellhound attack, why wouldn't her pops take her to the hospital?

Hydro   " We all have secrets. The ones we keep... and the ones that are kept from us."   23:19, December 6, 2013 (UTC)    20,620

After the hellhound attack, you've stated that the wounds very severe and that she was unconscious, but also that the wounds were minor and healed quickly. Which is correct? Also, because goddesses are magic, it doesn't take as long for them to give birth. It would take 4-5 months instead of the regular 9 months.
How was her father able to see the hellhound in order to attack it? There's no mention of him being able to see through the mist.
Do you have a lot of sad thoughts? ...Doesn't everyone? ~Ava Ire

14:53, December 11, 2013 (UTC)
It is written in the first paragraph that he is able to see through the mist.
Hug the shore; let others try the deep ~ WoW

Wait is she going to be a priestess? because if so you only need one godparent choice >.<

Brocky Good morning, campers! ❤ 27,723


Was her father able to see through the mist, seeing as he fought monsters to protect his daughter?

Riri Where the clouds are swimming? ❤ 10,487

Like I said to Bird, it is stated in the first paragraph that he may see through the mist.
Hug the shore; let others try the deep ~ WoW

Is anyone going to check this? Hug the shore; let others try the deep ~ WoW

The issue I found in this was the way in which she became a preistess; it seemed to quick and simple. I asked Bach and she confirmed that it takes a lot of work to be cnsidered for a role as a preistess. I'll just quote what she wrote to me because I'm too lazy to paraphrase, sorry.
"I don't know, that doesn't seem likely, I mean I would think they'd need to do something to stand out more besides just asking for such a position. Like someone with Nike maybe in the past they were really athletic and always asking for her blessing to help them with sports, and one day she made a deal with them, that if they were going to keep asking for blessings then they needed to do something for her in return, so they chose to serve her as her priest/priestess"
Do you have a lot of sad thoughts? ...Doesn't everyone? ~Ava Ire

Okay, I changed it so that she won't be a priestess, but just a normal demigod. Hug the shore; let others try the deep ~ WoW

Just a few more things :) How did Blake manage to defeat all the monsters when surely there came a time when more than a single monster came to the house? Also, if possible, kindly specify what kind of monsters came for Myu.
Take your time. I've got forever to wait -Demi ღ
She was attacked and injured, how was that not the right time to tell her the truth?
Hello Sweetie! The Doctor is in.... Allons-y ~The Doctor Bach
Her father was kind of being selfish, wanting to keep her near. He just didn't want her to go yet. Hug the shore; let others try the deep ~ WoW

How did she manage to go another 3 years with no attacks?
Hello Sweetie! The Doctor is in.... Allons-y ~The Doctor Bach
It is stated that there were attacks, but that her father fended off the monsters without having Myu even seeing them. Hug the shore; let others try the deep ~ WoW

OH sorry, but wait, where did it say that Blake was a demigod?
Hello Sweetie! The Doctor is in.... Allons-y ~The Doctor Bach
It doesn't. It says that he was a mortal who has clear sight, and that his father was a swordsman, who taught him how to use the weapon. I'm sorry if I didn't put it clearly in the history, but it is very well stated so.
Hug the shore; let others try the deep ~ WoW

I really don't think a mortal, clear sighted or not, could possibly have enough ability to fend off monsters from his daughter, tad bit on the absurd side. Being trained to use a sword in the mortal world, whether they are good at it or not is a HUGE HUGE difference between actually using a sword to fend off massively large monsters that he would have no training against. People these days (mortals) are not trained to use swords in life or death situations.
Hello Sweetie! The Doctor is in.... Allons-y ~The Doctor Bach
Hello Sweetie! The Doctor is in.... Allons-y ~The Doctor Bach
Why didn't the first satyr take her to camp when she left for NYC?
Do you have a lot of sad thoughts? ...Doesn't everyone? ~Ava Ire

He was already protecting another demigod at the nearby school. Myu was his second responsibility. Hug the shore; let others try the deep ~ WoW

You Have Been Claimed

This claim has been approved as a daughter of Nike. You now need to make a page for them and a word bubble, if you aren't sure how to do this you can see the guide here. Once you have done that you can add your character's name to the cabin list located on the cabin pages and start role playing with your new character. If you have any questions feel free to ask a member of the Admin team.
There is a crime, but no criminal. ★❣Broken❣★

Community content is available under
CC-BY-SA
unless otherwise noted.