Name: Nikkole (prefers Kole)
Species: Automaton (but looks and acts very humane)
Creator: Hephaestus
Gender: Female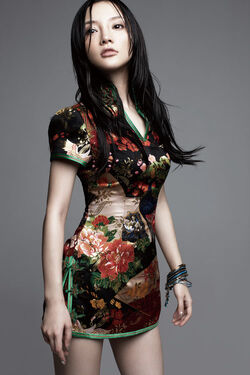 Appearance: Nikkole stands to about 5'7". She has black hair which goes down to her chest and dark brown eyes. She wears a Chinese dress with blue bangles on her right arm. She can be seen barefoot or wearing black flats. (A USB chord can be found in her right ear as well)
Reason for creation: To be Hephaestus' servant/Watch over Hephaestus cabin/Guard Hephaestus cabin
Personality: Kole is very smart and some what of an egoist. She likes pleasing others and taking care of the rough jobs nobody else can do. She also is some what of a tomboy liking to play video games a lot and sticking her eyes on a computer of some sort.
History: Hephaestus made many automatons and Nikkole (goes by Kole) is one of them. Kole is Hephaestus' faithful automaton's but like every other piece of technology, she was eventually forgotten. Hephaestus eventually created more automaton's and they were more smarter, and more advanced than she is. This got her really depressed since she was built to help him. Seeing this depression, he asked Kole to do him a favor: to watch over for his children in camp and to guard their cabin. Kole agreed since Hephaestus said that it was a task only she can take. Kole has been at camp ever since.
Weapons: fighting fans made of celestial bronze Notes: so i want her to live in the Hephaestus cabin since she's their guard and al. do i need some sort of permission since she's not a demigod?

"Oh my glob!! Drama bomb!"~Pandora
Comments
You Have Been Claimed

This claim has been approved as an automaton. You now need to make a page for them and a word bubble, if you aren't sure how to do this you can see the guide here. Once you have done that you can add your character's name to the cabin list located on the cabin pages and start role playing with your new character. If you have any questions feel free to ask a member of the Admin team.

Brocky Good morning, campers! ❤ 27,593


Community content is available under
CC-BY-SA
unless otherwise noted.