Name: P'ung Minseo
Gender: Female
God Parent: Aphodite
Mortal Parent: P'ung Yujen
Appearance: Picture
Personality: A woman who loves the pleasures of life denied to most by religion. She is carefree and gone with the wind. She needs this but she also looks out for people as much as she can. Not wanting any of them to be locked in a life without pleasure due to hardship. A strong fighter she is also willing to get bloody if the situation demands. She had to grow up hard because she was refused her pleasures. And now she is strong and determined.
History
Minseo's parents met on a pouring day. The sun was shining halfway through the clouds. Her father was walking down the street avoiding puddles as his new suit was barely fresh from the launders. That was when he spotted her. A lovely woman in a sundress trying to avoid the pouring rain under an awning in front of a shop. He walked up towards the woman his umbrella deflecting the rain from himself. He asked the woman where she was headed and she just looked at him forlornly. She had no idea where she was headed because she had no idea how she had gotten to where she was. The map she had broughten to guide her around the big city she had come too had gotten soaked in the rain. So Yejun offered to guide her from his office on as he had a way to print her a new map. Thanking him for saving her she walked under his umbrella and he took her along with him to his office. She chatted with him asking what the town was all about. He filled her in on all the major points in town. She wanted to know if he would show her around the town some time. He smiled and agreed and when he printed her the map she exchanged with him a sheet of paper holding a cell number.
He called her from his cell a few days later. She picked up on the third ring and she agreed to join him that afternoon. They went out and visited a few of the sights he had promised to show her. They continued like this for a few weeks before they agreed to spend an evening together for more explorative events. They knew each other well by that point. The woman's name was Laura and she was as sweet as a dove. When Yejun woke up the next morning she had already left leaving only a pair of earrings behind. He never heard from her again until about nine months later his personal assistant brought him a woman with a child. It was the woman in the sundress with a baby. She told him that the child was his but she couldn't stay to care for it. She was in danger and couldn't put them in dangers way like that. And he agreed to take care of his child. She told him to take the earrings and give them to her when she was old enough to wear them. He took the child and took care of her piercing her ears at the age of three and having her wear them at all times. He wasn't sure why but he knew they were important. They felt… special.
After she had her ears pierced he finally received another contact from her mother. It told him that their daughter was actually the child of a goddess and that she herself was a goddess, Aphrodite to be exact. She warned that the earrings were going to save their daughter one day but the email said nothing more than, "thank you for showing me the town." This threw poor Yujen for a loop considering his sister had gone through the same issue a year before he. But since he and his sister still had each other he knew they would make it through it.
Early Childhood:
Minseo was a born beauty. Her 'older brother' was always with her. They were close and played together all the time. But that started to change when their parents, Sun-Hi her aunt and her father were killed by a Twister. She was only 4 and her 'brother' was 5. They had lost the only family they had ever known. Unbeknownst to them their grandparents were still alive and came to pick them up a few days after the Twister claimed their parents. They were immersed into the religion of Catholicism when they reached their grandparents home in NY. From the way they were spoken to by their grandparents and treated by them to the way they were told to lead their lives. Her 'brother' seemed to love the lifestyle. But Minseo took it rough considering she was forced to remove her mothers earrings. She still wore them behind their backs and their outrage at that fact made her resent more and more the strictness of the religion.
At the age of six Minseo and her 'brother' were enrolled in a private Catholic school. This only tied the despised religion even more into her life where she couldn't wear her mother's earrings. She still did so anyways trying her hardest to avoid getting caught. She was constantly being talked to by her brother about trying harder to follow the faith. She tried to listen but only found herself being annoyed. She started distancing herself from those kinds of people. Not really liking the other students. And then she was told about her brother making an excellent priest and she felt herself growing distant from him. She didn't want a priest for a brother. But she didn't know he didn't want to be a Priest.
A couple years later, now age 8 and in grade 3 Minseo was starting to try and grow more as her own person outside of the catholic faith. Starting with not taking communion with her 'brother'. He was upset with her for not taking it but she refused to explain herself. The faith was making her life more and more difficult as she was told to respect men and make sure everything was ready for them. She saw the faith as a form of slavery and forcing women into it. From the way she was expected to act and the way she needed to dress. So she wore her earrings more and more often refusing to take them out at home.
Minseo, age 10, had been released from school early and chose to go out with some older kids. They were at least 4 years older than her but she didn't care. She went with them to a gravel road because they said it would be a great place to hang out where the adults of the Catholic school wouldn't find them. As they strode down the gravel road they heard someone trip behind them and they all spun to see who was there. Minseo gasped as she saw her brother and one of the older boys asked him why he was following them. When her brother didn't instantly reply he was punched. Just by the amount of blood on her brother's face and her friends knuckles he knew her brothers nose was broken. She screamed at the boy and jumped between him and her brother. Taken up this defensive position despite her slight frame was enough to make the boy snort and turn to her 'friends' they all laughed at her and her brother turning to continue on calling her a woose and a good little catholic girl. She turned to her brother once they were out of ear shot and looked at his nose remarking at the break. She told him she needed to get him to a hospital to have it looked at. But her eyes held fear. If her grandparents found out she was out with older kids and that they had broken her brothers nose she would get in so much trouble. And she knew the hospital would ask about their parents. Too many questions would be asked and she would have to report to the Father to confess her sins which she despised doing. But she took all this in and still started guiding him up the road towards the bus stop that she could take him on to the hospital.
First Monster Attack:
Another year passes by, and now Minseo is 11. She and her brother leave school together like they have been since the night that he got his nose broken. Their bond had grown stronger but she was still distant from him in faith. She was getting ready. She wouldn't tell him what she was planning. She had a plan to run away. But she was nervous. She had no real know how about the world nor did she have any way to protect herself. The two of them are walking along together when they hear a hellacious noise coming from the sky. A bird woman comes swooping towards the pair and Minseo screams scared of the creature. She starts running and doesn't look back trusting her gut that her brother is following  behind her. As she rounds a corner she hears the creature screech just behind her and screams for her brother. He rounds the same corner at a high speed and harpy follows behind them. It doesnt make the corner as well crumpling into a ball of feathers on the street. As Minseo lets out another scream a pair of hands pull her and her brother back around the corner. A man stands there and looks at the two sternly. He tells them to get behind him because things are about to get messy. He pulls out what looks to be a long single edged katana. Nervously Minseo clings to her brothers arm as all of a sudden the creature lets out another screech. It comes careening towards them again and the man takes a long slash at it cutting the beast down the middle leaving it lying on the ground split open. She looks towards the dead beast as the man takes hold of her brothers arm. He is led around a corner but she is left behind for a moment. The monster twitches in the wind and Minseo screams again and her earrings glow golden and vanish from her ears reappearing as dual daggers in her hands. She falls to her knees holding the weird items scared but fascinated. The man comes back around the corner keeping himself between Minseo and Taeyoon. He whispered to her and the words soothed her enough that the weapons returned to their original forms. He pulled her up and led the two away from there. He promised they'd be safe and told them to go home and not speak to anyone about what had happened. The traumatized Minseo just nodded her head not looking at her brother or the man but rather her hands. After she returned to home she practiced summoning the blades. She now had her out. She just needed time to get used to the use of her weapons to prepare for her trip.
In between stuff:
Minseo continued to train herself behind the backs of her family. She taught herself how to summon her weapons at will with little more than a thought. And as she continued her training she became more and more in tune with how the weapons felt in her hands. It took about 5 more years before she was truly well and ready to move on. She was constantly fighting off monsters honing her skills before she was ready to take on the world. She knew not everyone would be like the hellish beasts that kept coming about but she knew that it would take her some level of proficiency with her weapons to make it. She made sure she had everything she needed to get out of that house. She finally packed up her things and snuck out one night. Taking off as quickly as she could in the night she made sure no one knew where she was until she called and left a message on the machine at the school. She couldnt call the house because she was afraid someone would answer. She made it halfway out of New York when she ran into that man from the day of the first beast attacking her and her brother. He told her about a place with other people with weird powers like the ones hidden in her earings. A place where other people she might be related to lived. She nodded and took off heading out of New York toward the place that was supposed to house people she might call family. Hers had given up on her because when she had turned 15 she had started acting out. She had cut her hair and colored it and dressed in all kinds of clothes her grandparents didnt like. She hung out with boys and girls alike. Leaving her morals loose she refused to give in to the pressures of her brother or grandparents religion. Now she was on her way.
On the way to camp:
After leaving the man she headed towards Long Island carrying her backpack full of clothes with her. She was nervously entering some woods when she heard another sound behind her. This one not even remotely human. A deep heavy growl was eminating from a large black dog and she ran. Not quite ready for another fight. But the thing sent a large branch flying at her and knocked her to the ground. She rolled like she had taught herself and came up on her haunches earrings transforming. Taking her knives in a firm grip she watched as the beast loped at her. Taking a small moment to prepare herself she leapt sideways as the beast passed her but its claws hooked the back of her boot heel and caused her to land awkwardly spraining her ankle. She hissed angrily and rolled over onto her butt. She stood up on one foot and pressed her back against a tree. She smiled to herself knowing this might be the end. But as she prepared to meet whatever was on the other side she saw an opportunity. The beast was angrily charging her again but it was a mistake. She watched it come and as it launched itself at her she put her sprained ankle against the tree and launched herself too crossing her blades and splitting the large dog in half and covering her in its golden dust. She cursed in pain as she landed and took her time the rest of the way to camp. As she finally stumbled upon it she collapsed just inside the gate her ankle refusing to continue working.
She was picked up by some other kids who asked what happened and after she explained they took her to a medic cabin. She spent a few days there not sure of what was going to happen when she found out that her brother had come to by some weird stroke of fortune. While her ankle was recovering she was claimed by Aphrodite which she immediately accepted. She was moved into the cabin and soon she went to hunt for her brother. Finding him she rejoiced only to find him freaking out. Taking the role of guardian she made sure he made the transition she had made smoothly.
Weapons: CB daggers that cover her knuckles. They transform into earrings which she always wears when not in use.
Side note 1: She is the cousin of a second claim, P'ung Taeyoon
Side note 2: I am actually user level five. I used to be DemyxHearts9 but I lost the account info. I have alerted Demi but she hasn't had the chance to reply yet.
Yukaronachan
(
talk
) 06:01, January 21, 2016 (UTC)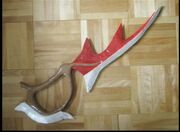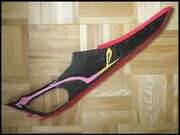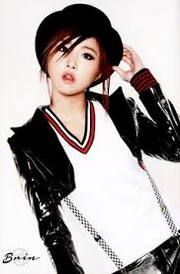 comments
You Have Been Claimed

This claim has been approved as Child of Aphro. You now need to make a page for them and a word bubble, if you aren't sure how to do this you can see the guide here. Once you have done that you can add your character's name to the cabin list located on the cabin pages and start role playing with your new character. If you have any questions feel free to ask a member of the Admin team.
Behind those cold hard computer screens.....

There's a human heart beating away its emotions…
</div>
Community content is available under
CC-BY-SA
unless otherwise noted.