Characters
1.Name: Destiny Creeves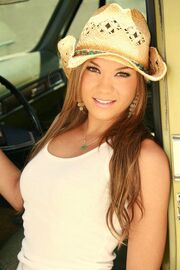 Owner: Marc
Gender: Female
Age: 15
Appearance: (Look at photo)
Personality: Destiny is very happy-go-lucky,sweet,and a little flirty.She likes to go with the flow and do whatever feels right to her.
2.Name: River Creeves
Owner: Brocky
Gender: Male
Age:15
Appearance: (Look at photo)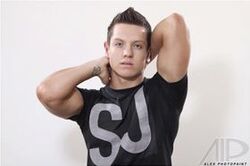 Personality: River is almost exactly the same as Destiny, he has a very flirty nature and is cocky and arrogant. He doesn't like doing something he is forced to do and will always speak his mind without thinking about it first.
God Parent: Palaemon, Hermes, Ares
Mortal Parent: Vicki Creeves
History: Before she met the man, Vicki Creeves was just a marine zoologist who loved to study sharks. She found them amazing and loved to swim with them when she had the chance. She even met her true love because of them. She met a man who, like her, enjoyed the entire species of sharks. They saw each other a lot and eventually had developed feelings for each other. That's when, later, he told her who he really was.
9-10 months later, Vicki gave birth to her two children, River and Destiny Creeves. She and the man loved them very much. When they all came back from the hospital, the man told Vicki that he can't stay with them. He explained to her why and how that monsters will come to attack them when they are old enough. In time, they were to be taken to a special place called Camp Half-Blood, where the two would be safe and train to fight against the monsters. With a little hesitation, she understood and promised that she will see to it that her children will get there. The man nodded, gave her one final kiss, and left them for good.
After that day, Destiny and River grew up, never gotten to meet their dad. They believed that he was killed by a great white and his remains were no where to be seen. Their childhood was really great for them. They both loved each other and did everything together. They both even developed their parents love for sharks and loved it when Vicki took them to her job as a marine zoologist. She showed them little baby sharks and they regarded them with something like respect, which was weird. When they were both 12, they experienced their first monster attack. It was a small hellhound, the size of a bear cub, stalking them at a lake. They were terrified when they saw it and were too scared to run for help. Then, out of no where, a couple of arrows were shot at the beast, killing it. The two kids were startled and looked to where the arrows were shot and a found themselves starring at a satyr.He told them that his name was Maze and that he was their protector. They didn't understand but were grateful that he saved them. He told them that if they ever get attacked, he'll be there to save them. With that, he ran off.
3 years later, after many monster attacks, all stopped by Maze, River and Destiny are to be taken to camp by their mother, accompanied by Maze. Vicki had a feeling Maze was their protector and was grateful for all of his help. It was a long drive toward the end of New York, until they were attacked by a gryphon. They were almost to camp, they just had to climb the hill and through the entrance. Destiny, Maze, and River all got out and Maze told Vicki to go back as fast as she can. She was hesitant at first but she complied and sped off back to the city. Maze was defending the two, firing as many arrows as he can. He told them to climb the hill and get to camp where they will be safe. Destiny didn't want to leave him but he told her he would be fine. River pulled her on and they both climbed up and entered the camp, where they were claimed immediately.
Weapons: Destiny uses a dagger she calls Razor,and River uses a CB sword

Brocky Good morning, campers! ❤ 27,593


Why didn't Maze take them to camp right away?
"You are in every line I have ever read."   -Ruby
He wanted to take them to camp when he felt the time was right,and that time wasn't right
Did Maze make it back then? And why would he wait 3 whole years until the time was right? That seems a bit much
"You are in every line I have ever read."   -Ruby
Maze did make it back and he wanted to wait 3 years because he was a little paranoid and wanted to be absolutely sure it was right
How was their childhood?
"long and lost" ~~ Minx the Banshee    
Fixed it
Why did she tell them Palaemon had died if she knew the truth about him being a god and them being demigods? By "many" monster attacks between 12 and 15, that's rather vague, many generally refers to a large number, which is a lot more than a couple of a few. Presuming they survived that many, why would they ever even need to go to camp.
She told them that because she didn't think they would believe her at the time.They needed to go to camp because once they got more older,their scent became powerful for the monsters,and a lot more creatures were going to swarm them which would prove to much for Maze
Did the satyr stick around to help with the attacks or were they trained?
"long and lost" ~~ Minx the Banshee    
The satyr did stay to help and they weren't trained until they got to camp
Enjoy! Please add them at the cabin and photo album and the user character forum! Thanks
You Have Been Claimed

This claim has been approved as twins of Palaemon. You now need to make a page for them and a word bubble, if you aren't sure how to do this you can see the guide here. Once you have done that you can add your character's name to the cabin list located on the cabin pages and start role playing with your new character. If you have any questions feel free to ask a member of the Admin team.
User:Broken fire
Community content is available under
CC-BY-SA
unless otherwise noted.