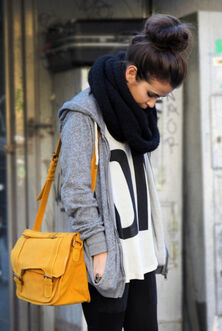 Name: Samantha "Sam" Grey
Gender: Female
God Parent: Apollo/Hermes/Eros
Mortal Parent: Destiny Grey
Appearance: Sam has long dark brown hair, that are most of the time kept in a ponytail. She has stricking brown eyes with long eyelashes. She stands at 5'9" and has a slim and athletic figure. She follows most fashion trends, but still has her own unique style.
Personality: Samantha is a kind and communicative person. She is a health nut, but can't resist a hot coco. She is a good adviser and a great friend. She is also non judgmental and fair to everyone. She loves to make people around her smile and will do anything to help her relatives. Sam is also very artistic and always keeps her journal and camera near her.
History: (OOC: I'm going to write this as if her father was Apollo. I'll change it if needed) Destiny Grey was a model, working for DKNY. That was when she met Apollo. At the time he was pretending to be a young model and when he met Destiny he fell in love with her. Eventually they got together and, after a couple of months spent together, Apollo left Destiny alone and pregnant. Destiny then returned to her ex, Ian. She told him the truth and he agreed to marry her, because he loved her dearly. Nine months later Destiny gave birth to a beautiful and healthy baby girl. She named her Samantha. Sammy's childhood was peaceful and beautiful. At some point, when she was 12 years old, her powers started showing. Ian noticed that. He decided to speak with Destiny about it. He told her the truth - that he was a demigod son of Harmonia and that Sam was probably a demigod too. At first Destiny refused to believe him, but when a giant badger attacked her she asked Ian to protect her. He talked to Sam about a safe place, Camp Half-blood. She agreed to go, but not year round. Every summer she returned to Camp to practice and meet with her friends. A few weeks ago, she had a fight with her mother and decided to go to Camp, year round this time. She managed to reach the Half-Blood Hill on her own, but a harpy attacked her a few moments later. She was almost killed, but a demigod daughter of Iris saved her and brought her to the Big House.
Weapons: A bracelet that turns into a short dagger, "βοηθός" (helper in Greek)
--Call me Anita 14:35, February 9, 2012 (UTC)
---
Just a reminder, WIP's are only allowed for 7 days, so you have another 4 days to have this ready to be looked at.





How did she happen to be dating a demigod child of Harmonia?





Ian was working as a photographer and that was when he met Destiny. 14-02-12=0 See?! No Valentine's Day :D 19:34, February 16, 2012 (UTC)
You Have Been Claimed

This claim has been approved as a child of Apollo. You now need to make a page for them and a word bubble, if you aren't sure how to do this you can see the guide here. Once you have done that you can add your character's name to the cabin list located on the cabin pages and start role playing with your new character. If you have any questions feel free to ask a member of the Admin team.
Community content is available under
CC-BY-SA
unless otherwise noted.