Name: Sarah 
Gender: Female
Creator: Mnemosyne
Species: Memory Nymph
Appearance: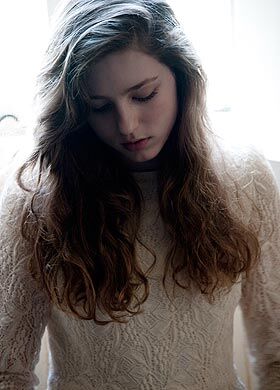 Personality: She is silent most of the time but she isn't the type who'll just snobby kind of silence. She is very gentle. She is kind-hearted--like those people who never seem to get angry. She is a sweet girl and always cares for others.  
History: During the aftermath of Sealtiel O'Shaughnessy and Koreen Trent's ordeals, Apate appeared to them, offering the daughter of Poseidon two choices: leave him as he is (scarred for life, wounded etc.), or bring him back to normal. She chose the second option, which came with a price: his memories put under the goddess' illusion of oblivion. In other words, he's technically amnesiac to his and Koreen's experiences. She considered his current state, and made the most difficult decision to let it all go for his sake. As soon as Apate disappeared, Sealtiel woke up, and he did not recognize her at all.
Afterwards, Koreen went to the Bethel to ask help from Mnemosyne, the only goddess powerful enough to bring him back to her. The Titaness searched her memories, and she was deemed worthy of her sympathy and assistance. She could not actually bring his memories back directly, because her powers couldn't interfere with Apate's mental illusions, and that it differs from her. With that, she came up with an alternative, and it was to create a memory nymph that would serve as a "piggy bank of memories". Koreen must start from scratch to build their relationship once again, build strong and happy memories, which will fuel the nymph's power. If she succeeds in using the power of their memories kept inside the nymph, the illusions will be driven away, and he will remember everything.
Weapons: Bow and Arrow (celestial bronze) 

Smile and wave, boys. Now that's the worst disguise ever. ~Alias Kit

You Have Been Claimed

This claim has been approved as a memory nymph/special character. You now need to make a page for them and a word bubble, if you aren't sure how to do this you can see the guide here. Once you have done that you can add your character's name to the cabin list located on the cabin pages and start role playing with your new character. If you have any questions feel free to ask a member of the Admin team.
Take your time. I've got forever to wait -Demi ღ
<createbox> width=30 break=yes buttonlabel=Create a New Character preload=Template:Character </createbox>
Community content is available under
CC-BY-SA
unless otherwise noted.