Name: Sierra Lucker
Gender: Female
Godparent: Zeus/Astraeus/Boreas
Mortal Parent: Ariana Zhou-Lucker
Appearance: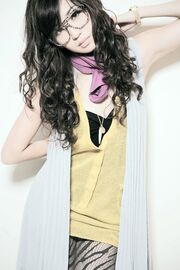 Personality: She doesn't like people at all and she tends to get pissed easily. She's often sarcastic and doesn't really like anyone who gets in her way. She also prefers to be alone.
History: (I'll just assume Zeus as the father in this one.) Ariana Zhou was a supermodel and when she finally got married to one of the world's most eligible bachelors, Danny Lucker. Their marriage was controversial to the humans and even the gods & goddesses, mostly because two of the most attractive people are off the market. The newlyweds were just perfect but on the day of the honeymoon, Zeus guised as Ariana's husband and they made 'love.' The following day, Ariana and her real husband did it "again". She became pregnant but she has always thought that Danny was the father of their child and that Danny was the one who she made love to but little did she know, it was Zeus'. After nine months, Ariana gave birth to a baby girl that they named Sierra Lucker.
Sierra was sent to a private school by her parents and has definitely disliked everyone including her family even as a child. She also knew that she was different but never the fact that she was a demi-god. She didn't have friends and didn't bother needing nor wanting any and for a girl, she loved fighting so much. She even begged her maternal grandfather a full-blooded Chinese man to teach her how to fight with a gun, not the modern gun but the gun of the Chinese people, that 'gun' was a staff weapon. Amongst the world, it was only her grandfather who she was close to. By the age of twelve she encountered her first monsters a couple of harpies that sensed her demi-god blood in a park, a bunch of other monsters has been attacking and all she was able to do was hit them with her staff and run away; this caused her to want to learn much more but she never spoke to anyone about it. Yet, the old man died when she was fifteen.
The loss of her grandfather made her run away from her hometown, Manhattan, with her 6' metal gun with a rubberized handle since she thought she didn't have a reason to stay at home anymore. Her disappearance was featured on television and the whole country was already searching for her but she was never found. She reached Long Island, still hiding; needing some food, she went to the forest to find some where she was then attacked by a hellhound which she fortunately outran. A satyr who was off to find another demi-god found her running and sensed her being as a demi-god and explained that she is actually a demi-god to her which she doesn't believe by that time but then, she still went to camp because she needed supplies and shelter. She arrives in camp to be claimed by Zeus.
Weapon: Gun (Chinese staff weapon)
Missmix (talk) 13:30, December 24, 2012 (UTC)
Why did their relationship become a mess for both genders and gods?
"long and lost" ~~ Minx the Banshee    
Fixed it. Missmix (talk) 12:07, December 25, 2012 (UTC)
How did she make it to 15 with no attacks?
"long and lost" ~~ Minx the Banshee    
Fixed it. Missmix (talk) 05:26, December 26, 2012 (UTC)
You Have Been Claimed

This claim has been approved as a daughter of Zeus. You now need to make a page for them and a word bubble, if you aren't sure how to do this you can see the guide here. Once you have done that you can add your character's name to the cabin list located on the cabin pages and start role playing with your new character. If you have any questions feel free to ask a member of the Admin team.
User:Broken fire
<createbox> width=30 break=yes buttonlabel=Create a New Character preload=Template:Character </createbox>
Community content is available under
CC-BY-SA
unless otherwise noted.