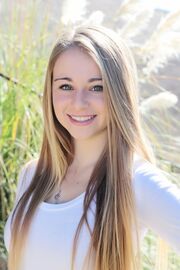 [
link title
]
Name: Summer Greenwell
Gender: Female
God Parent: Hecate, Hebe, Tyche
Current Age: 12
Mortal Parent: James Greenwell
Appearance: tall, blonde, gray eyes, thin
Personality: Summer is mostly bubbly, but can be quiet at times such as when she's really into a book or something. She is kind and will do anything to save her friends and family. Summer is also smart, and always excelled every test, quiz, or assessment.
History: When James met Summer's mom, he fell head over heels for her, and she fell in love with him. They soon courted and had baby Summer. Three days later, James found out Summer's mom was a goddess. A few weeks after James found out, Summer's mom left them and James was devastated.
As a child, Summer excelled her studies and was always the top of her class. Her classmates liked her because she was so friendly and nice to them. As she grew up, she still was top of her class. Despite her dyslexia and ADHD, she still was very intelligent.
At the age of seven, James married Sylvia Von Butch. Summer and Sylvia hated each other from the start. Whenever James went to work and Summer wasn't at school, Sylvia always made Summer do all the work around the house while she sat and watched TV.
When Summer was twelve, she was attacked by a hellhound. Summer flung her Swiss Army knife-her father gave her that and said she'd be safer with it-at the hellhound, but it passed through like nothing. Her health teacher, Mrs. Tam, found her and was revealed to be a satyr. Mrs. Tam told Summer that she was a demigod and that they needed to get to the camp fast because she didn't want Summer to be attacked again.
Mrs. Tam drove the two to the woods surrounding the camp and rushed Summer in before the monster attacked again. Summer demanded to see her father and Mrs. Tam reluctantly let her call her father. Summer quickly told her father she loved him and said goodbye. Her father revealed that he knew she was a demigod. Mrs. Tam gave Summer a Celestial bronze sword and said she needed to know how to use it in order to survive. This seemed too much responsibility for a twelve year old, but Summer knew she could handle it from her past experience and independence her father gave her.
Since Summer reached camp when she was twelve, she had a decent amount of training since she decided to stay year round. She soon had a decent amount of friends, yet again, she was friendly to everyone, even the few people who didn't like her. She soon got used to camp life and wondered what would happen next.
Weapons: Celestial bronze sword, Swiss Army knife
--Summer4ever (talk) 17:17, December 6, 2014 (UTC)Summer4ever
hi and welcome to camp before I could claim this a few changes need to be made
marriages wont happen between the mortal parent and the god parent soo please change that
she's twelve in the history but she's 13 when she reached camp what happen there?
how did she receive her weapon??

Behind those cold hard computer screens.....

There's a human heart beating away its emotions… 09:27, December 7, 2014 (UTC)
ok she was 13 when she reached camp but in the history she's 12 sooo what happen?
No, I made her reach camp at twelve. The last paragraph is when she's thirteen.
Behind those cold hard computer screens.....

There's a human heart beating away its emotions… 14:58, December 7, 2014 (UTC)
nice try but sorry you cant make your char stay at camp for the whole year that would be god mod I think either make her monster attack 13 or change the age on top please >,<

Behind those cold hard computer screens.....

There's a human heart beating away its emotions… 15:09, December 7, 2014 (UTC)
Okay, sorry didn't know that, I changed her age to 12.
its ok dont worry about it sorry for being soo hard but guess what
You Have Been Claimed

This claim has been approved as child of Hecate. You now need to make a page for them and a word bubble, if you aren't sure how to do this you can see the guide here. Once you have done that you can add your character's name to the cabin list located on the cabin pages and start role playing with your new character. If you have any questions feel free to ask a member of the Admin team.
Behind those cold hard computer screens.....

There's a human heart beating away its emotions…
</div>
Community content is available under
CC-BY-SA
unless otherwise noted.