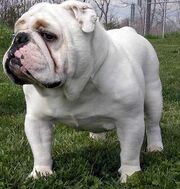 Name:Kevin Owner:Dan Wonder Personalty:Kevin is a playfully,yet really protective over Dan,him and Dan share a weird bond,Kevin love the fact that Dan spoils him,This was Dan's truly first camp friend. Were does it stay: In his cabin, sleeps on his bed and normally stays on his bed unless Dan takes him out to use the bathroom,etc.
Pet Type: English Bull Dog why does he have a pet:Dan found Kevin,hurt on the side of the street and he nursed him back to health,Kevin became his dog. How he got this pet:around 2 days after he got to camp,he went to the movies,he heard a dog crying,he followed the yelps,and then he saw a horrible sight, 2 mutts were cornering him.Kevin was pretty beat up. Luckily Dan was a nice guy and scared the mutts off by yelling,and throwing rocks at them.He soon checked out Kevin,and noticed he had a broken a paw, or something.He took him to the Vet (the cloth-est thing near by) and they told him everything to do (like how to treat it and help it ),Soon Kevin was back in motion.Now Kevin and Dan are best friends. Do not look at me!!! 02:17, April 4, 2012 (UTC)
Why were the mutts scared off just by the yelling? RubyRose (I'll tell you no lies) 22:16, April 4, 2012 (UTC)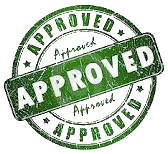 RubyRose (I'll tell you no lies) 23:27, April 4, 2012 (UTC)
Community content is available under
CC-BY-SA
unless otherwise noted.