Darkness/Night/Underworld Arena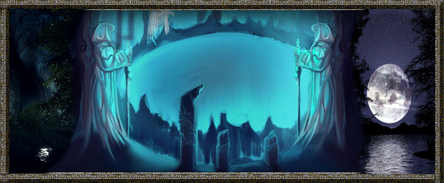 On the top side of this arena it is a typical landscape, a pond in the middle, trees, however it is charmed to be eternally night, with the stars and moon in the sky
Located in the middle of the arena on the top side is a small grave yard
At a few various point around the arena are dark caves going deep down into the underworld, this part of the underworld has been sealed off from the rest, so that anyone may gain access no matter who their god parent
The arena is open to the sky and elements, but as there are caves down into the underworld, there are areas of the arena that the sky access is limited
At the centre of the underworld, there is a medium sized temple, it is the darkest at this point and there are pyres, full of fire and wood, at the entrance to the temple. The fire that burns within the pyres can not be extinguished, but if the fire is removed from the pyres, it can then be put out.
Inside the temple are various Greek statues, roughly 6 feet tall
Fight
Colton Owen

~ Child of Pandia


"Aim for the moon. If you miss, you may hit a star."

He smirks as he walks in the arena hiding in a dark area of the arena, he knows that the enchantment of the arena to be eternally night as that would come to his advantage. In the sky are stars and the moon, at it's full moon phase. He is equipped with a bow and a quiver of arrows, consisting of a variety that can cause various effects upon contact. He is wearing light metal Celestial Bronze armor set, consisting of a chest-plate, leg guards, and arm guards. In his hands are his dual scimitars. He looks around the arena taking note of the arena, he spots one or two dark caves, however he assumes that there are more in various location of the arenas, and the pond in the middle. He silently awaits his opponent.

Character's Bio


 Age: 16  Height: 6'1  Weight: 180 lbs.
 Sexuality: Bisexual  Relationship Status: Single
 Birth Place: Venice, Italy  Main Weapon: Dual Scimitars that has weaker but faster slashes when it's a new moon and stronger but slower slashes when it's a full moon and a Bow with a variety of Celestial Bronze Arrows.
 Accent: Neutral
 – "If the Sun and Moon should ever doubt, they'd immediately go out."

Character's Powers

 Powers of a child of Pandia (3/6/9 Month Powers reached):

Offensive

Children of Pandia have the ability to form weapons out of pure moonlight which can be used for combat; however, only one weapon can be conjured at a time and it cannot be bigger than the one who conjured it. Non-combative objects can also be made out of this, but cannot generate any electricity as moonlight does not have any working parts.
Children of Pandia have the ability to focus an intense beam of moonlight which will burn anything it touches.

Defensive

Children of Pandia have the ability to create a protective dome of pure solid moonlight which will defend them from attacks for a short time.
Children of Pandia have the ability to bend the moonlight around them, concealing them for a short time. If the child attacks while in this state, it automatically wears off. So the power is purely defensive.

Passive

Children of Pandia can see perfectly at night as if it were day.
Children of Pandia are innately stronger at night.

Supplementary

Children of Pandia have the ability to generate moonlight to shine so bright that it can blind the beholders for a short period of time or just light up areas for allies, depending on how bright it is. They can create sources of moonlight from a distance and command them to maintain it's form for a moderate time, but the light cannot be bright enough to harm anyone's eyes to exist that long.
Children of Pandia have the ability to use the gravity pull of the moon to slow down enemies giving them a high chance to avoid an opponent's attack or prevent an opponent from avoiding one of the user's attacks.
Children of Pandia are able to telekinetically move water at a high rate, since the moon has power over the tides. The larger amount of water used, the more energy it drains.
Children of Pandia have the ability to Moonlight Travel, to merge with natural moonlight or moonlight they created themselves and teleport to another source of moonlight. The further the distance traveled, the more energy is drained.
As their mother was the goddess of the nourishing dew, children of Pandia have the ability to force the temperature within a 15 meter radius of them to reach dew point, condensing all the atmospheric water vapour into water droplets and drenching those in the vicinity. The user is immune to the attack, but their allies are endangered.

3 Months After a Character is Made

Children of Pandia receive an enhancement in their powers over gravity. They can enchant themselves, others and nearby objects to become detached from gravity for a short time. People who aren't willingly freed from gravity can only float a few feet into the air, while the user and their allies can completely fly at their own will. Items under the enchantment can also be crushed by intensifying gravity's hold on them. They cannot use this to perform overwhelming feats such as crushing buildings.

6 Months After a Character is Made

Children of Pandia can turn their moonlight into tools, objects, weapons and other items, create semi-living constructs and/or create structures/buildings of varying permanence; however, only up to 4 combative/non-combative items or 1 semi-living construct can be conjured at a time and it cannot be larger than roughly 3 times the size of the one that conjured it. Tools may be telekinetically moved by the user's mind. The longer they maintain combative/non combative items and semi-living constructs, the more it drains their energy, so they are more limited for the time they can keep these things cohesive.

9 Months After a Character is Made

Children of Pandia have the ability to shed their flesh into pure moonlight, granting them the ability to fly and everything they touch intensely burns. Their existing lunarkinetic abilities are stronger in this state. The longer they maintain this form, the more energy it drains. When they revert back to their original form, they are drained greatly and cannot even move or could even faint from exhaustion.

Traits

Children of Pandia are typically more active during night time especially when the moon is full. Also being in better moods at night and disliking the day.
Children of Pandia often grow up to make great astrologists and enjoy studying constellations.
Children of Pandia have been known to take interest in ayurvedic practices due to its association with astrology.
Children of Pandia nearly always have innate knowledge on the phases of the moon. Ex: They'd be able to tell if the following night will have a full moon and when a new moon will begin.

Owned by:

Kevin

~ Posted on:

Are you the food? No, we are the hunter!

~Eren Jaeger (Kevin)
Nyxil -Child of Nyx
-Black-Blood Nightingale
 Age: 21  Height: 6'1"  Weight: 125 lbs.
  Main Weapon: Chakrams, Daggers, Electrified Sword, Steel Crossbow, Poisons
 – Every man casts a shadow; not his body only, but his imperfectly mangled spirit.

Nyxil

enters the arena silently from a shallow cave near the edge of the arena. The effects of the pale sky stretching overhead invigorate him near instantly as he steps into the night, but he wastes no time marveling in his luck. Kneeling, he takes inventory of his weapons. Parrying knives are nestled in his right sleeve and left boot, and seven-inch serrated daggers are in the opposites. Slung across his back are a loaded mortal crossbow and an electrified English longsword. This arrangement is concealed by a formless black cloak, hooded and ending in shredded tatters at his ankles. The cloak itself is his only armor; the rest of his outfit is merely a black hoodie and jeans. Hung in isolation on his belt is a cd case containing a dozen chakrams. Nyxil backs to the entrance of the cave and pulls shadows around himself, satisfied. With a short prayer to Theia and a curse to Ares, he shuts his eyes and searches for his opponent in the tides of his mind. The search takes only a few seconds with no other signs of life ring out in his senses. Seeing no reason to waste time, he rises. Flicking up his hood, knives flit from his sleeves and he shadow travels a few paces behind Colton. After a brief pause to take note of Colton's weapons and armor, he clears his throat.
Colton Owen

~ Child of Pandia


"Aim for the moon. If you miss, you may hit a star."

He quiets down after searching the arena, with his eyes closed, listening to the the wind flow between the trees and the slight sound of waves coming from the pond. He gets the slightest feeling of someone's else's presence, although he cannot confirm whether or not someone's truly there, he opens his mind and keeps his awareness up for any slightest sound or signal movement. The only sound present is his slight heartbeat and the surrounding. As Nyxil approaches him through shadow travel he gets a feeling a person approach, when Nyxil approaches his proximity, and exits for his shadow travel, he turns around to face him, nodding at his opponent, he takes a few seconds to examine Nyxil's weapon and armor. He pulls the hood of his cloak down, and nods at his opponent, with his weapon in hand.

Character's Bio


 Age: 16  Height: 6'1  Weight: 180 lbs.
 Sexuality: Bisexual  Relationship Status: Single
 Birth Place: Venice, Italy  Main Weapon: Dual Scimitars that has weaker but faster slashes when it's a new moon and stronger but slower slashes when it's a full moon and a Bow with a variety of Celestial Bronze Arrows.
 Accent: Neutral
 – "If the Sun and Moon should ever doubt, they'd immediately go out."

Character's Powers

 Powers of a child of Pandia (3/6/9 Month Powers reached):

Offensive

Children of Pandia have the ability to form weapons out of pure moonlight which can be used for combat; however, only one weapon can be conjured at a time and it cannot be bigger than the one who conjured it. Non-combative objects can also be made out of this, but cannot generate any electricity as moonlight does not have any working parts.
Children of Pandia have the ability to focus an intense beam of moonlight which will burn anything it touches.

Defensive

Children of Pandia have the ability to create a protective dome of pure solid moonlight which will defend them from attacks for a short time.
Children of Pandia have the ability to bend the moonlight around them, concealing them for a short time. If the child attacks while in this state, it automatically wears off. So the power is purely defensive.

Passive

Children of Pandia can see perfectly at night as if it were day.
Children of Pandia are innately stronger at night.

Supplementary

Children of Pandia have the ability to generate moonlight to shine so bright that it can blind the beholders for a short period of time or just light up areas for allies, depending on how bright it is. They can create sources of moonlight from a distance and command them to maintain it's form for a moderate time, but the light cannot be bright enough to harm anyone's eyes to exist that long.
Children of Pandia have the ability to use the gravity pull of the moon to slow down enemies giving them a high chance to avoid an opponent's attack or prevent an opponent from avoiding one of the user's attacks.
Children of Pandia are able to telekinetically move water at a high rate, since the moon has power over the tides. The larger amount of water used, the more energy it drains.
Children of Pandia have the ability to Moonlight Travel, to merge with natural moonlight or moonlight they created themselves and teleport to another source of moonlight. The further the distance traveled, the more energy is drained.
As their mother was the goddess of the nourishing dew, children of Pandia have the ability to force the temperature within a 15 meter radius of them to reach dew point, condensing all the atmospheric water vapour into water droplets and drenching those in the vicinity. The user is immune to the attack, but their allies are endangered.

3 Months After a Character is Made

Children of Pandia receive an enhancement in their powers over gravity. They can enchant themselves, others and nearby objects to become detached from gravity for a short time. People who aren't willingly freed from gravity can only float a few feet into the air, while the user and their allies can completely fly at their own will. Items under the enchantment can also be crushed by intensifying gravity's hold on them. They cannot use this to perform overwhelming feats such as crushing buildings.

6 Months After a Character is Made

Children of Pandia can turn their moonlight into tools, objects, weapons and other items, create semi-living constructs and/or create structures/buildings of varying permanence; however, only up to 4 combative/non-combative items or 1 semi-living construct can be conjured at a time and it cannot be larger than roughly 3 times the size of the one that conjured it. Tools may be telekinetically moved by the user's mind. The longer they maintain combative/non combative items and semi-living constructs, the more it drains their energy, so they are more limited for the time they can keep these things cohesive.

9 Months After a Character is Made

Children of Pandia have the ability to shed their flesh into pure moonlight, granting them the ability to fly and everything they touch intensely burns. Their existing lunarkinetic abilities are stronger in this state. The longer they maintain this form, the more energy it drains. When they revert back to their original form, they are drained greatly and cannot even move or could even faint from exhaustion.

Traits

Children of Pandia are typically more active during night time especially when the moon is full. Also being in better moods at night and disliking the day.
Children of Pandia often grow up to make great astrologists and enjoy studying constellations.
Children of Pandia have been known to take interest in ayurvedic practices due to its association with astrology.
Children of Pandia nearly always have innate knowledge on the phases of the moon. Ex: They'd be able to tell if the following night will have a full moon and when a new moon will begin.

Owned by:

Kevin

~ Posted on:

Are you the food? No, we are the hunter!

~Eren Jaeger (Kevin)
Nyxil -Child of Nyx
-Black-Blood Nightingale
 Age: 21  Height: 6'1"  Weight: 125 lbs.
  Main Weapon: Chakrams, Daggers, Electrified Sword, Steel Crossbow, Poisons
 – Every man casts a shadow; not his body only, but his imperfectly mangled spirit.

He

raises his hands and does a simple two-fingered salute, using the motion to swap his knives and tug his hood farther forward. Slowly lowering his arms back in the edges of his cloak, so as not to provoke his opponent, Nyxil nods in return takes up a slow whistle reminiscent of elevator music.

Nyxil: He breaks his tune as quickly as he started it. Dashing from a newly materialized small shadow-rock behind his heel and clearing the short distance between them like a marble from a spring, he calls upon the arena's darkness as ropes to bind back Colton's right hand. In the end of the same stride, turning at the waist, Nyxil's left hand -clutching a slim parrying knife and the scratchy edge of his cloak- feints past his foe's face. The brief but complex motion held three simple objectives. The cloak's tattered edges, flitting against the imposed wind, dance in front of Colton's vision, intending to disguise the readying of the parrying knife to deflect any blows from the unbound arm, if not impose a brief flinch or disorientation. Most significantly, perhaps, the feint was intended to conceal the simultaneous lash of Nyxil's right-hand dagger toward Colton's bound right wrist. He manages the practiced sleight of edge between breaths.

Colton: One or two second upon feeling the bound of the conjured rope, Colton uses the gravity push of the moon to attempt to pin Nyxil down for enough time so that the rope would wear off. However, he is slightly slashed by Nyxil's dagger. Hopefully that it will also immobilize. He creates a beams of moonlight to perhaps blind or distract Nyxil, at the same time, he tries to slash Nyxil's thigh(s), before taking a leap back and emerging himself in a dark area of the arena, when he believes that he is out of sight, he hides and quickly switches from his dual scimitars to his bow, in his hand are 3 arrows. He silently waits among the darkness and the trees for any of his foe's movement.
Nyxil: At the slightest resistance showing the slash had hit its mark, the parrying knife reels around to take Colton through the throat. Mid-swing, however, the pressure of gravity slows Nyxil's arm and he hesitates as his heightened senses try to catch on to this new information. Gravity..? So, Pandia, he thinks to himself, which means-!! Reeling back from what was presumed to be a lunge, Nyxil avoids the scimitars. He rolls back and crouches, cloaking himself in shadows. Mild surprise catches him when he looks up to find his opponent was no longer in front of him, but he quickly locates Colton in his priest's sense. Without knowing for sure if his opponent was still watching him, he figures he ought to use the conditions to his advantage. He conceals his knives back in his sleeves to hide the glow of their divine metal, unslings and aims his mortal-steel crossbow and looses a belladonna-tipped bolt for what he vaguely guessed would be Colton's stomach.
---
Nyx won, as he was last to post and the match didn't go over 5 posts "long and lost" ~~ Minx the Banshee    
Community content is available under
CC-BY-SA
unless otherwise noted.