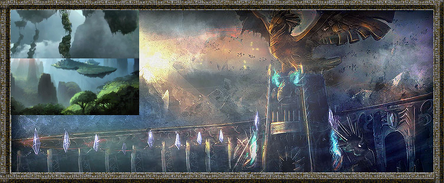 The objects in the arena have been charmed to almost defy gravity, floating around, boulders, rocks, etc.
At the base level of this arena is just normal ground with vegetation/shrubs/grass and trees, as well as varying size terrain, ranging from a few feet tall, to much taller
Floating high above in the air is small islands, some with greenery and vines hanging down towards the ground, ranging in size and height from the ground, so that even if a person didn't have the power of flight, if they are an adept climber, everything is spaced out enough they could climb as high as possible, as well as utilise some of the smaller floating debris to aid in their climb. Some of the floating islands even have small waterfalls
Between the floating islands and the tall peeks and trees, there are plenty of shadows and places to hide
On two sides of the arena there are 2 automaton birds stationed, currently in "off" mode, they are roughly 6 feet tall.
The arena is open to the sky and elements
On each end of the arena, on top of some large pillars, are pyres, full of fire and wood. The fire that burns within the pyres can not be extinguished, but if the fire is removed from the pyres, it can then be put out.
Introductions
Skylar Lune

~ Child of Eros


'"If you're happy in a dream, does that count?"'
He stands on the cool ground of the Air Arena looking around for his opponent but can't spot them so he decides to take up time by fidgeting with his weapons, his sword, which hangs cautiously beside his left arm due to Skylar's left handedness. His scythe, strapped to his back, and knives attached to his thigh. He takes another careful look around the arena for his opponent, his blue eyes peering through the shining light above, which of course symbolizes day time, not night.

Character's Bio


 Age: 22  Height: 5'11  Weight: 130lbs
 Sexuality: Pansexual  Relationship Status: Complicated
 Birth Place: Nice, France  Main Weapon: Sword, Bow and Arrow
 Accent: French (Actually begins talking French when flustered, upset, drunk or stressed)
 – "You know that feeling, when you're just waiting. Waiting to get home into your room to close the door and to fall into bed to let out everything you kept in that day? That feeling of both relief and desperation. Nothing is wrong, but nothing is right either. And you're tired. Tired of everything, tired of nothing. And you just want someone to be there and to tell you that its going to be okay. But nobody is there. You know you have to be strong because nobody can fix you."

Character's Powers

 Powers of a Child of Eros (Has 3/6/9 Month Powers):

Children of Eros can manipulate the thoughts of a person for a short period of time in order to make them able to only think about the person or thing they love or favor most. Once used on a person it becomes ineffective on that person for a moderate amount of time.
Children of Eros have the ability to focus an emotional energy beam out of their love, which will burn anything it touches.
Children of Eros can cause people of the gender they are attracted to, to lose all desire to attack them for a short time (in the case being that they are bisexual or pansexual etc it would be only people with the same gender of their current or most recent partner). Once the child is attracting someone, they cannot attack. So the power is purely defensive.
Children of Eros can generate a veil of the emotional energy from the feeling of love, the veil will protect them from damage for a short time, but cannot be used if the child does not have the love to fuel it.
Children of Eros cause anyone of the opposite gender to be, at least slightly, attracted to them, they also attract people of the same gender that consider themselves gay or lesbian.
Children of Eros are innately proficient archers.
Children of Eros have a partial resistance to charmspeak, charm-touch etc.
Children of Eros can detect emotional ties between different people, if they're lovers, friends etc. and can find out about someone's previous partners, including: if they had sex, and how long the relationship lasted. They can also easily tell their sexuality and ideal partner, it works better the more emotionally concerned the child of Eros is for the target.
Children of Eros can manipulate the feeling of love of people by either removing it or increasing it towards themselves or other people. This is temporary and requires a lot of energy, although using it towards oneself requires less than if it were towards other people. Ex: They can make someone love and admire them, or hate them, or make best friends hate each other, or two enemies feel love for eachother.
Children of Eros can infuse emotional love magic into their arrows or any other weapon in their possession, if the weapons hits the intended target, the target will temporarily fall in love with the first object or person they see for a moderate time. After which, the target is immune to further use of it for the rest of the fight. (Note:The Love magic works better when used with arrows though.)
Children of Eros can decrease or increase someone's lust, such as increasing a desire for sexual intercourse or simply wiping it out. An increase in sexual desire can be resisted by sheer willpower and will only last for a short time, this depends on the magnitude of the target's sexual desire before it was attempted to be altered.
Since their father was depicted as a winged god, children of Eros can sprout wings for a short time, this enables them to fly; the longer they maintain this state, the more energy it drains. They must rest between flights and cannot make long distance traveling without resting often. However the wings are vulnerable to injuries and magic; they can also be customized to the user's preference.
Children of Eros can infuse magic into their grasp, and 'charm-touch' another person into doing their will or revealing a secret to them. The person will remain under the control of the charm-touch for a few minutes or until control is relinquished, and the child of Eros must touch the skin of the person they want to affect. 'Charm-touch' is considered more powerful and can override charmspeak due to the fact the user must make physical contact with the target.
Children of Eros are now able to channel their loving emotional energies to construct combative and non-combative objects, formed one at a time and no more than 2 to 3 times the size of the user, which takes on beautiful, magnificent and seemingly harmless appearances depending on the user's preferences. They can also create semi-living constructs under the user's complete control. However, their ability to use the power, and control the construct, is hindered before or during use when they experience emotions that are like hate or malice. As these emotions are felt, the strength of the object begins to fade, becoming dull and brittle.
Children of Eros can feed off the love they've given or received in their lives and become an embodiment of love. This would make them more powerful, immune to all attacks, enhancing their physical prowess and power over emotional energy they previously possessed. This only lasts for a short time, after which the user will be so exhausted they would lack the ability to even move for some time.
In some cases Children of Eros tend to be fiercely loyal and compassionate to their loved ones, friends, and family. In other cases, they love creating romantic strife. Cheating on partners, seducing others already in relationships etc.
Children of Eros tend to be very flirty and attractive, causing them to retain a youthful skin/hair/facial appearance than others after completing puberty.
Children of Eros tend to be very mischievous and cunning, often seen making plans to prank or matchmake other campers.
Children of Eros typically get along with children of Aphrodite.

Owned by:

Wonder

~ Posted on: 13:36, December 14, 2013 (UTC)
Nyxil -Child of Nyx
-Black-Blood Nightingale
 Age: 21  Height: 6'1"  Weight: 125 lbs.
  Main Weapon: Chakrams, Daggers, Electrified Sword, Steel Crossbow, Poisons
 – Every man casts a shadow; not his body only, but his imperfectly mangled spirit.

 Well, this is new, Nyxil notes with a frown.  From where he is at the east end of the arena, in the shadow of the bird automaton whose foot he is kneeling on, it's rather clear that the arena is, firstly, physically impossible, and secondly, most definitely not night. He pulls the tattered cloak laced with thin wires of celestial bronze that serves as his armor from its mist form - a pocket watch - over his hoodie and around himself uncomfortably in anticipation, like a little kid knowing he was probably about to go screw up an oral report. His poisoned crossbow and electrified English longsword lean against the dormant metal beast, and the ever-present CD case containing his chakrams is clipped to his belt. The sets of parrying kinves and daggers he usually brings to fights are now absent, as they did nothing but waste time in his last fight. He looks out over the field below him for his opponent.
Fight
Nyx Wins this one too   

Hydro   " We all have secrets. The ones we keep... and the ones that are kept from us."   00:52, December 20, 2013 (UTC)    20,620
Community content is available under
CC-BY-SA
unless otherwise noted.