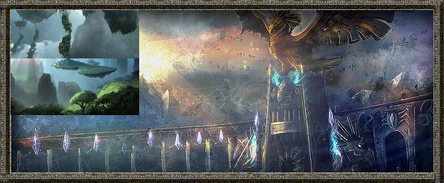 The objects in the arena have been charmed to almost defy gravity, floating around, boulders, rocks, etc.
At the base level of this arena is just normal ground with vegetation/shrubs/grass and trees, as well as varying size terrain, ranging from a few feet tall, to much taller
Floating high above in the air is small islands, some with greenery and vines hanging down towards the ground, ranging in size and height from the ground, so that even if a person didn't have the power of flight, if they are an adept climber, everything is spaced out enough they could climb as high as possible, as well as utilise some of the smaller floating debris to aid in their climb. Some of the floating islands even have small waterfalls
Between the floating islands and the tall peeks and trees, there are plenty of shadows and places to hide
On two sides of the arena there are 2 automaton birds stationed, currently in "off" mode, they are roughly 6 feet tall.
The arena is open to the sky and elements
On each end of the arena, on top of some large pillars, are pyres, full of fire and wood. The fire that burns within the pyres can not be extinguished, but if the fire is removed from the pyres, it can then be put out.
Participants
The Fight
[[|Alice Aslanov]] -Child of Nyx
-Daughter of Nyx
 – 07:10, November 12, 2013 (UTC)

Alice enters the arena from its western side; the sunset at her back and casting a range of shadows across the dynamic landscape in front of her. Clad in her usual attire, but with a light mail shirt beneath her long black coat, she checks the twin knives in her boots before slinging a composite bow over her shoulder and moving towards a lone floating rocky outcropping between fifteen and twenty feet off of the ground. The vines hanging lazily from its edges provide little difficulty in climbing, and she quickly takes to observing the terrain around her vantage point; from the flat grassy land surrounding it, to the small copse just within bow range, to the larger floating geological formations in the distance. Finding a dip in the rocks, she draws her bow and settles in, passively watching and waiting for her opponent to emerge.
Mitsuru walks from the southeastern end of the arena, with his back slightly hunched. He emerges from the gap between towering trees, which cover the circumference of the arena, reminiscent to a Roman ampitheater. He dresses himself in a metal cuirass over his plain dark green shirt. Included in his arsenal is a beltbag containing makibishi spikes and a scabbard, hanging on a leather belt tightly wrapping around his matching faulds. The same tightness holds his ninjato on his right hand, its celestial bronze blade gleaming a bright, pale yellow hue in the sunset. As he walks, he notices floating debris floating at one to two feet intervals from each other to his right, seeming to be like stairs to the islands up above. He looks up, and aside from the hovering formations, dark cumulonimbus clouds seem to be contending with the light of the sun at the opposite side of the sky; rain may be possible, but fighting his opponent is nigher. He heaves a heavy sigh and proceeds towards Alice, the narrow sword slowly pointing towards her, and his aura of hunger greeting her mutely.


 

   ~ 10:58, November 13, 2013 (UTC)




More Info:


-Torpid Anorexic / Hunger's Firstborn / Head Counselor
 Age: 17  Height: 6'0  Weight: 129 lbs
 Sexuality: Straight  Relationship Status: Single
 Birth Place: Sendai, Miyagi, Japan  Main Weapon: Ninjato and Makibishi Spikes
 Accent: Japanese
 – "From the gut comes the strut, and where hunger reigns, strength abstains."




Powers:

Powers of a Child of Limos:

Children of Limos have the ability to force hunger upon a person, causing digestive pain and sudden slowness of movements for a short period of time. The intensity of hunger can be augmented, but drains more energy.
Children of Limos have the ability to force symptoms of starvation on a person—impulsivity, irritability, dehydration etc—blinding them from attacks for a short time. The harsher the symptoms, the more energy it drains.
Children of Limos have the ability to create a small field around them that employ the effects of hunger to cause muscle atrophy, causing every movement to be painful for a short time. This causes anyone stepping in the field to stop in their movements out of pain. The longer the field is maintained, the more energy it drains.
Children of Limos have the ability to employ hunger to cause enervation, making a person too weak to fight or defend themselves. If used at a more powerful extent, they may cause the person to faint for a few minutes at most, but this drains more energy and cannot be used in successive times.
Children of Limos have the ability to create small illusions of food desired by a person. The food varies for each person, but all the same, these illusions distract them. The longer the illusion is held, the more energy it drains.
Children of Limos are innately more resistant to hunger, and the effects/diseases/ailments brought by it. They can survive more days without eating or drinking anything without being exposed to effects than others.
The more hungrier the people around them are, or the more their surroundings are rotten/wilted, the more powerful a child of Limos becomes.
When in the presence of a child of Limos, people feel more hungry and crave more for food.
Children of Limos have the innate ability to cause food or any edible object to rot with the use of their touch. The food continues to rot as long as they touch it; the longer they keep the food rotting, the more energy it drains. Also, this ability does not affect animals.
Children of Limos can sense if either a person or animal nearby is hungry just by looking at them.
Children of Limos have the ability to suppress someone's hunger for a short time, allowing them to think more clearly despite of extreme hunger. They, however, cannot do this upon themselves. Also, when the effect wears off, the affected person may experience stronger hunger than before.
Children of Limos have the ability to employ hunger to cause vitamin deficiency diseases such as anemia, diarrhea, scurvy, skin rashes and edema upon a person, incapacitating them for a short time. This allows the child of Limos to attack or flee freely. Over time, the disease wears off, making the victim normal and healthy again.
Children of Limos have the ability to curse any edible object to become ineffective to one's hunger, causing the consumer to stay hungry, even if they ate already.
Children of Limos have the ability to induce severe and unsatisfied hunger upon themselves, causing their stomachs to become seemingly bottomless, and their digestive systems to adapt to almost anything a child of Limos ingests for a short time. While in this state, they can consume and digest almost any substance without injury. They cannot also eat any object larger than their mouths and those that their teeth can't chew (they can swallow very small pieces of wood, stone or metal though). The more they consume, the more strength, agility and speed they obtain. When they revert to their normal self, they are incapacitated for moderate periods of time. The objects eaten are then transformed into harmless materials expelled during defecation.
Children of Limos have the ability to employ famine to cause the immediate area around them to suddenly wither, making plants and crops wilt and become dehydrated and make the affected soil unusable to produce plants or crops for a short period of time. This power is mainly used to render plant-based powers completely useless, but can also be used in a multitude of purposes. Over time, the effects revert back, and drains a considerable amount of energy from the user.
Children of Limos have the ability to create an illusion of a massive famine on the immediate area. Enemies affected by the illusion will begin to hallucinate a raid of locusts destroying the remaining plants, extremely malnourished and rotting bodies (whether animal or people) littering the ground, and everything they see is almost barren, empty and a wasteland. This instills panic among victims, causes them to vomit out of disgust and begin to extremely crave for food. The illusion can reach an extent wherein the panic caused by the famine can create chaos. The illusion only lasts for a short time, and drains the user of a very large amount.
Children of Limos have inadequate eating habits and diet practices. They don't like to eat a lot.
Children of Limos lose their appetite quickly.
Children of Limos tend to have anorexia, an eating disorder characterized by immoderate food restriction and irrational fear of gaining weight, as well as a distorted body self-perception.
A child of Limos will always stay slim (or on worse cases, very skinny), no matter what they or others do. Never once did a child of Limos get fat, and never will.
Children of Limos have a certain food preference that they crave to eat a lot at times; but when they come to the time that they will eat it, if not completely lose interest, they eat little.
Children of Limos usually cannot distinguish a difference between food and non-food items. In some cases, they can be seen licking, eating or chewing small amounts of chalk, paper, plaster, paint chips, baking soda, starch, glue, rust, ice, coffee grounds, cigarette ashes etc. without being disturbed by the taste.
Alice: From upon her rocky perch, something suddenly catches Alice's eye; a glint, even if only for an instant, of light reflecting from a weapon or armor to the southeast. She creates three arrows, tipped with bodkin needle points, and grips two against the frame of her weapon, while bringing the third to rest against the bowstring. Still kneeling in the rocks, and mostly concealed by them, she watches as a figure slowly draws closer and her stomach rumbles slightly. She had eaten not an hour ago, and the hunger felt unnatural. A child of Limos perhaps, though the range was fairly far. Alice waits for him to draw closer and then, as he closes to about fifty or so yards, she stands, draws, and delivers a shot aimed towards his center of mass.
Mitsuru: The faint whooping sound alarms Mitsuru, but at the same time panics him. He looks in almost all directions, before turning back to catch a glimpse of the arrow's shadow casted by the dimming sunlight. He tries to side-step in a split-second; but he fails halfway, and the bodkin arrowhead skims his left arm just above the elbow. He curses under his breath, scolding himself on his carelessness. His distance from Alice, which is about half of a football field, is generally far to cause any damage to her. In light of this, he changes his strategy. Still looking at where the arrow came from, he runs backwards in a zigzag pattern in an attempt to render her aim useless. He glances every now and then to find the southernmost pillar which is behind the grove, and the marble stairs that lead to it. His real goal, however, is not the pillar itself, but the pyre standing ablaze at the top. He continues his meandering movements as he draws closer to it.
Alice: She briefly watches as he strangely runs backward and side to side at the same time before dropping down into the rocks again to ponder her next move. After waiting for a moment she pops her head up and, presuming that he is now behind the trees separating herself and the pyre, ducks down again to shadow travel into the long grass a few yards away. With the floating rock now behind and to her right, she lays in the grass as still as possible; confident that the tall green stems will hide her until her opponent returns, and with her bow again at the ready.
Mitsuru: He advances further into trees in the same manner from before, and finally arrives at the foot of the stairs about two minutes later. With the pyre's flames peeking at the top, he ascends with caution; he takes note of another chain of floating rocks starting at the edge of the pillar, which then extends like a bridge going down to a shallow trench. He takes the last steps to the peak and observes the pyre. A few seconds later, he places his sword's blade into the flames, with the hilt poking out of the rim. He then hides behind the pyre and waits for its fire to conduct its heat into the blade. As he crouches lazily on the marble platform, he looks up and sees that the clouds are getting darker. A very faint rumble of thunder echoes from the distance.
Alice: With thunderclouds in the distance, and Mitsuru having not yet returned, Alice resolves to carefully make her way into the trees to get a better view. Creeping at first, but later shifting to a low-run, she eventually spies her opponent's blade in the pyre through the trees. Assuming that he must be nearby, she moves to the left until she can see one of his knees protruding slightly behind the pillar. After a moment of thought, she collects some gravel, draws her bow and fires both remaining arrows in quick succession, throws the gravel into the brush some distance to her left, and then shadow-travels a short distance to her right; keeping the pillar between herself and Mitsuru, while crouching low in the bushes and creating a new pair of arrows. Hopefully, the angle she fired from and the noise created by the stones will convince him that she is somewhere she isn't.
Mitsuru: He hears the same whooping sounds and this time, he's prepared. He quickly shifts his position to his left as the arrows pass one by one. If he didn't move, he would have been shot more than once. As soon as the missiles miss him, the rustling made by the gravel makes him stand up straight, and upon Alice's arrival at her new location, another stimulates him to reveal himself from behind the pyre. He looks into the clump of wood and leaves, looking for the sources of the sounds, but it is too obscured to even see anything besides a bird's nest resting on a nearby branch. It stems from the trunk of a fruitless tree to one of the steps of the stairs, and on the nest itself are three white, edible eggs. An idea pops in his mind, and he descends the stairs prudently and quietly, and proceeds to the branch with the nest. He crouches down and grabs for its thick wood with his left hand. The nest is one feet away from him, so it will not be hard to get the eggs. As soon as he touches these with his right one, it begins to rot away. He carefully grabs each between his fingers and sprints back to the top. He plans to wait for a few more minutes for his sword to conduct more heat, then go back down to look for her.
Alice: While her opponent is acquiring the eggs on the other side of the pyre, Alice quietly moves at a light run across the grass separating herself and the stairs leading to its summit; pausing at its base to creep to the top, while shouldering her bow and forming her remaining arrows into an unornamented rapier. Holding her rapier defensively with her right hand, she cautiously grips the handle of Mitsuru's ninjato and thrusts it further into the flames so that it is fully surrounded by fire and at the pyre's heart. His current position unknown to her, she begins to circle the pyre with her weapon at the ready.
Community content is available under
CC-BY-SA
unless otherwise noted.