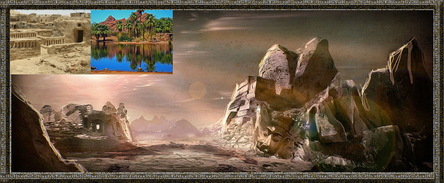 This arena is surrounded by tall peaks and cliffs, moving towards the centre of the arena is a mostly dry sandy landscape, with lots of ruins, some even resemble an archaeological dig, with lots of places to hide in the shadows.
At the very centre of the arena is a lush oasis with a pond, palm trees and all sorts of vegetation.
The arena is open to the sky and elements
On each end of the arena, on top of some large pillars, are pyres, full of fire and wood. The fire that burns within the pyres can not be extinguished, but if the fire is removed from the pyres, it can then be put out.

Tie...   

Hydro   " We all have secrets. The ones we keep... and the ones that are kept from us."   21:43, January 2, 2014 (UTC)    20,620
Community content is available under
CC-BY-SA
unless otherwise noted.