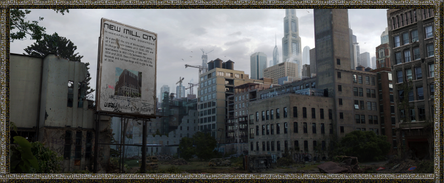 This arena is essentially a small abandoned city, overgrown with vegetation and some of the buildings crumbling in decay.
Located in the middle of the arena is a small abandoned park, with a pond
This arena has all the typical things you'd find in an abandoned overgrown city, everything from flat surfaces to small buildings to tall skyscrapers, some crumbling, some still standing, lots of dark places to hide, including an underground subway tunnel. There are abandoned cars, and things can still be found within the buildings, perhaps even a few stray cats or dogs, or some smaller creatures such as rats and spiders.
The arena is open to the sky and elements
This arena also possesses a more rural arena, possessing large mansions, estates and houses.
Intro
[[|Adam]] -Child of Apollo
-The Shining Rockstar
  Height: 5'10 
 Sexuality: Straight 
 Health Status: Healthy  Main Weapon: Bow/Arrow and a Knight Sword
 – 22:00, December 20, 2013 (UTC)

He enters the arena, wearing his usual set of armor. His chainmail hung over his torso, to protect many of his vital organs. He wore arm guards and shin guards, which were made of a light metal. His leather gloves wrapped around his hands. In his right pocket, his precious guitar pick sat. Ready to transform into a sword or a bow at any time. He had a quiver of arrows strapped to his back, along with a pack of caltrops and shuriken strapped to his right thigh. His orange G shock watch was on his right watch, ready to transform into a circular shield. Strange enough, he decided to bring along another weapon. Also in his right pocket was a red pen, that could transform into a trident. As he ran across the arena, he entered an apartment building and ran up to the third floor. He searched around until finding an apartment, as he entered it was old and abandoned. It was a two bedroom apartment, with a bathroom and living room. He saw a fire escape out of the living room's window. Adam entered one of the bedrooms and looked at a very large window. He opened it, sticking his head out with no problem. Looking across much of the arena, including the park and the subway entrance. He took out his pick and it transformed into a bow, Adam notched an arrow from his quiver. Prepared to shoot his opponent on sight.
Shen Jian -Child of Bia
-The Warrior of Wudan, 2nd in Command of Opus Superum
Age: Biologically 20 Height: 6'3" Relationship:Single
Health Status: Healthy
Species: Demigod Main Weapon:Han Dynasty Weaponry
 – "我掌握了所有我触摸,包括你."

Jian arrives at the outskirts of the arena, frowning in scorn at the derelict urban sprawl before him. He is clad in the same enhanced armor he utilized in his previous fight, but he has added some modifications. Instead of the plain bronze color, He has customized his armor in the colors and likeness of Optimus Prime. Protecting his head is the same helm that he used before that has likewise been re-colored. In addition to its re-coloring, Jian has enhanced the helmet by adding a dark plastic visor similar to the ones often worn by football players. Also added to his facial ensemble is a black cloth around his lower head which covers his mouth. In terms of weaponry, Jian has once again alternated his armory. He has elected to leave behind his qiang spear this time around but he has brought a new Jian sword which currently sits in a necklace form around his neck. Currently sitting in brooch form attached to the chestplate of his armor is his round shield, and his deer horn knives are attached to his back as usual. He does not know who his opponent will be and he also does not know what his capabilities or preferences are, but he very wary of the penchant for treacherous attacks that the interiors of the buildings provide. With this in mind, he determines that his best chance of success is to find sanctuary at the top of a skyscraper. Locating one that seems particularly desirable due to its relatively sturdy appearance, Jian ascends into the air and leaps toward its roof. Due to his wariness of projectile attacks being levied against him from surrounding buildings, Jian activates his force shield ability to protect him as he makes his way toward his destination.
Le Fight
Adam: Adam sees Shen's ascend to the roof and decides he must try to prevent it. He fires one measly arrow towards his back, but doubts it would nearly enough to harm his well armored adversary. He fires a light beam, not thinking he has time to reach for another arrow. Since it's light, it's unaffected by the field of force. It flies through it and into a window near Shen's face, again since it's light the beam reflects off the window. Threatening to burn Shen right in the eye.
Jian: As Jian finishes his trajectory toward the roof of the skyscraper, he is discombobulated by a flash of light. Luckily, the tinted visor mitigates the majority of the would-be discombobulation and he is able to descend onto the roof with little adversity. However, his plastic visor is melted slightly by the beam. Upon landing with a slight tremor, he quickly deactivates the force field but then uses his equipment enhancement power to repair his visor. He then activates his Jian and Round Shield and begins pacing around the roof in order to have a good peripheral for any attempted attacks from behind. The fact that his opponent used some sort of light attack against him indicates to Jian that his opponent is likely a child of Apollo. For that reason, he surmizes that the Jian/Shield combination is ideal against ranged attacks and sufficient for close ranged confrontation. 
Adam: He sighs, knowing he'll need a new position if he wants to properly shoot his opponent. So he dashes out of the apartment and begins to run up the stairs. He runs up until reaching the 18th floor and then the roof, but before he opens the door and enters. Adam collects two arrows from his quiver, putting down his bow as he uses a very faint light beam to set both of the arrows on fire. He collects his bow and busts out, he quickly notches and fires both arrows at the same time. He hopes this will distract Shen as he notches another arrow and fires towards Shen's neck, Adam stands about 6 feet from the edge as he notches another arrow. Prepared to fire at Shen if he tries to jump towards him.
Jian: As he is pacing, Jian spots Adam in his line of sight on the roof of a nearby apartment and turns to face him. As the initial duo of arrows is fired, he quickly raises his shield which lodge themselves harmlessly into it. Unfortunately, his arrogance in simply hoisting up his shield results in the third arrow whizzing over it toward his neck. Luckily, what could have turned into a quickly one sided battle is averted when the arrow lodges itself in the high collar of his armor. Breathing a sigh of relief, Jian takes a moment to break off the arrow using the hilt of his sword. Dead set on going on the offensive but wary of more projectile-based attacks, he assumes a phalanx battle stance with his knees bent and shield in front of him to minimize his target area. Jian simply holds this position and gazes toward Adam, hoping to make him travel to his location to engage in more close-ranged combat.
Adam: He laughs a bit, having no intention of losing his distance over him. He doubts Shen can do much to attack him long range. Adam moves another foot closer to the edge, wanting his arrows to do more damage. But he's slightly reluctant, knowing he's already used 4 arrows. Leaving about over 35 left in his quiver, he wants to try a slightly different strategy. He collects one of his arrows, notches it and fires towards Shen's shin. He then quickly pulls out another and fires towards Shen's sword hand. Even though it's a hard shot, a son of Apollo can most likely manage. Adam hopes Shen's hand will be rendered useless or perhaps he can hit one of his fingers. He still remains vigilant, prepared to shoot Shen out of the sky if he tries to jump over towards him.
Jian: Having lost his patience for these foolish projectile attacks, Jian simply drops his sword and uses his free hand to send a wave of force toward the incoming arrows. He blows them aside with ease, and then stoops down and retrieves his sword. Realizing that he won't be able to lure Adam in closer by just waiting around, Jian decides to relocate. He quickly leaps off of the roof of the skyscraper and descends onto the roof of a shorter nearby building with a slight tremor. He repeats this process of descending onto shorter and shorter buildings until he leaps from the lowest one onto solid ground. Upon reaching the streets, he begins making his way toward the park so as to leave Adam with no choice but to engage him in an open battleground. 
Adam: He watched Shen's descent onto the park, he fired an arrow towards the back of his head. Hoping it would hit while he made his way to the park. He quickly ran back towards the roof entrance, making his way down the building. Slightly tired from the use of light beams and all the running. As he exited the building, he knew he'd need a new shooting range to fire from. He dashed around the streets, hoping Shen didn't notice him. He found a three story office building, thinking he found the perfect place. He quickly dashes into the building and ran up the stairs. He took some time to rest, breathing slightly deeper. He hopes Shen is unaware of his location as he prepares his bow and arrow, he notched an arrow and fired towards the back of Shen's right knee. Wanting this attack to disable Shen.
Jian: Adam's first arrow cuts through the plumage of Jian's helmet as he is making his way from roof to roof but the second one falls woefully short as he has already entered the park. Upon entering the park, Jian begins scheming his next maneuver. Ultimately, he decides his best bet is to lay a trap. Deactivating his sword and shield, He begins conjuring and placing invisible caltrops around the area of the park. He makes sure to do so with pinpoint calculations so as not to fall victim to any of them himself. Upon placing the last one, Jian makes a small leap toward the edge of the pond, reactivates his sword and shield, and awaits Adam's arrival. 
Adam: He seems slightly confused as to why the arrow didn't hit. Since the office building was right next to the park, rather close to the pond. So Adam comes up with an idea, he collects two arrows. Firing a faint light beam that sets them both on fire, he notches them and fires out of the window. He fires towards Shen's feet, hoping to cause him to step back and fall into the pond. Which would leave Shen vulnerable as he fires a powerful light beam towards his plastic visor, the blast threatens to melt the visor completely and leaves hot melted plastic on Shen's face.
Jian: Jian declines to step back and as a result the arrow penetrates his left shinguard. The shinguard protects him from the arrow itself but the heat of it scalds the metal and causes a moderate burn. A hunch tells him that Adam's likely target will be his hard plastic visor which is the most vulnerable to Adam's light based attacks. He quickly activates his ability to upgrade armor and uses it to increase the strength of his visor. This proves to be a prudent move as immediately afterward another of Adam's light beams comes torrenting in and deflects harmlessly off of his visor. As soon as the light is deflected, he deactivates the enhancement. Starting to feel drained, Jian decides to disperse the invisible caltrops as they are simply sapping his energy. The elimination of the caltrops leaving him with considerably more energy, he decides to launch a ranged attack of his own. Looking around, he quickly spots Adam in the third story of a nearby building. Aiming a steely glare in Adam's direction, Jian deactivates his sword once more and uses his free hand to conjure a trifecta of invisible shuriken. He then quickly forms a quarterback like stance and throws off of his back foot, launching the shurikens in a hostile trajectory toward Adam's neck.
Adam: He moves slightly, causing two of the force shuriken to hit his armored chest. As they bounced off harmlessly, one had hit his left cheek. One of it's edges cutting into his cheek. Causing him to grunt in pain as pulled it out, blood ran down his face for a moment. The wound wasn't serious so he didn't bother to heal it. He moved down, hiding under the door as to hopefully avoid any more attacks. He pulled out his pen and it transformed into a 4.3 foot spear in his hand. He forms an idea since he noticed a powerful breeze. He hopes hurling the spear while it's on fire would cause Shen some damage, but he needs 2 things. Something to light it, along with a distraction for Shen. He knew he could've easily created another light beam, but Adam knew he couldn't keep making those forever. He found a lighter on the floor and much to his surprise it was still working. So he took two of his arrows, used the lighter to light the shafts of them on fire. He got up and notched them, firing towards the damp grass right in front of Shen. Causing smoke to form and due to a powerful breeze, the smoke threatens to cause Shen to cough and cloud his vision. Adam then took the chance to use the lighter to burn the spear as well, Adam used all his strength in his right arm to hurl it towards Shen's head.
Jian: Jian's vision is quickly obscured by the billowing smoke caused by the arrows and so he is left with little option but to crouch down and raise his shield in front of him to minimize his frame. The incendiary spear pierces the metal of the shield and the spear point comes within inches of piercing Jian himself. He is luckily spared from being gutted, but the culmination of damage sustained by the shield has now rendered it useless and he is left with little choice but to deactivate it for the rest of the match and he places the damaged brooch in his pocket. Incensed by Adam's stubborness, Jian decides it is time to put an end to this ranged tomfoolery once and for all. He takes a couple of steps closer to Adam's building and then raises his hand toward Adam's bow. He immediately activates his ability to weaken or strengthen a weapon, attempting to use this ability to make the bowstring loose and frail so as to make it impossible to effecively fire arrows. Jian hopes that this maneuver will necesitate a change of combat strategy for Adam and force him out of his comfort zone. 
Adam: He tries to shoot Shen again, but he notices how frail and weak the bowstring has become. He figures this is Shen's doing, he sighs loudly. Knowing he needs a new plan, he commands his bow to revert to it's pick form and places it in his pocket. Having high hopes the effects are only temporary, as he searches around. Hoping he can find something useful. He looks all over the building, knowing he needs to work fast. Fearing that Shen may enter, he finds a bottle of Kingsford Lighter fluid. He seems baffled as to why it's here, he thinks for a brief moment. Figuring that they kept it around for barbeques. He takes it and returns to the room where he performed his shooting. Adam collects two shuriken, holding them between his fingers as he hurls them towards Shen. He then unscrews the cap of the lighter fluid bottle and turns on the lighter. He drops the lighter inside of it, before throwing the whole thing at Shen. He hopes the bottle will explode into a fireball and roast Shen alive.
Jian: Upon seeing Adam place the pick in his pocket, Jian cancels his weakening ability since he knows Adam will not be able to detect the change without reactivating his bow. He then watches curiously as he witnesses Adam mess around with what appears to be a bottle of fluid of some sort. His curiousity quickly sours as two shuriken soar toward him, one lodging into his left shoulderpad and the other settling painfully into his left arm. Having no desire to wait around for what Adam plans to do with the fluid, Jian immediately leaps into the air and lands with a slight tremor on the roof of Adam's building. His suspicions are confirmed as he looks down and sees the spot he just left behind erupt in flame. Jian painfully pulls the shuriken out of his arm and then ponders his next move. Determined to force Adam's evacuation from the building, he begins leaping vertically into the air repeatedly and landing back onto the roof to create a buildup of tremors. Jian has a sneaking suspicion that the foundations of the building have become increasingly insecure over time and he hopes that the build up of tremors will cause the building to at least partially collapse from within. 
Adam: He looks up, feeling the shaking from Shen's tremors. He sees cracks appearing all over the ceiling, meaning the roof is threatening to collapse all over Adam. But he refuses to allow that to happen, so he runs out of the room and dashes down the only staircase. He begins carefully leaving caltrops on the stairs, when he reaches the end. Adam hopes the darkness will hide them. He then enters a room, leaving more caltrops in front of the very dark entrance. Adam seems surprised, since this is the room where he found the lighter fluid. He scrambles across the room, until finding another bottle of it. He leaves a trail of it across the entrance. Prepared to use a light beam to burn it if Shen enters. He looks out, seeing a window which would provide an exit for him. He pulls out his guitar pick and commands it to take it's bow form, he pulls on the bowstring. Very relieved to see it's back to normal, he hides behind a chair. Awaiting Shen's arrival as the roof collapses under him. Adam still has the bottle of lighter fluid next to him, seeing it as a possible weapon.
Jian: Adam's delayed emergence from the collapsing building demonstrates to Jian that his opponent must be arranging some sort of welcoming committee for Jian's hopeful pursuit into the building. Having no desire whatsoever to play into Adam's plans, Jian simply leaps off of the degenerating roof. Rather than heading back to the park where he suspects Adam will be waiting, he decides to head the opposite direction and make for the abandoned subway. As he leaps toward the entrance and descends, he tries to stick the landing as deftly as possible in order to minimize the tremor and resulting sound. It doesn't take him long to reach the stairs and he quickly descends the stairs and reaches the abandoned subway platform. 
Adam: After the roof collapses, falling all over the third floor. Adam waits a while, thankful that the 2nd floor hasn't collapsed as well. He figures Shen isn't coming, so he emerges from his hiding spot. He opens the window, seeing a fire escape. He holds his bow and bottle of lighter fluid as he exits the building. He then begins searching for Shen, after a while he decides to check the subway. Taking a moment to catch his breath before he enters, Adam carefully descends the stairs. Making sure not to make any loud steps or slip on anything. He conjures a source of light, which lightens the platform area. Adam quickly hurls the bottle of lighter fluid at Shen, firing a light beam from his fingers towards it. Adam hopes the beam will melt through the plastic of the bottle, heat up the fluid and cause the bottle will explode right in front of Shen.
Jian: Jian desperately leaps backward as the bottle is thrown because he has a pretty solid idea of what is coming at this point. His leap spares him from being hit with the bottle and allows him to avoid the majority of the explosion. However, the blast singes his robes and armor and also clouds his vision for several seconds. As the smoke clears, Jian sets his eyes on Adam and glares furiously at him. As he readies to unleash his fury upon the son of Apollo, a more cunning thought occurs to him. "My friend, that bow of yours is no good here. I think it would serve you better to come combat me with your sword." As Jian utters these words, he infuses the force of his will into them. He hopes the use of this power will force Adam to do his bidding of facing him in bladed combat where Jian knows he will have a stark advantage. Jian is beginning to feel sufficiently drained by all of his maneuvers, but knowing that the fight is drawing to a close drives him to continue his liberal use of powers. 
Adam: At first he seems confused, unsure of how Shen knows he has a sword. But the power of Shen's will is too great, he commands his bow to switch to it's sword form as he walks towards Shen. But he still doubts he can face him in proper close combat, so he decides he needs to even the playing field. He snaps his fingers as he attempts to infect Shen with inflammatory bowel disease, he hopes this will cause Shen to soil himself. Adam swings towards Shen's neck, Adam then remembers the disease could also cause abdominal pain and cramps. This drains a good amount of his energy, he then decides it's not enough. He tries to infect Shen with necrosis, he hopes this will cause the premature death of the skin cells on Shen's arms and torso. Adam feels very weak, he's about to pass out.
Jian: Jian grunts in pain and humiliation as the bowel disease takes effect.As Adam's swing toward his neck threatens to close in however, Jian is able to force himself into his sole focus on his willpower. His ace in the hole activated, narry the blade, the abdominal pain, nor the necrosis are of any bother to him. Not a single thought is wasted on the almost certainty of needing to replace his soiled robes. Not one fraction of a brain cell is forfeited on the the amount of skin cells currently dying on his arms and torso. As the sword strike brushes harmlessly off of his collar, Jian's thoughts are focused solely on the destruction of his opponent and the security of his own invulnerability. Deciding to forsake weaponry on his hands, Jian drops his sword and instead wills a pair of invisible stilletos to form and attach to the bottom of each of his feet. His energy meter sliding dangerously near zero, he wastes no time and quickly somersaults toward Adam. As he emerges from the somersault, he kicks both of his legs forward and attempts to spear Adam in the groin with  his stilletos. 
Judging
Judge
Hydro/Adam
Wind/Jian
Points Possible
Sorrow

Grammar/Spelling - 4
Defensive - 8
Offensive - 9
Fairness - 19
Balance -  9
Strategy - 5
Creativity - 13
Effective Char Use - 18
Judge's Discretion - 4

Grammar/Spelling - 5
Defensive - 9
Offensive - 8
Fairness - 17
Balance - 9
Strategy - 4
Creativity - 15
Effective Char Use - 17
Judge's Discretion - 4

Grammar/Spelling: - 5
Defensive - 10
Offensive - 10
Fairness - 20
Balance - 10
Strategy - 5
Creativity - 15
Effective Char Use - 20
Judge's Discretion - 5

Sub Total
89
88
100
Flame

Grammar/Spelling - 3
Defensive - 6
Offensive - 8
Fairness - 17
Balance - 7
Strategy - 4
Creativity - 12
Effective Char Use - 17
Judge's Discretion - 4

Grammar/Spelling - 4
Defensive - 8
Offensive - 4
Fairness - 16
Balance - 7
Strategy - 3
Creativity - 13
Effective Char Use - 16
Judge's Discretion - 4

Grammar/Spelling: - 5
Defensive - 10
Offensive - 10
Fairness - 20
Balance - 10
Strategy - 5
Creativity - 15
Effective Char Use - 20
Judge's Discretion - 5

Sub Total
78
75
100
Total
167
163
200
Community content is available under
CC-BY-SA
unless otherwise noted.