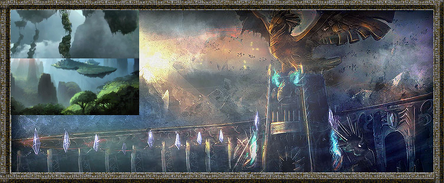 The objects in the arena have been charmed to almost defy gravity, floating around, boulders, rocks, etc.
At the base level of this arena is just normal ground with vegetation/shrubs/grass and trees, as well as varying size terrain, ranging from a few feet tall, to much taller
Floating high above in the air is small islands, some with greenery and vines hanging down towards the ground, ranging in size and height from the ground, so that even if a person didn't have the power of flight, if they are an adept climber, everything is spaced out enough they could climb as high as possible, as well as utilise some of the smaller floating debris to aid in their climb. Some of the floating islands even have small waterfalls
Between the floating islands and the tall peeks and trees, there are plenty of shadows and places to hide
On two sides of the arena there are 2 automaton birds stationed, currently in "off" mode, they are roughly 6 feet tall.
The arena is open to the sky and elements
On each end of the arena, on top of some large pillars, are pyres, full of fire and wood. The fire that burns within the pyres can not be extinguished, but if the fire is removed from the pyres, it can then be put out.
[[|Brandon]] [[|-Child of ]]
-Dark Freak
 Age: 15  Height: 6'2  Weight: 150 pounds
 Sexuality: Straight  Relationship Status: Single
 Health Status: Healthy  Main Weapon: Swords
 – The marks humans leave are too often scars.

he walks into the arena, looking more miserable then usually. He slinks to one side of the arena. His armor is pulled over his long sleeved black shirt and jeans, which is stiffling hot in the arena. He taps the hilt of his sword wearliy, waitng for whatever would happen next.
[[File:|125px]]

[[|Ana]] [[|-Child of ]]


 – 21:10, November 20, 2013 (UTC)

She strides into the arena, a slightly bored look on her face after her last two matches. She wears a long-sleeved black shirt to account for the chill of the arena, if one may come. She also wears black leggings, allowing for most free movement. On her feet are black combat boots, for fear that she step on something sharp and damage her foot before the real fight even begins. Her red hair is tied back with a pony of the same colour, the soft breeze blowing it to the left side. She chooses to wear arm guards but, that's it, feeling armor is unnecessary. On her back are two sickles, in a carrying case-like backpack, with the handles of the sickles out, ready to use if necessary. Up her right sleeve, is a dagger, which she could also take out if needed. She first chooses to look around the arena, to find what she could use in her fight against her opponent. Some vegetation is scattered off to her right, and, trees to the left, the trees making many shadows, and, the vegetation making plenty of places to hide. As she peers into the sky, she notices some islands in the sky, easily accessible by the vines hanging down from them. Finally, she notices Brandon, and, glances at him, casually creating a fireball in her hands, and, gets into a defensive stance, a smirk on her face. "Let's do this."
[[|Brandon]] [[|-Child of ]]
-Dark Freak
 Age: 15  Height: 6'2  Weight: 150 pounds
 Sexuality: Straight  Relationship Status: Single
 Health Status: Healthy  Main Weapon: Swords
 – The marks humans leave are too often scars.

He draws his sword from his belt and hold it limply by his side. He frowns at her before shrugging. "ladies first." he offers
Actual Battle
Annaleise: She smiles a bit cockily at him, and, gives him a slight nod. She begins to walk slowly towards him, being fairly cautious. She stops a few feet away from him, and, studies him slowly. She crouches down, her eyes beaming with curiosity, and, She leaps towards him, aiming and shooting her small fireball directly at him, testing what he'd do, and, if he'd get hurt by this.
Brandon: seeing it coming, he dodges the fireball quickly, moving with grace that seems nearly impossible for someone. He creates a dark pit from the ground, which was meant ensnare unsuspecting victims. It was around 4 feet wide and long. It shoots up from the ground an attempts to wrap itself around his opponent.
Annaleise: She quickly squeals, stumbling back a bit, and, grabs a vine to another island, swinging on the vine somewhat. She looks at the dark pit, and, squeals again. However, she chooses to climb the vine to the island. She uses another fire ball to burn all the vines hanging off the side of the island She looks at the dark pit, and, glowers at it. She takes one of her sickles off of her back, but, chooses to use her words. She uses her words and, infuses Charm Speak into them, down to Brandon, "Oh, you don't want to use that power..."
Brandon: his stops moving for a moment and frowns. The pits fades away and his eyes glazes over. It loooks like he would listen to her her. Then, suddenly, he Shadow Travels behind his Annaleise and slashes at her back from behind. A cheap, but skillful move.
Annaleise: She gets minorly cut, her back now slightly bleeding, but, as her sickle is strapped to her back, it takes some of the damage. She falls to the ground, but, turns onto her back, looking up at the boy with a growl. She, using the sickle she had taken from her backs, goes to sit up. She attempts to slash at his knee caps, hoping to cause some damage to him.
Brandon: He jumps back to avoid getting sliced, but the sickles still graze his knees and he winces. He pulls his sword up above her and stabs down on top of her, hoping to make some contact.
Annaleise: She rolls out of the way, thankful for the slight rest she had gotten while on the ground. She pushes herself up to a standing position, and, turns to face her opponent, a glare on her face. She winces slightly, her back's cut slightly stinging her. She debates on whether or not to use a healing spell on it right now, but, knowing it would take a fair bit of energy from her, decides against it. She takes her other sickle off of her back, and, takes a step closer to Brandon, daring him to attack her again, this time, ready for him.
Brandon: He slides his right foot back and waves his hand, sending a wave of negative energy which causes anyone affected by it to feel as if they are falling in a deep pit for a short time, blinding them from seeing or doing any attacks out of panic, well knowing that once the effects wore off, she would be immune to it for a quite some time. He grips his sword, ready to attack her once her guard is down.
Community content is available under
CC-BY-SA
unless otherwise noted.