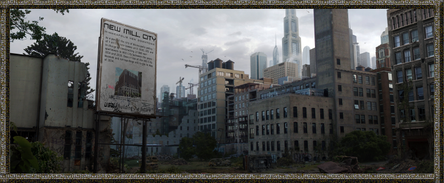 This arena is essentially a small abandoned city, overgrown with vegetation and some of the buildings crumbling in decay.
Located in the middle of the arena is a small abandoned park, with a pond
This arena has all the typical things you'd find in an abandoned overgrown city, everything from flat surfaces to small buildings to tall skyscrapers, some crumbling, some still standing, lots of dark places to hide, including an underground subway tunnel. There are abandoned cars, and things can still be found within the buildings, perhaps even a few stray cats or dogs, or some smaller creatures such as rats and spiders.
The arena is open to the sky and elements
This arena also possesses a more rural arena, possessing large mansions, estates and houses.
The Fight
[[|Conner]] -Child of Boreas
-Jack Frost
Age: 16     Height: 6'0      Weight: 159 lbs      
Sexuality: Heterosexual      Relationship Status: Single
Health Status: Healthy     Weapon: χιονοθύελλα
 – 21:23, June 5, 2013 (UTC)

He walks into the arena,wearing his usual bronze armor,with his sword,Blizzard,strapped to his back.He sits on a nearby bench,waiting for his opponent.
---
Urgh, Lilly never posted >.> Dark wins "long and lost" ~~ Minx the Banshee    
Community content is available under
CC-BY-SA
unless otherwise noted.