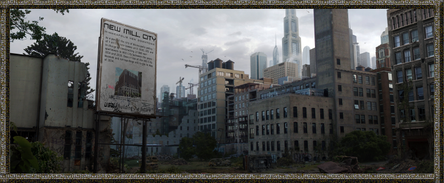 This arena is essentially a small abandoned city, overgrown with vegetation and some of the buildings crumbling in decay.
Located in the middle of the arena is a small abandoned park, with a pond
This arena has all the typical things you'd find in an abandoned overgrown city, everything from flat surfaces to small buildings to tall skyscrapers, some crumbling, some still standing, lots of dark places to hide, including an underground subway tunnel. There are abandoned cars, and things can still be found within the buildings, perhaps even a few stray cats or dogs, or some smaller creatures such as rats and spiders.
The arena is open to the sky and elements
This arena also possesses a more rural arena, possessing large mansions, estates and houses.
Fight
Alice: She quickly shadowtravels to the entrance of the Subway, runs inside, and takes a moment to recuperate.
Godfrey: Somewhere in the seemingly sea of abandoned cars stands Godfrey, mindlessly waiting for his opponent. His eyes are not fixed on the Subway entrance a few feet from him; but are gazing at the continuity of the row of cars behind him instead. As soon as Alice makes her way for entrance, his powers immediately pick up her presence like a radar detecting something within its radius. He shifts his head to the location his internal compass is pointing to, which is the entrance to the Subway all along. He cautiously makes his way towards the entrance, which includes crossing over the top of trunk lids of cars. The sensory's getting stronger the more Godfrey covers his distance over to the entrance, as well as his fluctuating emotions.
Alice: The Subway is dark, but Alice can see perfectly. She clears the station at a brisk walk, moving past the rusting turnstyles, and onto the platform. Most of the electronics present in the station seem to have been stripped, along with anything remotely valuable, leaving the place a shadow of its former self and in total darkness; the lights presumably  subject to the same mutilation as the rest of the wiring. For most, this grim scene might be at least slightly unnerving, but for Alice it brings a certain familiarity; there had been a similar place in Moscow, and in such places the darkness always welcomed her as its own. From the platform, she hops down onto the tracks themselves; the dark knee-length coat serving as her only armor flapping upwards and then behind her as she makes her way into the tunnel.
Godfrey: Eventually, his steps lead him in front of the entrance, which greets him with its total darkness. Slivers of faint light coming from the cloud-filled sky attempt to penetrate this darkness, but to no avail. The Subway's darkness swallowed these lights like the mouth of a never ending void, perforating a thought into his mind; venturing the Subway without any sources of light at hand is a foolish man's action, despite the fact that he can sense his target and her direction. As such, he postpones his trip down the Subway lest he finds a source of light. He dashes for the sea of cars from before and begins to search every single trunk for these objects: two obviously working headlamps. Starting from the left most car at the first row, he checks every trunk, magnetically turning the locks open occasionally if it's tightly locked, and fails several times for what he finds are nothing but rotten food, scrap styrofoam, and practically irrelevant trash. For what seems like hours, he has come down to the twenty-fifth trunk at the third row; the tension welling up inside him, he pries the lock open, revealing a large, lockless container. He lifts the lid open, revealing a pile of dirty mining picks. Without anymore hesitations, he rummages through the picks, and finds five headlamps. He examines each, and finds out that only one works; better one than nothing, he wears the headlamp like a normal cap would be, and leaves for the Subway, leaving the trunk and container wide open out of ignorance. As soon as he reaches the entrance once again, he turns on the headlamp's light, and goes down the rusty stairs. Yes, he knows where she is... almost. Passing through the turnstyles himself, he abruptly stops at the aisle of the platform; his headlamp casts a small circle of light at the other platform. He knows where she is, only that he is not stupid enough to aim his light directly towards her. As his heartbeat paces, he waits for any unwanted movement, with the deafening silence keeping him company.
Alice: By this point Alice has made her way at least a hundred meters down the tunnel, and she watches silently from a distance as Godfrey's light cuts through the darkness and illuminates one of the platforms. She quietly ducks into one of the tunnel's maintenance rooms, usually seperated from the tracks and trains by a steel door, though this seems to have been removed or never installed since it's nowhere to be seen. The small room itself is mostly empty, with the remains of some wooden shelving rotting in one corner, and Alice presses herself into the other next to the entrance. From there, she creates a small dagger from the darkness and a creature from the shadows; rendering herself immobile. The creature, a small pitch-black monkey, takes the dagger and silently makes its way out into the tunnel, up the cracks in the concrete wall, and into a small crevice above.
Godfrey: Alice's presence weakened by a small amount, but nonetheless, he still has a relative trace on her. By her stealthy movements, she is somehow audibly invisible; but as long as she is nearby, Godfrey can sense her, even if the whole platform's enveloped in pitch-black darkness. No deafening silence can obstruct her presence from his innate sensors; his only opponent with this is distance itself. He turns to his left and takes only five steps forward, for his walk is cut off by another presence, only that this is peculiar. He cannot tell if it is either a human like Alice or the complete opposite, with the latter thought his better choice. His sensors tell that this presence is somewhere up in the ceiling, and his intuition tells that this presence is trying to ambush him from above. Clearly, if that is the case, it would sure work if he is not aware, as his headlamp aims its light horizontally; however, given his intuitions, this idea is thus otherwise. He searches his waist for his keyring with his right hand, then detaches a bronze key from it. As soon as he raises it halfway in front of him, it suddenly morphs itself into a dagger of the same metal. Next, he raises his empty-handed left one to its maximum reach towards the ceiling, tilted on a 70-degree angle to the left. Channeling power to this, he causes the rusting steel supports fastened to the ceiling's concrete to repulse; but as the supports cannot move freely due to it's confinement, they only vibrate and creak, which are strong enough to disturb anyone. While doing this, he is still looking at his current position, as looking up may irritate the presence in contrary to his expectations, and attack him prematurely.
Alice: The monkey, nearly shaken from its position in the tunnel ceiling, makes a daring move. Reversing its grip on the dagger, it throws its weapon with all the surprising strength common in many primates, directly towards Godfrey's torso. As it does so, it drops from the ceiling straight to the floor, both vanishing into a cloud of darkness and permitting Alice control of her own body again. With the remaining time before Godfrey finds her, she prepares herself for his entrance into the room, and whatever may follow.
Godfrey: He is not able to anticipate the dagger, for it is made of shadows, not metal. With a faint swoop, he reflexively looks up in spite of his self-warnings, but he is too late. He suddenly feels a sharp blow against the right side of his stomach, which is followed by searing pain running wildly across the affected area. He loses hold of his power over the steel supports, as the blow broke his concentration. He mentally curses as he looks down; by the light of his headlamp, a pitch-black dagger is lodged on his flesh. Bright red blood pokes out of the wound, staining his faded blue shirt; but of course, he cannot afford to stare at all this forever. With his left hand again, he reaches for the dagger and grips it tightly; within blink of an eye, he yanks it out. He winces from the pain and the sudden gush of more blood from the wound, making him drop the dagger onto the floor. He lets some seconds to pass for him to collect himself after that attack. That's when he notices what the dagger is made of, as he was too preoccupied on taking it out earlier. Processing all of this (the relationship of Alice, the dagger's material and the Subway's environment) into his mind, he comes up with a theory: his opponent presumably align her powers with the darkness. He prepares himself for his next move; he gathers the magnetic force resting around him and wakes it to life, causing him to levitate a few inches from the floor. He turns for the wall to his left and hovers for the wall, still lighted by his headlamp. As soon as he touches it, he assumes the form of a crawling insect and "walks" across the wall towards Alice's location, with the magnetic force keeping him from falling. As soon as his senses tell him that she is a few feet from him, he stops then assumes a standing position horizontally, waiting for Alice to do her move before doing a counter-move. He's not certain, of course, of what she will do next, though he is much more certain on how to deal with it when it prompts him.
Alice: Godfrey's lamp glows brightly, dispelling the darkness, but for every light there is a shadow; and the alignment of those cast by the room's entrance indicate the general direction of Alice's opponent, and imply his intentions. Unwilling to leave her position of relative security, a plan forms in her mind as she creates a blade from the shadows; longer than the average dagger, but somewhat thinner, and just as deadly. Fully aware that her life may be on the line, she physically and mentally prepares herself for what is to come.
Godfrey: He senses certain disturbances from his opponent, implying that she is moving or any matter relative to that. With these, he eventually executes his prompt move. Within the time frame of almost a split second, he causes his magnetic-powered levitation to work weak enough to just support him three inches from the ground; he intends this to break his fall. Once he catches a glimpse of Alice for the very first time, he throws his bronze dagger like a normal human would, straight for Alice's torso, as if he's returning the favor; however, as it travels even before midway of the distance between the two of them, he causes it to repulse, accelerating and increasing its momentum by a large percentage. As soon as the dagger starts to propel from the magnetic force, he assumes his normal standing position to ready himself for Alice's counter-attack.
Alice: Noticing the movement of the light from his lamp before he actually makes his way into the room's entrance, Alice is ready for an attack, and begins to turn and dodge the knife before it even leaves Godfrey's hand. However, she has no way to anticipate the weapons' sudden acceleration, and it drives deep into her left side; missing anything vital but causing significant and persistent bleeding. For the moment, she neglects to remove the blade as she winces and drops her weapon, the pain briefly clouding her mind but her plan still clear. She disappears in a cloud of shadows and reappears outside the room. Then, as quickly as possible, she forms a door from the shadows in the entrance-way; complete with a latch accessible only from the exterior, she attempts to jam it shut on her opponent and seal him in the room. 
Godfrey: Given the time when Alice is still distracted from her injury, he detaches one of his keys again, which turns into the same bronze dagger. As soon as the shadow door almost seals him inside, he drops the dagger beyond it, in front of Alice. A few seconds later, he finds himself inside the maintenance room, clearly trapped by the dark door. He presumes that his opponent must be thinking that she has gained the upper hand, given his state, but he shrugs it off. He then turns around to get a glimpse of the room via the light of his headlamp. The wooden rotting shelving looms in the corner; the light reveals something in the ceiling, so he adjusts his aim to clearly see it. With the headlamp lighting up the ceiling better, it reveals an air vent, big enough for him to fit in somehow. A long electrical cord also dangles from the air vent, possibly a cord for the lights outside, which are now not working. Without further ado, he uses the shelving to climb towards the vent, ignoring the cracking sounds made by the rotting wood. A few moments later, he removes the lid of the vent, grabs inside of it, and hoists himself up with the help of the topmost part of the shelving. He squeezes himself in, pulls the cord to himself, which has a length of about a yard, and crawls inside the dry, dirty and cobweb-ridden vent. Moving slowly like a worm underground, he passes across the border of the room and back into the platform outside. Another opening of the vent greets him with a view of Alice directly down below a few seconds later, with his two daggers lying on the floor. With the electrical cord tailing behind him ending in his left hand's tight grip, he causes the lid of the air vent to repulse away from its attachment, attempting to knock her out with the force of the lid's fall. Him, over the course of this move, moves even closer to the vent's opening, waiting for the right moment.
Alice: As Godfrey makes his way into the vent, Alice takes notice of her wound and, using a hastily created knife, tears a long section of her coat off; removing the blade and tightly wrapping the section around her waist to stem the bleeding. Hearing the cracking sounds made by the rotting wood of the shelving,and the sounds of Godfrey's movements echoing out of the vent above her, she realizes that her plan wasn't quite as successful as she thought, and backs away from it; dematerializing her knife, dagger, and the door in the process. The vent's covering slams to the ground, but misses Alice thanks to her caution, and the bright glow of Godfrey's headlamp illuminating the vent opening. She hastily creates a crossbow from the shadows and trains it on the vent, its bolt loaded and ready to fire.
Godfrey: Witnessing her create another weapon, a crossbow to be precise, he decides to use his powers once again, despite the fact that his energy is already depleted by almost a half. If he drops down from the air vent's opening without any sort of defense, he would surely be shot down, possibly at point blank range. He quickly withdraws himself from the opening to prevent being shot, then causes the magnetic force around him to form a shield big enough to fit with him in the opening and to shield his neck and torso at the same time. He slowly assumes a low crouching position, then moves for the opening. Cursing under his breath, he jumps from the opening in the form of a free fall, still in crouching position and his head tucked to try and accommodate his body under the protection of the shield. His arms' skin, however, gets lightly scraped from the edges of the opening. Upon landing almost a few inches from her, his lower legs reveal themselves from the impact, leaving these vulnerable to any incoming attack.
Alice: Watching as he commits himself to the drop, Alice waits for him to impact the ground; knowing that it will be impossible for him to dodge as he lands. However, she doesn't take aim at a particular body part, instead looking to hit his center of mass; unaware of the shield he created. With its bolt expended, the crossbow disappears; replaced by a large shield and short sword. Although pained by her wound, and exhausted from extended power use, she charges him immediately; attempting to ram him with her shield and keep him off balance.
Godfrey: The reality of exhaustion suddenly seeps in as he tries to avoid Alice's attack; he bashes his shield to parry hers instead. While channeling strength to prevent her from overcoming him, he detaches another key, which turns into the same dagger minutes ago. However, the pain from his stab wound starts to kick, sharply weakening his parrying against Alice. His greatest fear at the moment comes true, and he completely loses balance; however, he hasn't thought of falling without any action taken. Risking more of his energy, he takes off his grip on the shield's handle, then repulses it forcefully against Alice's shield to try and stall for time as she staggers from the repulsion; however, that will only happen, should his repulsion becomes successful.
Alice: With no way to anticipate the shield's repulse, Alice staggers backwards several feet and reorients; drawing as much of herself behind her shield as possible and regaining a little ground. Poised to strike again, she speaks for the first time, attempting to mask as much of the pain in her voice as possible. "I do not want to kill you, son of Koios. Remove your lamp, swear that you will not fight me again, and you can walk away from here. I swear this, on the River Styx."
Godfrey: During the time given when Alice staggers from the repulsion, he slowly stands up, almost on the verge of complete exhaustion. His clammy and sweaty hand clutches loosely on his dagger, still gathering up his remaining strength to fight her. Hearing her words, he glares at her with piercing eyes, trying to tell her that he will not back down, not this time. By the light of the headlamp, his eyes appear to be glinting of some sort. No swearing to an oath-ridden river will let him do anything against to the real purpose of him coming here. He waits intently for her reply, should she gets his message.
Alice: She appears saddened by his lack of reply, but shrugs in resignation. Gathering some of her remaining energy, she creates a small point of complete darkness just large enough to cover Godfrey's head lamp, preventing any light from escaping. With this done, she resumes a defensive stance, and says: "Then, thank you."
Godfrey: He takes a step forward to try and stab her once more, but as if along with the sudden escape of his headlamp's light, he abruptly freezes in place, his energy deprived out of him. In a matter of seconds, his body falls forward at its own will and he collapses onto the broken flooring in front of her, unconscious. His sweaty hand loses grip on the dagger, making a clunking sound as it also drops on the floor right beside its owner.
Judging
Judge
Godfrey/Hyu
Alice/Flame
Points Possible
Bach

Grammar/Spelling -4
Defensive -6
Offensive -6
Fairness -18
Balance -10
Strategy -3
Creativity -14
Effective Char Use -15
Judge's Discretion -3

Grammar/Spelling -5
Defensive -8
Offensive -8
Fairness -19
Balance -10
Strategy -4
Creativity -14
Effective Char Use -18
Judge's Discretion -4

Grammar/Spelling: - 5
Defensive - 10
Offensive - 10
Fairness - 20
Balance - 10
Strategy - 5
Creativity - 15
Effective Char Use - 20
Judge's Discretion - 5

Sub Total
79
90
100
Kevin

Grammar/Spelling - 5
Defensive - 7
Offensive -7
Fairness - 18
Balance - 10
Strategy - 3
Creativity - 14
Effective Char Use - 16
Judge's Discretion - 3

Grammar/Spelling - 5
Defensive - 8
Offensive - 9
Fairness - 19
Balance - 10
Strategy - 4
Creativity - 14
Effective Char Use - 18
Judge's Discretion - 4

Grammar/Spelling: - 5
Defensive - 10
Offensive - 10
Fairness - 20
Balance - 10
Strategy - 5
Creativity - 15
Effective Char Use - 20
Judge's Discretion - 5

Sub Total
82
91
100
Total
161
181
200
Alice/Flame win!

Are you the food? No, we are the hunter! ~Eren Jaeger (Kevin)

Community content is available under
CC-BY-SA
unless otherwise noted.