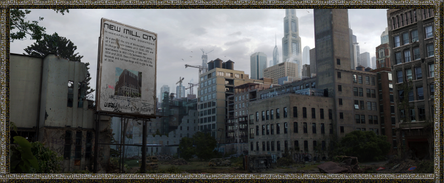 This arena is essentially a small abandoned city, overgrown with vegetation and some of the buildings crumbling in decay.
Located in the middle of the arena is a small abandoned park, with a pond
This arena has all the typical things you'd find in an abandoned overgrown city, everything from flat surfaces to small buildings to tall skyscrapers, some crumbling, some still standing, lots of dark places to hide, including an underground subway tunnel. There are abandoned cars, and things can still be found within the buildings, perhaps even a few stray cats or dogs, or some smaller creatures such as rats and spiders.
The arena is open to the sky and elements
This arena also possesses a more rural arena, possessing large mansions, estates and houses.
Introduction
Kylie Shay Daughter of Apollo
She's standing at the entrance of what seemed to be a hospital, fiddling with her bow nervously. She's wearing a pair of combats boots with two small daggers hidden inside them, a light Celestial Bronze breastplate, arm guards that cover her lower arms and leg guards that cover her lower legs. A quiver full of assorted arrows are slung behind her back. Some of them are regular wooden arrows, others Celestial Bronze arrows, while a few are sonic and fart arrows. Another dagger is hidden inside her left shirt sleeve. As she waits for her opponent, she starts thinking of a plan.
Elisabella -Child of Hypnos
-Leader of the Pyrros Gang
 –
Age= 17     Height= 5'7     Weight= 119 lbs lbs     
Sexuality= Straight     Relationship Status:= Single
Health Status= Healthy
16:31, June 5, 2013 (UTC)

She walks into the arena and spots Kylie right away. She brandishes her thin celestial bronze sword, carefully analysing her opponent's reaction. Elisa is wearing very light armour, which glints silver as she walks towards the building Kylie is in front of. At her waist is an extra sword.
Kylie Shay Daughter of Apollo
The minute she saw Elisabella, she immediately put her guard up, especially after spotting Elisabella's weapon. She grips her bow in her left hand before managing a small nervous smile. She calls out to Elisabella who was still a few meters away. "Good luck to the both of us, then?" She moves onto the balls of her feet, as though preparing to run at a second's notice.
Elisabella -Child of Hypnos
-Leader of the Pyrros Gang
 –
Age= 17     Height= 5'7     Weight= 119 lbs lbs     
Sexuality= Straight     Relationship Status:= Single
Health Status= Healthy
22:18, June 5, 2013 (UTC)

She gives a smile which quickly turns into a smirk. "Thanks, but I don't need luck." She flicks her wrist, making her sword twirl around in the air. She subconsciously leans forward, anticipating their approaching fight.
The Fight
Kylie: Without a moment's hesitation, she raises her right hand and concentrates but keeps her eyes on her opponent. A disk of bright light as wide as her wrist appears and from it, a small beam of light shoots towards Elisabella. Directly afterwards, she conjures up a boomerang made from light and throws it at her opponent so that, if Elisabella manages to dodge the beam, there would be the boomerang to answer to.
Elisabella: She bounces back and forth on the tips of her feet, finally deciding to veer towards the right, narrowly avoiding the beam. She braces herself for the force of the boomerang, which hits her left side, scorching the armour but leaving her relatively unharmed. Elisabella quickly conjures up a field of poppies, prohibiting Kylie from seeing her. Meanwhile, she begins to meditate, using her slight healing powers in the process.
Kylie: With the disadvantage of not being able to see her opponent, she knew better than to charge into the field of poppies. She ran inside the building and up the nearest flight of stairs, thinking that it would be easier to see Elisabella from a higher place. As she ran, she took in one of her arrows and readied it. Due to the building having been abandoned for what seemed like a long time, many of the doors have either been eaten away by terminates or have fallen off of their hinges. She enters a room which was almost directly above the entrance, thus overlooking the field of poppies. With a swift kick, she breaks open the window overlooking the street, causing glass to shatter and fall onto the ground below. She takes a shooting stance and scans the field of red poppies for her opponent. She sees Elisabella after a while, thanks to Elisabella's hair color contrasting with the red flowers, and immediately shoots her readied arrow which she followed up with another arrow.
Elisabella: A few shards of the broken glass hit the ground near Elisa, causing her to stir. She weakens from her brief meditation, then rapidly runs towards the entrance of Kylie's building, hoping to evade her arrows and confront her. Meanwhile, she forces a wave of exhaustion/sleepiness towards her.
Kylie: Seeing Elisabella run, a wave of fatigue came over her. In the span of a few seconds, she decided to look for a different place to confront her opponent head-first. Slinging her bow on her back, she climbs down the rusty fire escape situated beside the window. Due to the fatigue, her grip became weaker than normal and she fell down the last few feet. She felt a light throbbing on her left left foot. She ignored it, knowing it would heal soon. She took out her hidden dagger but went in the direction of the park instead of going after Elisabella. With the fatigue slowing her down a bit, she summons a cloak made of light which would hopefully keep her from being seen and hopefully giving her enough time to recover from the fatigue.
Elisabella: She smiles at herself, having managed to successfully dodge the arrows, though her expression morphs into a frown as she searches for Kylie. Frustrated, her pace slows, and she starts scanning the area with more scrutiny. Come out, come out wherever you are. Come out and fight! She raises her sword
Kylie: Soon, the fatigue wore off. Unfortunately, at the same time, her cloak disappeared, leaving her out in the open with no source of protection other than her weapons. As she had not gone more than a few meters away from the hospital, she kept still for a few moments, trying to catch the sound of Elisabella pursuing her.
Elisa: When she spots Kylie in the open, Elisa rushes forth in her direction, with her sword outstretched. As she reaches Kylie, she swings her weapon, aiming at Kylie's right side.
---
Ruby has last post so Isa wins
Community content is available under
CC-BY-SA
unless otherwise noted.