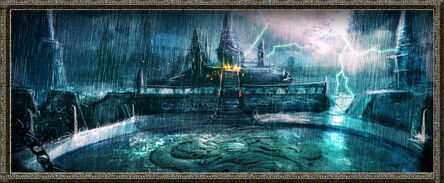 Both very deep and shallow water areas, ranging from 20 feet deep to a few inches
A tunnel deep down goes out to the ocean where other creatures could be called in
There's plenty of dry areas as well for users not Palaemon or Poseidon kids, that are covered with anything ranging from sand to grass to some small vegetation/shrubs
There are some trees around the sides of the arena and below the cliffs (not shown in picture) that can be used for cover and provides plenty of places for shadows
There are also cliffs around parts of the Arena, ranging in height, with both water and land below them, the cliffs also cast shadows on the arena below
The arena is open to the sky and elements
On each end of the arena, on top of some large pillars, are pyres, full of fire and wood. The fire that burns within the pyres can not be extinguished, but if the fire is removed from the pyres, it can then be put out.
The Fight
Halston: He walks on a dry spot, kicking the sand out of his feet, and makes a ball of light. He looks for an opponent to fight, and manipulates the ball a little, having it float in circled laps around Halston
Morrigan: She shadows travels to beneath a cliff, seeing Halston from afar. She has bound her fists again and is wearing thick leather armour on her upper body. Her scythe is still in ring form.
Halston: He looks up and hears something. In his fist forms a blade made of pure light. He holds the blade out, and calls Hello? Is anyone there? I'm here to fight, not hide like a coward. He appears to be calm, and has the ball of light survey the area, and swoop into certain cliffs, trying to find Halston's foe.
Morrigan: Still in the shadows, she forms a small astral scythe and throws it at Halston, to get his attention. I am not cowardly, I fight to my strengths. She taps her ring, so her scythe is transformed.
Halston: He turns and blocks the scythe with his light-blade. He has the ball of light move to reveal Morrigan's position, hoping to see his opponent for once. Even as you defend yourself, it's all just a delusion one plays to hide their emotions. You are a coward, through and through.
Morrigan: She sees the ball coming towards her and panics. The ball lights up Morigan's scowling face for a second before she shadow travels again to the top of the cliff, under a tree. She forms a large astral scythe in her hands and sits beneath the tree. Bastard. You know nothing.
Halston: He smiles as he sees her sit beneath a tree, but becomes hesitant when he sees the scythe in her hands. I know more than you think, girl. For example, I know where you are. He jumps, then flies over to her, swing his blade at her general area.
Morrigan:She raises her blade to block the attack, but at the last moment she smirks and shadow travels beneath the cliff. There she whispers to herself Be strong. Calling up to Halston she screams I may be a coward, but I sure can move faster than you!
Halston: He sighs as he sits down and quietly hums as the ball of light searches for Morrigan, before turning his blade into an English Broadsword. I may be slow, but at least I try to fight. You came here on Ares' call did you not? Why not deny the god the blood-shed he wants as you hide from the light. The ball of light seems to glow brighter as it approches Morrigan's cliff.
Morrigan: She sees the ball coming towards her and doesn't flinch, her scythe ready. I simply prefer the shadows. As the ball comes even closer to Morrigan, she steps out from under her cliff.
Halston: He sighes as he makes the Ball dash back and forth infront of Morrigan, to incapitate her, and he jump-flies over with a slash from his light-sword. And the Light tends to outshine every shadow it faces. Even you, daughter of the Underworld, must accept this simple fact.
Morrigan: The ball of light dances in front of her, chasing the shadows away. She closes her eyes and blindly swipes her scythe in front of her, managing to slice the ball of lght in half. She opens her eye again to see Halston and glares at him, then charges, swinging her scythe at his neck.
Halston: His blade blocks the scythe by an inch, but still pushes him back a bit. He pushes back, creating another ball of light, but larger and more bright. It comes to Morrgian to blind it with searing light once more. As she is being assalted by pure light, Halston aims a vertical slash at Morrgian's upper torso.
Morrigan: Morrigan is pushed back and misses the blade as she runs', summoning a recently dead Afghan soldier to fight for her.She conceals herself in the shadows beneath a cliff, and forming an astral scythe ready to attack when the ghost is exhausted.
Halston: He assalts the solider, slashing at it in various places, re-opening old wounds, before attempting to decapitate it with a slash from his blade. He smiles at his handiwork, and the ball of light tries to track Morrgian again, glowing brighter.
Morrigan: She watches her ghost get defeated and sent back to the Underworld and moves around the ball of light, still concealed in the shadows, as it tries to track her. She moves into Halston's shadow and emerges from her concealment to swipe at his knee joints with her astral scythe.
Halston: He's a bit shocked at her sudden attack, and is cut down at the knees. While he is in a large amount of pain, he's not fazed in the sightest and floats up, swiping again at Morrgian's neck.
Morrigan: Morrigan isn't entirely prepared for a counter attack, and spins, receiving a long gash on the back of her neck. Growling softly in pain, she spins around again to face Halston and throws three small astral scythes at him; two at his knees and one at his chest.
Halston: He creates a cloak of light, blunting the scythes to the chest while blocking the scythe to the neck. His blade turns into a bow, and Halston fires 3 light arrows, each in quick succession, one at her chest, one at her head, and another at her feet.
'Morrigan': Realising as soon as Halston's weapon changes that she is in trouble, Morrigan runs through a shadow, travelling into Halston's shadow again, but not before one of the arrows hits her leather armour square between her shoulders, peircing the leather and wounding her back. In Halston's shadow, she raises her scythe, Melancholia, and sweeps it downwards, hoping to cleave Halston in half down the back.
Judging
Judge
Rider & Halston
Bird & Morrigan
Points Possible
Bach

Grammar/Spelling -3
Defensive -5
Offensive -5
Fairness -18
Balance -5
Strategy -2
Creativity -8
Effective Char Use -11
Judge's Discretion -2

Grammar/Spelling -4
Defensive -4
Offensive -4
Fairness -18
Balance -6
Strategy -2
Creativity -9
Effective Char Use -10
Judge's Discretion -1

Grammar/Spelling: - 5
Defensive - 10
Offensive - 10
Fairness - 20
Balance - 10
Strategy - 5
Creativity - 15
Effective Char Use - 20
Judge's Discretion - 5

Sub Total
59
58
100

Grammar/Spelling - 2
Defensive - 5
Offensive - 5
Fairness - 15
Balance - 5
Strategy - 2
Creativity - 10
Effective Char Use - 10
Judge's Discretion - 2

Grammar/Spelling - 3
Defensive - 5
Offensive - 5
Fairness - 15
Balance - 6
Strategy - 2
Creativity - 10
Effective Char Use - 8
Judge's Discretion - 2

Grammar/Spelling: - 5
Defensive - 10
Offensive - 10
Fairness - 20
Balance - 10
Strategy - 5
Creativity - 15
Effective Char Use - 20
Judge's Discretion - 5

Sub Total
57
56
100
Total
116
114
200
Rider wins
Community content is available under
CC-BY-SA
unless otherwise noted.