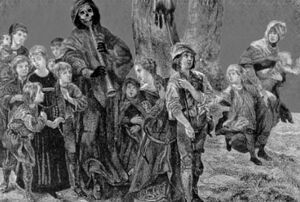 This is the page where all the currently existing Mortiads and Mortios of the wiki can be found. Here you can see the events each death nymph is the spawn of, and also the rules and guidelines to creating a death nymph for yourself.
Please sign up your name, nymph's name and event in the sign up table.
Rules/Etc.
Rules
These nymphs are created, NOT born and NOT turned.
The first was created from the massive amount of death that occurred in WWII/Holocaust, so it any new death nymphs can NOT have been created or born prior to WWII.
They must be created based on an event that created a ton of deaths. (So, not hundreds, but thousands).
They can only be created by Hades, Thanatos, Melinoe or basically anyone that has anything to do with the Underworld.
Only one nymphs/spirit per event.
See Demi if you have any questions.
Sign-up is on the table below.
To edit go here:
Supplementary
They have the ability to Shadow Travel, a sort of teleportation; the further the distance, the more energy drained.
They are able to call forth recently dead spirits to aid them for a short time.
They have the ability to resurrect a single undead corpse which will fight, mindlessly, alongside them until it is broken down or dismissed.
They can 'revive' small dead animals (like around as big as a dog or smaller, anything too big like a horse or like a human they can't) to a state of 'undeath', where they are like regular animals, though with skin missing, bones sticking out, kinda like a zombie version of the creature, and animals that she 'revives' are under her control.
They can put someone in a deathlike coma for several hours. The more powerful they make the effect the more energy they use.
Passive
They are able to see the lifespan of others, but are forbidden to speak of it.
They can sense any death, mortal or monster.
They can communicate with the dead
They are able to have physical contact with ghosts, as in being able to touch them and feeling them as if they where alive.
They are able to come and go as they please to the underworld
They have a telepathic/empathetic connection with nature and other nymphs
As they are nymphs they do not age, remaining eternally young.
Traits
They generally have morbid personalities.
They are not frightened by death
They radiate death.
They tend to have dark attitudes
They like shadowy places.
Sign Up
REMINDER: The event may not be prior to 1939, the event may not be already in use and the event must have a death toll in the thousands to count (look at it this way, roughly 150,000 people or so die every day around the world, as a rough estimate, so a few hundred deaths wouldn't really make a big dent in business as usual for the underworld)
Event
Dates
# of Deaths
Nymph
User

Yellow = Serious Issue with Page/on Lock Down




Grey = Page is still a WIP project and not yet claimed/made




Pink = Minor issue with Page/technically not a sufficient amount of deaths in the event for creation of a death nymph

World War II/Holocaust
1939-45
71,000,000
Malice
Ob (User Left)
Arduous March (North Korean Famine)
1994-98
3,500,000
(WIP)
Hyu
Expulsions of Germans after World War II
1945-50
3,000,000
Oskar
Evil
Mao Zedong era 1949–1976
1949-76
78,000,000
Fei Yen
Kevin
Korean War
1950-1953
1,200,000 (Est.)
Harrison
Oli
REMINDER: The event may not be prior to 1939, the event may not be already in use and the event must have a death toll in the thousands to count (look at it this way, roughly 150,000 people or so die every day around the world, as a rough estimate, so a few hundred deaths wouldn't really make a big dent in business as usual for the underworld)
Event
Dates
# of Deaths
Nymph
User
If you use an event listed here, please move it from this list to the events already in use list.
Massacres of Poles by the Ukrainian Insurgent Army
1943-44
130,000
Japanese occupation of the Dutch East Indies
1944-45
2,400,000
Indonesian killings of 1965–1966
1965-66
2,000,000
Nigerian Civil War
1967-70
3,000,000
1971 Bangladesh genocide
1971
3,000,000
Hanoi and Red River Delta flood
1971
100,000
The failure of 62 dams in Zhumadian Prefecture
Aug 1975
230,000
Cambodian Genocide
1975-79
3,000,000
Soviet War in Afghanistan
1980-88
2,000,000
Iran–Iraq War
1980-88
2,000,000
1983–85 famine in Ethiopia
1983-85
1,000,000
Second Sudanese Civil War
1983-2005
2,000,000
Rwandan genocide
1994
1,000,000
Vargas Tragedy, landslide
1999
50,000
Gulf War
1990-1991
20,000-35,000
Great Chinese Famine
1958-62
55,000,000
Vietnamese Famine of 1945
1944-45
2,000,000
First Indochina War
1946 - 1954
594, 000- 794, 000+ (Est. Only)
Vietnam War
1955 - 1975
1,102,000–3,886,026
War in Afghanistan
1979–Present
2,000,000
9/11 Bombings
11 Sept 2001
3,000
Sudan Famine
1998
70,000
North Sea flood
31 Jan 1953
2,400
External Links