1.Type of Pet: Pomeranian Puppy
2.Character who owns pet: Sapphire Calder
3.Pet name: Biscuit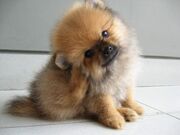 4.Why does the character have this pet: Sapphire found the puppy while she was in Town, nearby the bookstore in the middle of the day. Biscuit's old owner had just left him inside a box with no holes for the puppy to breathe. As soon as the stranger left the puppy, she ran towards the box, as she had heard a few barks. She then proceeded to open the box, where she saw the Pomeranian puppy. She pulled him out and made sure he wasn't bloody. She wouldn't take the risk, so she took him to the veterinary, where they made sure the pup wasn't injured. She later adopt the puppy as her own, naming him Biscuit. It was an odd name, but the fur's color reminded her of her favorite food. Biscuits!
5.Any special abilities: Nah...
—This unsigned comment was made by FizzyMalik' (talk • contribs) . Please sign talk pages and forum posts with four tildes: ~~~~. Log in to keep track of your comments and maintain your identity on the wiki.
Community content is available under
CC-BY-SA
unless otherwise noted.