Darkness/Night/Underworld Arena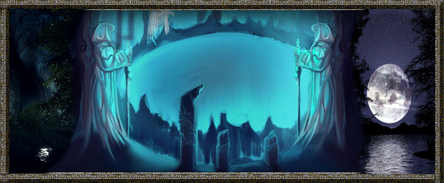 On the top side of this arena it is a typical landscape, a pond in the middle, trees, however it is charmed to be eternally night, with the stars and moon in the sky
Located in the middle of the arena on the top side is a small grave yard
At a few various point around the arena are dark caves going deep down into the underworld, this part of the underworld has been sealed off from the rest, so that anyone may gain access no matter who their god parent
The arena is open to the sky and elements, but as there are caves down into the underworld, there are areas of the arena that the sky access is limited
At the centre of the underworld, there is a medium sized temple, it is the darkest at this point and there are pyres, full of fire and wood, at the entrance to the temple. The fire that burns within the pyres can not be extinguished, but if the fire is removed from the pyres, it can then be put out.
Inside the temple are various Greek statues, roughly 6 feet tall
Before Fight
---
As it says in the general rule on Forum:Counsellor Challenges:
| | | |
| --- | --- | --- |
| " | The user challenging is responsible for leaving a notice, both on the character page of the current counsellor, and the cabin page, that they are challenging, and what position they are challenging for, as well as messaging the user OOC on their talk page. (So in three places). | " |
Due to the challenger, Alexandra/BookTwerk, having not left a comment on the cabin page which the challenger is responsible for doing, the challenged, Audrey/Onyx, wins by default. No changes are needed to be made.
|-|-|-|-|-|-|-|-|-|-|-|-|---~Kevin---

Even if you end up as the world's enemy, I'll be your knight.

Community content is available under
CC-BY-SA
unless otherwise noted.