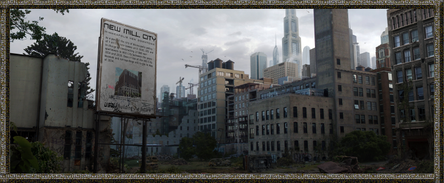 This arena is essentially a small abandoned city, overgrown with vegetation and some of the buildings crumbling in decay.
Located in the middle of the arena is a small abandoned park, with a pond
This arena has all the typical things you'd find in an abandoned overgrown city, everything from flat surfaces to small buildings to tall skyscrapers, some crumbling, some still standing, lots of dark places to hide, including an underground subway tunnel. There are abandoned cars, and things can still be found within the buildings, perhaps even a few stray cats or dogs, or some smaller creatures such as rats and spiders.
The arena is open to the sky and elements
This arena also possesses a more rural arena, possessing large mansions, estates and houses.
Analeese Nicole Sterling

~ Head Counsellor of Nemesis' Cabin


"To take revenge halfheartedly is to court disaster; either condemn or crown your hatred." - Pierre Corneille

Analeese walks into the urban arena. She is clad in CB scale armour, which allows her freedom of movement without sacrificing too much protection. It is black, to blend in with the darkness and to represent the nature of the Nemesis cabin. The armour is made up of a standard scale curiass, gauntlets to protect her hands, a pair of greaves and hard-wearing leather boots, she wears a black t-shirt and a pair of leggings underneath to maximise comfort. A crossbow is attached to her back, alongside a quiver which contains several quarrels, some with a broadside tip to maximise bleeding damage and some with a bulletlike tip to pierce armour. Her long-sword is clipped to her belt, magically sheathed in the form of a small police baton and slung next to herlight snakewhip and a small sheath of throwing knives.Her hazel eyes scan the arena, as she walks down a street filled with abandoned cars and decrepit buildings. The battle was yet to start, and she decides to scan her surroundings first before confronting Tae-Hyun in the battle. If it becomes a cat and mouse game, a superior knowledge of her surroundings could give her a massive edge in knowing whether to pursue him or where the higher ground was. Revenge was a dish best served cold after all, and she is nothing if not an archetypal daughter of Nemesis. She makes a plan and waits for Tae-Hyun to find her.

Character's Bio


-Rider's Revenge ~ Daughter of Nemesis
 Age: 17  Height: 5'8  Weight: 140 lbs.
 Sexuality: Heterosexual  Relationship Status: Single
 Birth Place: Salt Lake City, Utah  Main Weapon: Ηχούς (Whip), Swords, Crossbow

 – "If you prick us do we not bleed? If you tickle us do we not laugh? If you poison us do we not die? And if you wrong us shall we not revenge?" - Shakespeare

Character's Powers

 ====Offensive====

Children of Nemesis have the ability to send a small wave of energy which will cause anyone affected to lose their balance and fall; after the effects have worn off, a person is immune to further effects of this for a moderate time.
Children of Nemesis, after receiving a wound, are able to empower their next successful attack, causing it to do more damage than it normally would.

Defensive

Children of Nemesis can create a field of energy around them that causes all people nearby to lose their balance fall to the ground and continue to fall if they try to get up; the user is drained the longer the field is sustained.

Passive

Children of Nemesis are innately balanced and are great at climbing.
Children of Nemesis have innate reflexes which allows them to fight and dodge quickly.

Supplementary

Children of Nemesis are able to empower a wounded ally with the fervor to achieve vengeance upon the one who wounded them; this effect greatly increases the strength and speed of the ally when they fight the one who wounded them until vengeance is achieved.
Children of Nemesis have the ability to cause someone near them to regard others with no personal favor or disdain and consider everything based purely upon facts.

3 Months After Character is Made

For every attack against them, Children of Nemesis have the ability to create a counter-attack that is equal in force to the attack made against them. The user is temporarily vulnerable and weakened after each use, so they must be used sparingly

6 Months After Character is Made

Children of Nemesis have the ability to link themselves and another person into a state of pure balance, forcing the other person to mirror the child of Nemesis' movements without the ability to move of their own accord and while this link is sustained, any wound that either of the two suffers, the other suffers it as well; once the link is broken, on top of retaining any wounds sustained while linked, the child of Nemesis is greatly drained and unable to fight for a moderate time.

9 Months After Character is Made

Children of Nemesis can create a field around them, and anyone within that field has their demigod powers neutralised for a short time, anywhere from a few seconds to a few minutes, this puts anyone fighting around the child of Nemesis on even turf as they all can only use their melee/hand to hand combat skills to fight with. While the child is perpetuating this field, they are not able to attack themselves and are vulnerable.

Traits

Children of Nemesis tend to be well balanced people
They can tell when someone's life is out of balance with either too much good or too much bad

Owned by:

Fate

~ Posted on: *the time, which is the quote, in this case*
---
The challenged, Tae-Hyun/Oli, has not replied within 7 days of the post made by the challenger, Analeese/Scales. Therefore the challenger, Analeese, wins by default. Please make any changes necessary.
|-|-|-|-|-|-|-|-|-|-|-|-|---~Kevin---

Even if you end up as the world's enemy, I'll be your knight.

Community content is available under
CC-BY-SA
unless otherwise noted.