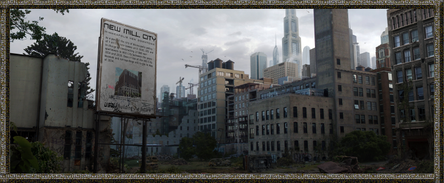 This arena is essentially a small abandoned city, overgrown with vegetation and some of the buildings crumbling in decay.
Located in the middle of the arena is a small abandoned park, with a pond
This arena has all the typical things you'd find in an abandoned overgrown city, everything from flat surfaces to small buildings to tall skyscrapers, some crumbling, some still standing, lots of dark places to hide, including an underground subway tunnel. There are abandoned cars, and things can still be found within the buildings, perhaps even a few stray cats or dogs, or some smaller creatures such as rats and spiders.
The arena is open to the sky and elements
This arena also possesses a more rural arena, possessing large mansions, estates and houses.
Gerald Jerome Michaelson




Dionysus Camper

 

He walks into the arena wearing his full set of armor, which covers his entire body, from head to toe in steel and an extremely hard leather armor. On each of his gauntlets are a retracting blades, which can be flicked out a moments notice. His bow staff bag hangs from a belt at his waist, the belt also holds up his two daggers, swords, and his pen, which turns into a dual ended spear with spiraling ends. Gerald's shield is attached to his left arm. Gerald runs to a nearby parking garage, which is near the center of the area, he finds a flipped transit bus and he climbs onto it. He then grabs some dangling steel cables and climbs up to the 3rd floor of the of the 5 floor parking garage. There are cars flipped and strewn around in the 3rd floor of the garage, and some of them are on fire... Gerald hugs to one of the pillars and watches the streets through a hole in the 3rd level's floor.

  Beauty is worse than wine, it intoxicates both the holder and beholder.

Character's Powers

 Powers: 3/6/9 Month

Children of Dionysus have the ability to force a state of mild drunkenness on another person for a short time.
Children of Dionysus have the ability to cause a group of people to become irrational and fight amongst themselves for no reason for a short time.
Children of Dionysus can null the pain of any wound for a short time.
Children of Dionysus have the ability to go into a drunken state where they become unpredictable and are near impossible to hit with an attack.
Children of Dionysus have an innate partial resistance to the effects of alcohol.
Children of Dionysus can turn any beverage into wine
Children of Dionysus have the ability to create ropes of grape vines which can be used for a multitude of purposes.
Children of Dionysus have the ability to slightly calm the minds of everyone near them, no matter what side they are on.
Children of Dionysus can curse someone to have the effects of a really bad hang over for a short time (i.e. vomiting, headache, etc.)
Children of Dionysus can cause someone to hallucinate things that aren't really there, the longer they maintain the hallucinogenic state the more energy it drains.
Children of Dionysus are able to turn into a leopard for a short time, the longer they remain in this state the more energy it drains, and once morphing back they must rest before turning again

Owned by:

Slay ~ Avin


Posted on: 23:03, December 29, 2013 (UTC)
[[File:|145x0px]]

[[|Talikha]] [[|-Child of Dionysus]]
-Daughter of Wine
 Age: 16  Height: 5'6  Weight: 132 pounds
 Sexuality: Straight  Relationship Status: Single
 Health Status: Healthy  Main Weapon: Knifes
 – If you look up, there are no limits

she walks in and goes into the very middle of the arena. Her armor is made of thick leather, covering her chest, wrists, one arm, legs, and back. She's wearing a finger tab on her right hand and an arm guard made of metal on her right wrist and arm. A quiver with 20 arrows is slung across her back. She slips an arrow into her simple wooden bow, inland with celstial bronze. She points it downwards and looks around. Her normally down hair is tied down in a braid, showing off a pair of golden earrings. She allows her eyes to explore the landscape and squints at a building. Het eyes narrow. "Do come out soon." she says to the air.
The Battle Begins
Gerald: He talks to a building using the walls to echo his voice around so that his opponent cannot discern where he is, "You wouldn't want me to make you feel pain would you???" Gerald turns slightly and he can see his opponent in the side mirror of a tractor trailer truck. He grins, ready to make sure that he wins this fight.
Talikha: she smiles. "Sometimes pain can wake someone up, Gerald." she looks at an old car's windshield about 6 yard from her. She spots him. "Here we go." she studies the area  before firing an arrow at the corner of a building, no where near Gerald.
Gerald: He grins, realizing that Talkikha is trying to draw him out into the open. He decides to give her just what she wants. Gerald runs from the 3rd level of the parking garage, jumps down a hole into the second level, and then out the side, and then onto a bus that is behind his opponent. He leaps off of the bus and charges at Talkikha from behind, with his shield raised so that he can bash her to the ground.
Talikha: she hears him coming from a mile away. At this moment, the arrow she shot at the building takes a chuck of the crumbling wall out with it and hits a metal pole at such it angle it changes directions and come spiraling back at Talikha, though at a less speed then before. It sails through the air towards the both of them. Talikha steps to the side to avoid the arrow and spins around. The arrow heads straight for her opponent. "Thank you physics." she mutters Hoping it to distract him, knowing well it wouldn't hurt him, Talikha touches one of her golden earrings. It turns into a hunting knife, maybe 8 inches long, a slight curved blade with rigid edges. She grips it and slings her bow across her back, ready for when Gerald would come at her in her least favorite form of combat, hand-to-hand.
Gerald: The arrow, obviously being slower hits Gerald's shield with a small chink noise. As Gerald runs towards Talikha he brushes his shield against the open door of a flipped upside down car to knock off the arrow. Gerald continues running towards his opponent and when he gets to be 10 to 11 feet away from Talikha he sprints forward, shield raised in an attempt to smash his opponent into the open door of a school bus, that is four feet behind Talikha.
Talikha: she drives into the school bus and stumbles to the back, ducking to the floor. The back door is wide open. Talikha waves her hand. It doesn't effect her, but she knows that Gerald will start to see things. Hallucinate things that aren't really there. Perhaps someone he knows, or maybe herself, sprinting away, giving her time to give him a quick shot with her arrow in a chink and end this quickly, or maybe even a monster. Despite herself, she touches the hilt of the knife and it turns back into a earring, which she sildes into pierce quickly. She takes her bow of her back and loads arrow, holding her breath to see what would happen next.
Gerald: Gerald isn't even bothered by the attempted hallucination, and he skids to a stop, putting a hand on the bus to keep himself from smashing into. Gerald decides against climbing into the bus, so he quickly walks around to the to the front of the bus, and clambers up onto the hood of the bus, and then jumps up onto the roof of the bus. Which causes the bus to shake with each step he takes. "Come out. You can't hide in there forever. You see, you have a choice or two. You can continue fighting me, or you can surrender and we can be friends afterwords..." Gerald pulls his pen out of his belt loop, twists the opening piece, and the pen transforms into his dual ended spear. "Oh come out. Come out why don't you? We both know you're going to lose at this point." Gerald grins and continues to pace ontop of the bus, waiting for his opponent to come out or surrender.
Talikha: she swears quietly to herself. She puts her bow down, touches her earring, takes her knife, and slams it into the bus floor. She begins to cut a large hole to escape from. Hoping to stall him, she speaks. "What about we keep going, and no matter what happens, we still become friends afterwords. No harm, no foul, right? After all, the fight is the fun part. I can tell you're having... she pauses to curve the knife....a ball.You must have years of more pratice then me, since you're so old." she finishes and kicks the hole in, leaving a small roughly cut circle in the bottom of the bus, close to the back to there's no parts she could hit. Sweating with effort, she slides out, the rough patches cutting her skin as she does so. She army crawls to the front of the bus and pulls herself out from it, hoping that he wouldn't here her. She loads her bow and fires a well placed shot iat a chink in his armor, the little area that allows the knee to bend.
Gerald: He doesn't hear his opponent sliding out from under the bus, but he does hear her cutting the metal. "So you want to escape me by cutting the bus in half?" Gerald is atop the middle of the bus, but is turning as the arrow hits his armor, and so the arrow just bounces off the knee plate. Gerald falters for a second, then sprints towards Talikha. As Gerald reaches the last part of the top of the bus, he kicks off the metal frame above the front window shield, launching himself shield first towards Talikha.
Talikha: she dives out of the way to avoid the sheild and getting crushed to death. She scrambles up from the ground and skids behind him, drawing her knife as her mind was going a million miles a minute, trying to plan his next move.

Gerald: As he lands, he rolls, and as he rolls he orients his body so that he is turned around, standing, and facing Talikha. As soon as he is standing and has a sure footing, Gerald draws the sword from the left side of his belt as he is right handed. He lifts his shield up high to attempt to distract Talikha, and then swings his blade towards Talikha, spinning the blade sideways so that he is only attempting to hit her with the flat of the blade.
Talikha: She holds her knife up to deflect the falt of the blade, and parries it away from her. She bites her lip, not wanting to risk a careless move of attack, but goes in aways. She leans in tries to slash at him, not knowing if she would even be able to make contact or not.
Gerald: Gerald quickly lowers his shield, pushing it outwards as he does. This action causes his shield to stop Talikha's knife slash. Gerald shoves with the shield, in a mighty heave, in an attempt to throw Talikha onto her butt.
Talikha: she gets knocked backwards and almost falls, but stumbles and keeps herself off the ground. She smiles widely. "Fun." she moves in closer and brings the knife in, trying to slash him, hoping to cause at least some damage to him.
Gerald: He continues to push towards Talikha with the shield, still trying to throw her onto the ground.
Talikha: She's completely surprised that her knife didn't make contact. Instead of going in for another knife slash, she kicks the sheild powerfully, in a stomping manor, trying to push her half sibling back onto the floor. Her muscles complain from the sudden use of a high kick, and she sliently tells them to shutup.
Gerald: he stumbles back to do the force of the kick, he staggers close to falling, but suddenly stand back up swinging his shield at Talikha and following the shield swing with his sword in attempts to catch Talikha between one of his two weapons.
Talikha: Thw sword knocks her back, sending her just barely out of the blades reach. She pushes herself forwards, launching herself from her current spot at him, knife in hand, aiming for a chink in his armor.
Gerald: He doesn't Expect for Talikha to come at him so quickly and the knife hits the chink, sinking into his chest just enough to cause a small wound. Gerald then jumps back and uses his father's gift to cause the pain to go away... "Nice. Nice hit..."
Talikha: She leaps back an winces in pain as her foot touches the ground.. "Thanks." she grins. "But I am gonna get a bruise on my foot. I should have jumped on you from the start."  She laughs then winces again. "Something tells me I'm gonna regret that kick tomorrow... Good fight, Gerald.  No matter what happens, I must tell you that you are a honorable opponent." she smiles. 
Judging
Judge
Gerald/Slay
Talikha/Rlb
Points Possible
Hydro

Grammar/Spelling -4
Defensive - 6
Offensive - 7
Fairness - 10
Balance - 4
Strategy - 3
Creativity - 8
Effective Char Use - 10
Judge's Discretion - 3

Grammar/Spelling - 2
Defensive - 7
Offensive - 4
Fairness - 11
Balance - 6
Strategy - 2
Creativity - 6
Effective Char Use - 8
Judge's Discretion - 2

Grammar/Spelling: - 5
Defensive - 10
Offensive - 10
Fairness - 20
Balance - 10
Strategy - 5
Creativity - 15
Effective Char Use - 20
Judge's Discretion - 5

Sub Total
55
48
100
Kevin

Grammar/Spelling - 4
Defensive - 5
Offensive - 5
Fairness - 10
Balance - 4
Strategy - 2
Creativity - 7
Effective Char Use - 5
Judge's Discretion - 2

Grammar/Spelling - 2
Defensive - 6
Offensive - 3
Fairness - 10
Balance - 5
Strategy - 1
Creativity - 6
Effective Char Use - 5
Judge's Discretion - 1

Grammar/Spelling: - 
Defensive - 10
Offensive - 10
Fairness - 20
Balance - 10
Strategy - 5
Creativity - 15
Effective Char Use - 20
Judge's Discretion - 5

Sub Total
44
39
100
Total
99
87
200
Gerald/Slay wins, please make the necessary changes.

Are you the food? No, we are the hunter! ~Eren Jaeger (Kevin)

Community content is available under
CC-BY-SA
unless otherwise noted.