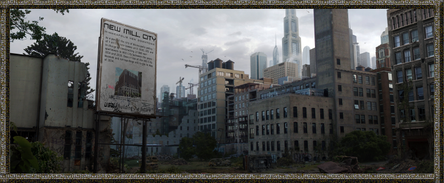 This arena is essentially a small abandoned city, overgrown with vegetation and some of the buildings crumbling in decay.
Located in the middle of the arena is a small abandoned park, with a pond
This arena has all the typical things you'd find in an abandoned overgrown city, everything from flat surfaces to small buildings to tall skyscrapers, some crumbling, some still standing, lots of dark places to hide, including an underground subway tunnel. There are abandoned cars, and things can still be found within the buildings, perhaps even a few stray cats or dogs, or some smaller creatures such as rats and spiders.
The arena is open to the sky and elements
This arena also possesses a more rural arena, possessing large mansions, estates and houses.
Intro
Posted on 18:22, October 19, 2015 (UTC)

He walks into the arena and leans against a tree and waits for Tydal to show up. He wears a lightweight leather chest piece, coupled with arm guards and leg pieces of the same material. Any skin not covered by the armour is covered either by his long-sleeved t-shirt or jeans which are loose enough so he can run, but fitting enough so they cannot get caught on anything. His weapons of choice, twin celestial bronze swords, are up the sleeves of the aforementioned t-shirt in the form of two pencils. His secondary weapon, a medium-sized celestial bronze dagger, is hidden in a small pouch on his hip.

Birthplace
Dresden, Germany

| | | |
| --- | --- | --- |
| " | Creativity is intelligence having fun. | " |
she walks into the arena her hair tied up in a pony tail. She was wearing her famed scaled leather armor that she received from the armory matching that with her metal arm piece that she wore last time. Underneath her armor, she wore a white long sleeved t shirt a bit bigger than her size matching that with some sneakers and loose jeans to ensure she can be comfortable. good luck dear brother she said simply as she wore her gloves checking the perimeter as before taking out her weapon she checked her pockets making sure the smoke bombs she prepared was there as well as dozen knives she had in her arm guard
 

   ~ ♔




More Info:


-Wisdom's Sarcasm ♔ Lt. Counselor
 Age: 15  Height: 5'0  Weight: 109 Ibs
 Sexuality: Straight  Relationship Status: Taken
 Birth Place: Rio de Janeiro, Brazil  Main Weapon: Sword
 Accent: Brazilian
 – "The only true wisdom is in knowing you know nothing."
Posted on 18:15, October 20, 2015 (UTC)

Leon nodded promptly, a smirk barely visible, "You too." He scanned the arena once over to make sure he knew the basics of each place - paying particular attention to a practically crumbling hotel-like structure before turning back to Tydal, "Do you want to make the first move, or should I?"

Birthplace
Dresden, Germany

| | | |
| --- | --- | --- |
| " | Creativity is intelligence having fun. | " |
she noticed the smirk and sigh under her breath noting to how this 'fight' would be one of her hardest one yet as she saw the determination in her half brothers eye welll... she said slowly looking around as she started to stretch to ensure none of her muscles would be cramp during the fight. She noted the few buildings noting their structure and strength you can start if you can catch me that is..she said before giving Leon a grin as she does a turn around to face one of the buildings there. lets have fun shall we? she said before jumping at least 4 feet above ground reaching out to one of the open windows, when she did she entered the building and disappear from sight. unknown to many tydal was a parkour fan and have been practicing the sport for a few years now.
 

   ~ ♔




More Info:


-Wisdom's Sarcasm ♔ Lt. Counselor
 Age: 15  Height: 5'0  Weight: 109 Ibs
 Sexuality: Straight  Relationship Status: Taken
 Birth Place: Rio de Janeiro, Brazil  Main Weapon: Sword
 Accent: Brazilian
 – "The only true wisdom is in knowing you know nothing."
The Fight
Leon: Leon watched as she ascended the building, taking note of the window she entered. Normally he'd transform to an owl form and chase her but he figured she could not have been above the third floor initially. With swift movements he ran to the building he saw her run in and clambered up the first flight of stairs with ease. The second floor. He knew she had to be on this one or the one above and as such he picked up two discarded bricks. He threw one across the floor he was on to the opposite side and the other up the next flight of stairs. If she was on one of the two floors she'd have to make some movement or some indication on her location. Taking the pencils from his sleeves and changing them to their sword form, he gripped them tightly as he waited.
Tydal: upon entering the building she grin as she scans her surroundings, she saw some metal pieces and bricks as well as some dried out paint can ahh the smell of abandonment... she said to herself before hearing some footsteps coming closer to her hmm seems like my dear little brother is quick on his feet.. she said as she wasted no time to improvise a plan. She took one of her hair band before combining it when all the stuff in the room. She took some of the leftover wood and the dried out paint can to make a moving trap to meet up with her dear brother if he ever comes into the door. welll... she said loudly to ensure Leon would hear her. She tore a bit of her shirt putting it in between the door before going out the window once more and moving to the first floor
Leon: He obviously heard her speak and he judged by where it was going she was not on the same level as him. He noticed a door that he presumed led to another part of the floor he was on and he cautiously trod over to it, banging loudly on the door a few times. He waited for some scuffling and, when it never came, he opened the door and ultimately got caught in the trap. He flailed for a few seconds, shouting a variety of curses before slashing widely with his swords until he eventually got free. Standing up and trying to regain his composure, he laughed a little, "Round one, you." Not wasting any more time, Leon ran back to the previous stairs he had found, ascending them with as much speed as he could until he too was on the first floor. Picking up the same brick he had used before, he throw it across the room to draw Tydal out.
Tydal: she obviously heard footstep following the sound of crashing cans oh dear so soon... she said to herself before looking around for some sort of useful items in the room well this is hopeless.. she said taking yet another piece of wood but upon moving further inspection she found a jewel in the rough hmmm a hammer... she said picking it up it was roughly the size if her hand a bit bigger maybe before hearing the sound of footsteps getting louder I'll save you for later.. she said putting it aside but soon realize the hammer had a mate as she moved the whole oh wow.. nails.... and a whole box of it.. this is going to be fun... she said grinning ear to ear as she tore yet another piece of her sleeve to accommodate these nails in her pocket these are for later.. and the rest... before she could continue she heard a loud crash indicating her dear brother had threw something onto the wall Leon I do hope you remember this is a crumbling building any damage we do here may cost us our life!! she said loudly in hope to stop the destruction knowing fully well this would help Leon to locate her.
Comments
The challenger, Leon/Oli, has not replied within 7 days of the post made by the current head counselor, Tydal/Mel. Therefore the current head counselor, Tydal/Mel, keeps her position and no changes are needed to be made.
|-|-|-|-|-|-|-|-|-|-|-|-|---~Kevin---

Even if you end up as the world's enemy, I'll be your knight.

Community content is available under
CC-BY-SA
unless otherwise noted.